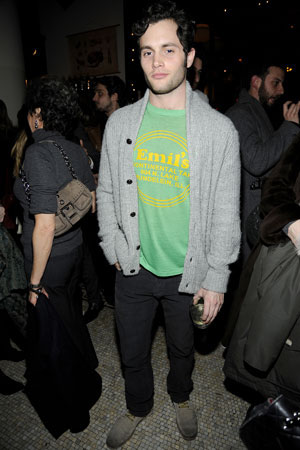 Though chiseled, tanned male models abounded at
GQ
's "Fourth Annual Best New Menswear Designers in America" shin-dig at the Ace Hotel last night, we were most smitten by
Penn Badgley
, casually clad in jeans and a sweater and nary an entourage. PAPERMAG jumped/leapt/pounced(!) at the opportunity to chat with the debonair
Gossip Girl
star and he filled us in on his personal style, his penchant for snowboarding and his reflections on what the future might hold after
GG
.


How is your personal style different from what we see you in on Gossip Girl?
Well, from my character, specifically, it's much more relaxed. But in general, I'm just much more relaxed, as you can tell. It's presentable, but it's bottom of the bracket. I mean, for certain things I like to step it up and look fancy. But for the most part, I keep it simple.
Where do you shop in the city?
Honestly, I go to Barneys CO-OP, Rogan and Save Khaki.
Are you hitting up any shows this week?
I might be going to Moncler. But that's about it. I never really hit Fashion Week hard, because I'm working.
Do you have any current obsessions, fashion-related or not?
Actually I'm obsessed with snowboarding right now. I have a nasty dent in my shin, I'm sore all over. I just got a massage, but I've been snowboarding really heavily since Sundance.
How will you feel when Gossip Girl come to an end, which, personally we don't even want to think about?
Well, it will end. It will be bittersweet because I think we are all looking forward to the next chapter, whenever that is, in our careers. But it's been an incredible experience and it's been something that's defined all of our lives and it's been an incredible opportunity. So it will definitely be bittersweet.
Has life on Gossip Girl changed you? Do you still feel weird being noticed in public or are you used to that now? 
Well, it's funny. I hadn't been to a party or event in a couple of weeks and I was thinking to myself how unfamiliar I felt already with the cameras, which is absurd because I still experience it pretty frequently. I don't know, if you don't think about it that much -- even if you're inundated with that shit --  it's all kind of how you absorb it.
Photo credit: Patrick McMullan