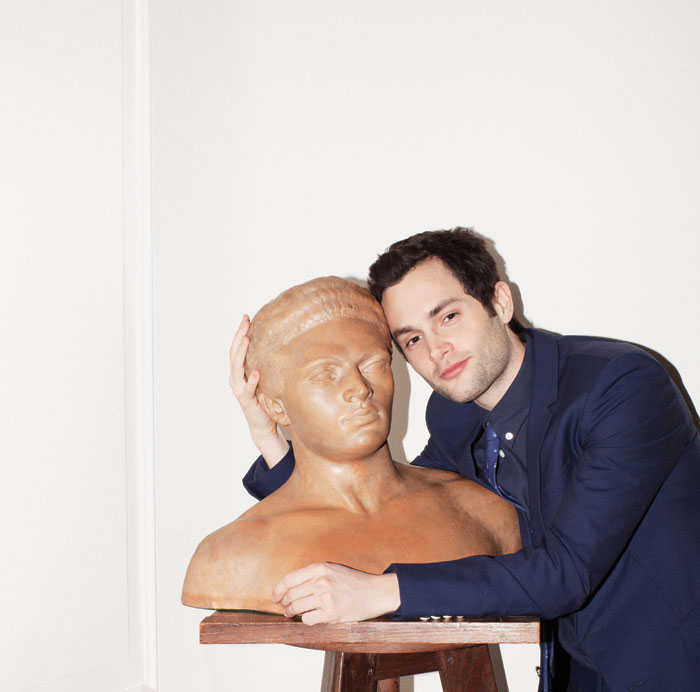 Penn wears a suit by Dior Homme, shirt by Timo Weiland and tie by Gant.

"I've been working every day since I was 12," 26-year-old actor Penn Badgley says. "I could use a break and a little time to recalibrate. I've paid my dues."
In December, the final episode of
Gossip Girl
(the cult CW drama Badgley starred on for six seasons) aired and it was revealed that Badgley's character, Dan Humphrey, was the famously anonymous Gossip Girl. ("I had no idea it was me until the night before we shot.") Before that, he was on at least 11 different TV series, from a tiny part on
Will & Grace
to multiple appearances on
The Young and the Restless
. He's also had film roles in
Easy A
and, memorably, as a doomed Wall Street analyst in
Margin Call
.
"Right now," he says, "I'm just working on myself."
On the day of the interview, Badgley, who lives in Williamsburg, Brooklyn, was preparing for a trip to Brazil with girlfriend Zoë Kravitz. He won't be able to rest for long, though, as his next movie,
Greetings from Tim Buckley
, comes out in May.
In the biopic, Badgley plays late musician Jeff Buckley, who comes to New York for a tribute concert for his father, musician Tim Buckley, whom he never knew. The actor did his own vocals and guitar-playing in the film, and the similarities are extraordinary. Badgley, who's been a Buckley fan since he was a teenager, calls getting the part "the most electric chapter in my life so far."
"It's hard to put into words," he says. "But I was starting to grow as a person beyond
Gossip Girl
. I was also falling in love and I was also moving. I was exorcising a lot of the same demons that Jeff had. It was a lot and it was beautiful."
MEET THE REST OF OUR 2013 BEAUTIFUL PEOPLE