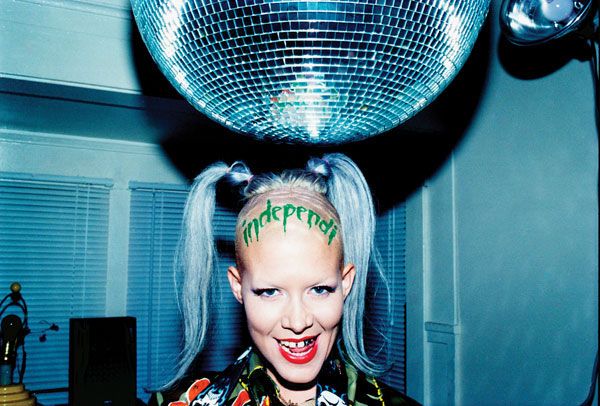 Fashion designer Peggy Noland, who has a disposition as sunny as her adopted city of Los Angeles, is perched on a folding chair clad in her latest creations: Lucite stripper heels onto which she's glued Converse sneakers, paired with a short camouflage rain slicker puffy-painted with the logos for Gatorade,
Playboy
and Pizza Hut, that works as a dress. As usual, her eyebrows and most of her hair are shaved, leaving two baby blue ponytails sprouting from the top of her head. Brande Bytheway, a makeup artist with tattoos of spiderwebs covering both kneecaps, has puffy-painted the word, "Independi" (short for Peggy's hometown of Independence, Missouri) on her skull. Peggy likes it so much she's getting it inked there permanently.
Peggy -- who's dressed luminaries like Lovefoxxx of the band CSS in polka dots, adult-sized quilted diapers and spandex onesies -- moved from Kansas City to L.A. a year ago. She had a longtime boyfriend to cushion the shock of landing in the big city, but right after they settled in, he broke things off. "If I hadn't had these people, I definitely would've gone back home," she says, motioning to a clump of her friends, who are gossiping about a drag queen who wore a bag over her head to a club and hired a Michael Jackson impersonator to lead her around.
While she and her pals (in addition to the gathered characters, she regularly rolls with members of the Donnas, CSS and artist Ryan Trecartin) definitely are among L.A.'s most colorful personalities, they also are more down-to-earth than their appearances suggest. Case in point: They're spending Saturday night doing crafts, eating pizza and engaging in sing-alongs. It's like the freaks in junior high grew up and now throw the best slumber parties ever every time they get together. No wonder Peggy stayed in L.A.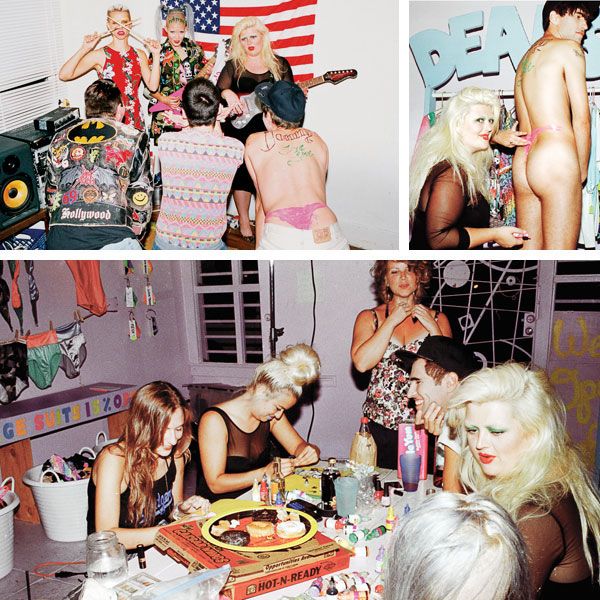 It's 7:30 p.m, and Peggy and friends have met in Echo Park's Dog Show boutique to craft. They're seated at a table cluttered with boxes of Little Caesars pizza, a plate of doughnuts, airplane bottles of E.&J. Gallo chardonnay, nail polish, construction paper and, of course, puffy paint.
Seth Bogart of the flamboyant rock 'n' roll band Hunx and His Punx strips naked and Brande begins painting a high-waisted hot-pink thong onto his skin. Beyoncé's "Freakum Dress" blares, and crafting is quickly abandoned for dancing and Instagramming photos of Seth's body paint.
"Is it time for Boys Club?" Internet personality-budding musician-former Dov Charney apprentice Jonny Makeup asks loudly.
"We call Jonny's house 'Boys Club' because he lives with four very hot punk boys," Peggy explains.
The crew makes its way to Jonny's house, where Peggy primps at a vanity in his bedroom and the boys flop onto his bed. Nearby, there are at least 50 dildos underneath a wardrobe rack. "Housewarming gift," Jonny says. Peggy, Brande, former Cobrasnake fixture Lisa Katnic and another friend, Natasha Newman-Thomas, who is out of town tonight, have just formed a girl group called "Pizza Grrrlz," and the first rehearsal is about to commence. Lisa peels off her dress to try on Jonny's clothes, and then the girls begin goofing around and singing No Doubt songs. Suddenly, Brande breaks out into Wilson Phillips' "Hold On," and the boys join in exuberantly.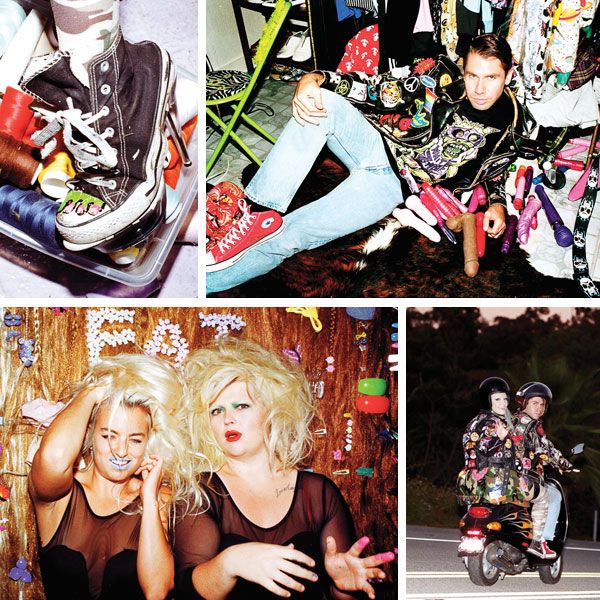 Around 11, Jonny says he has to host a party at Rasputin, a gay club in Hollywood. "You should come," Peggy tells me. "There are these guys dancing naked behind a screen. You stick your hand in a hole and one will come over and let you hold his penis." But before they head out, Jonny wants to perform his new songs for the group. Everybody knows the lyrics to "O.M.G," which soundtracked Jeremy Scott's recent Adidas commercial, and by the second verse, the living room is a dance floor.
They're due at the club, so Jonny hops on his scooter. The rest of the gang piles clown-car-style into Seth's little four-door. He honks twice and off they roll --
Entourage
, Peggy Noland-style.