March may be Women's History Month, but the unfortunate truth is that many of its celebrations tend to leave WOC, and specifically black women, out of the conversation -- as such, Twitter user @kidnoble began posting an image of a noteworthy black woman every day at 9:30 am alongside the tag #BlackWomensHistoryMonth.
Today's honoree for #BlackWomensHistoryMonth is Toni Morrison. pic.twitter.com/W9euLCm1NB
— Dahm Daniel! (@kidnoble) March 26, 2016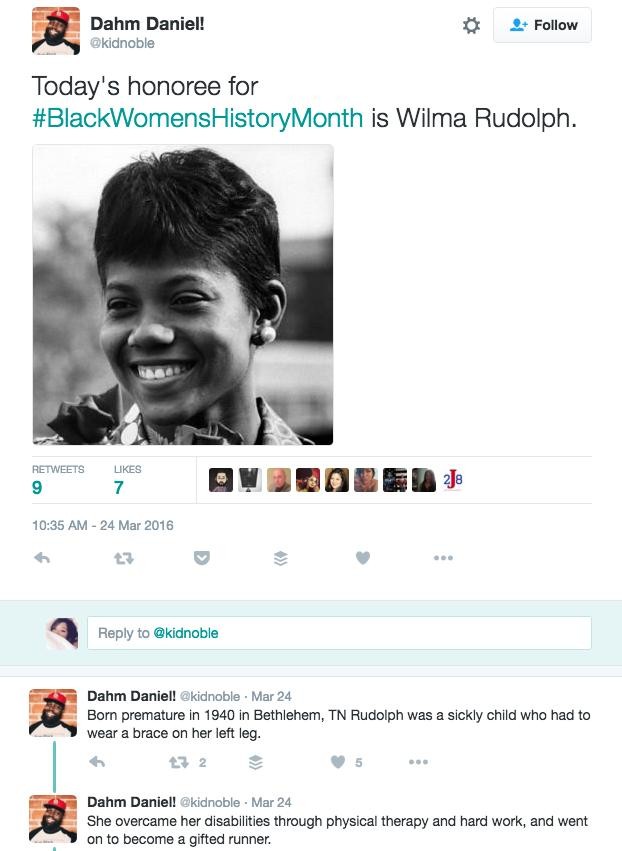 Highlighting the accomplishments of everyone from Nobel and Pulitzer Prize-winning author Toni Morrison to Willa Brown Chapell, the first African-American to earn a commercial pilot's license in the US, #blackwomenshistorymonth is now trending with tons of other users posting their own WOC inspirations across several social media platforms.
"Black women have traditionally been written out of history unless it is in the context of victimization," Dr. Aimee Meredith Cox, a cultural anthropologist and professor at Fordham University told Mashable. "When they have been recognized black women like Rosa Parks are depicted as passive resistors rather than intentional agents of transformation" -- which is all the more reason why this tag is so essential.

#BlackWomensHistoryMonth #WomensHistoryMonth pic.twitter.com/rETXyuCnQh
— Noémi Breaux Warrens (@NoLifeNeoma) March 1, 2016
Because of her, we can » Remembering Octavia E. Butler https://t.co/nkymWtvLaN #BlackWomensHistoryMonth #SFF
— andré carrington PhD (@prof_carrington) March 7, 2016
[h/t Mashable]