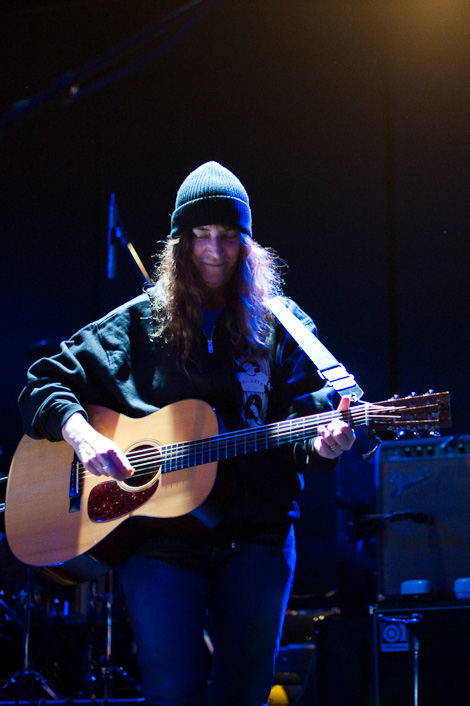 I never want to go to a concert again... unless it's another Patti Smith concert. Yes, it's a touch hyperbolic, but I truly believe that little can top the electrifying, euphoric rock n' roll explosion that was Patti's sold-out gig at Bowery Ballroom Friday night.
I went to the show by myself, but I wasn't alone: I sang, I danced, I clapped, I drank and maybe cried a little with the packed house of Smith fans  -- an amalgam of Patti-inspired twenty-somethings in their oversized blazers and disheveled hair, and balding baby boomers. They spent most of the night singing all of Smith's words back to her as she performed classics like the anthemic "Because the Night" and the playful "Redondo Beach." 

The show was the second of Smith's annual three-night stint to mark both her birthday and the new year, and the evening was every bit of a celebration. At times, Smith was on fire, an unraveling mad woman during "Break It Up", as well as a chilling, especially ferocious rendition of "Gloria." Other times, she was playful and pretty hilarious (she described Redondo Beach as a place where "women like women" -- "I saw
Black Swan
, she explained to laughs.) But, ultimately, as we all know, Smith is a storyteller (her National Book Award-winning memoir
Just Kids,
documenting she and Robert Mapplethorpe's amazing story, is a serious must-read). She cheerfully reminisced about her weekly visits to a diner when she was nineteen and a dollar meant unlimited coffee and a donut, and twenty-five cents meant three songs on the jukebox. Her choice? Repeat plays of "Strawberry Fields," of which she then led the audience in a hypnotic, sing-a-long cover.  
Even more touching was when Michael Stipe and Smith's daughter presented a cake to Smith for her 64th birthday. "I never thought I'd be alive this long, but now that I am, I just wanna keep on living," declared a beaming Smith over the roar of "Happy Birthday" from the crowd.
The democratic rock goddess, the makeup-less, poetic hero for sullen girls and boys alike, Smith's just like one of us and she sings for us. During Smith's encore of "People Have the Power", in true rock legend form, she unleashed a moving "use your voice!" rant to uproarious wails. And we heard her, loud and clear.
Photo via
BrooklynVegan
.