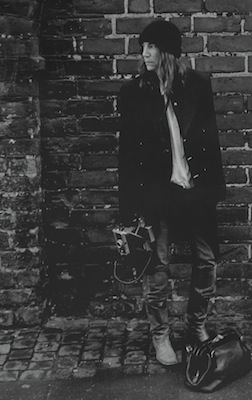 A little before 4 p.m. yesterday, this self-proclaimed Patti Smith obsessive received an email from a publicist over at Columbia Records which read, "I know this is super last-minute, but can you make it tonight?" It was accompanied by an invite to a listening party "with the artist" for Smith's first album in eight years, Banga. After eventually pulling myself together, I headed to the legendary Electric Lady Studios, where the LP was recorded, and sat in a candle-lit upstairs room with several other journalists. Smith came in to welcome us and introduced Lenny Kaye and Tony Shanaham, who she's been working with since she burst on to the New York punk scene in the late '70s. "Lenny? Tony? Where's Lenny?", she amusingly shouted into the hallway before the two shuffled in.

During the listening session, Smith was in and out of the room, encouraging us to help ourselves to a spread of snacks because, "As you can see, I can't sit still." She did, however, explain each song on the ballad-heavy Banga in detail: "Fuji-san" is a prayer for the people of Japan following the devastating earth quake that hit the country last year; "Nine" is a birthday song for her "good friend" Johnny Depp, and "This Is The Girl", perhaps the most striking song on the album, is a doo-wop-inspired ode to the late Amy Winehouse. In it, Smith croons, "This is the girl for whom all tears fall, this is the girl who was having a ball. This is the girl who cried to be heard, so much for cradling the smoldering bird." 
In a Q&A with Smith and other journalists following the session, I asked her about the Winehouse song and what compelled her to write it. "I was very taken with Amy's voice," Smith said. "As a singer -- I can't count myself as a great singer, but I'm a singer and I study the human voice. She just had a magnificent voice. She was so knowledgeable. She had such an innate sense of jazz, R&B and doo-wop. Sometimes I'll listen to a singer who's even really popular today and I hear them interpreting a certain period, and they just can't quite make it. [Amy Winehouse] made it."

Of Winehouse's very public struggles with addiction over the years, Smith said, "It was so hard to ignore because so much of her lifestyle was reported. I felt parentally and extremely concerned for her." Despite that, Smith said, "What led me to her was her voice. I'm not intrigued with her lifestyle, which took away a great artist. But her voice was something."

Smith recorded Banga with her children, Jackson and Jesse, whom she described to those of us in the room as her "bosses." "They're true musicians," Smith said. "I love playing with them -- mostly because, when we're together playing, it really magnifies their father [Fred "Sonic" Smith]. I really feel him with us. What they have is really his gift. I don't know what they got from me, but they got that really from him. I like my kids a lot --  they give me a hard time, but I really like them."

And what's Smith, whose teenage obsession with the poetry of Rimbaud is a through-line in her 2011 memoir, Just Kids, reading these days? "Right now I'm going through a Murakami phase," she told us. "All I do is read Murakami and write like Murakami and have dreams like Murakami. And drink Saki at night."
Banga
is out June 5th.