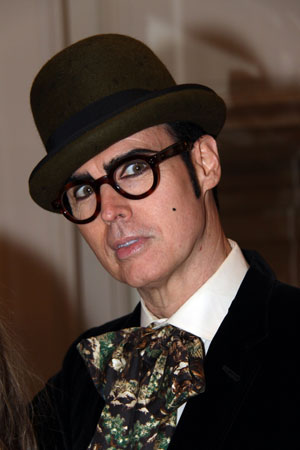 New York City's best-known dandy,
Mr. Patrick McDonald
, is no stranger to readers of
Bill Cunningham
's column in the
NY Times.
Now dandy-o-files can own a piece of McDonald and other legendary fashion horses
Beau Brummell
,
Oscar Wilde
and
the Duke of Windsor
with
Four Famous Dandies Paper Dolls
. The dolls and their lavish ensembles are illustrated by
Jim Howard
and McDonald naturally wears stylish separates from his own wardrobe. McDonald is appearing at Bergdorf Goodman in NYC for a book signing on Saturday, November 20th, 2 - 4 pm. In the meantime we caught up with our favorite Dandy at Bergdorf's
Windows
book release party
and asked him about his literary debut.
As a child did you play with paper dolls?

No, I played with my Steiff stuffed animals, with my twin brother Michael and my Ken doll. I made Ken into the uber-dandy by re-working his outfits!
Did you ever think you would end up sharing billing with such legends as Oscar Wilde and the Duke of Windsor?
No, It's such an honor. They have all been an inspiration to me. But, I have to say Oscar Wilde is the ultimate dandy to me. I wish that
Quentin Crisp
would have been included. Maybe volume two?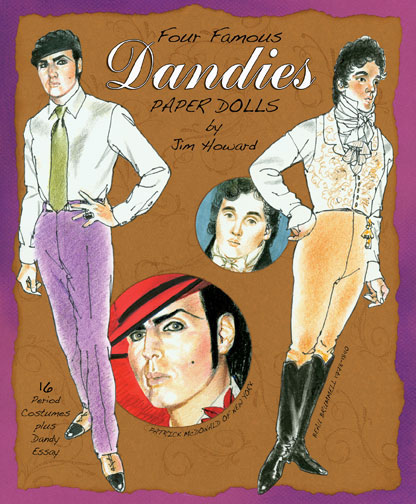 How did you choose which outfits to include?
I picked my favorites but I have so many it was hard to choose. I do have to clean out my closet, but I will always keep the ones in the book and all my Paul Smith!


What does a young aspiring dandy need to become a fashion icon like you?
Thank-you for saying that I'm a fashion icon. You are too! To young aspiring dandies always be yourself, march to your own dandy drum!
Your book signing is at Bergdorf Goodman. Is BG the ultimate shopping spot for dandies?
Yes. Its history and chicness are a magnet for the modern day dandy. I first saw BG in the movie
Boys in the Band
and I knew that it was my place for finery!


You love Mr. Peanut. Is he the chicest cartoon spokesmodel? What is about him that makes him so stylish?
Absolutely. He's a little salty and he wears a top hat and spats! I just adore him