In case you weren't planning on catching Titantic 3D, checking out the Pussy Faggot three-year anniversary party or getting trashed at your friend's "pop-up gallery opening" this weekend, well then, bully for you because it probably means you're celebrating Passover and/or Easter. That said, if sitting around a seder table with your extended family or going to church isn't your jam, that's okay too!  We've got you covered with some fun ways to celebrate the holidays this year around the country. (Something tells us these suggestions would be Portlandia-approved.)

Passover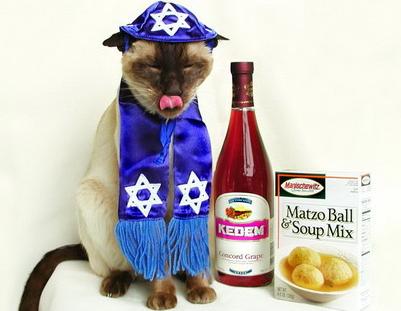 Seders
For those of us who don't live near our families (or who would rather be assholes and decline our great aunt's seder invite in favor of "hipper" options), "Jewish chic" restaurants like Brooklyn's Mile End, Manhattan's Joe Doe, Chicago's Eleven City Diner and San Francisco's Wise Sons Deli are all hosting seders this year, serving dishes like gourmet charoset and Manischewitz rum punch.  For that extra cool factor (since nothing screams cool more than Passover), San Francisco's Old World Food Truck is setting up a Pop-Up Seder at La Victoria Bakery & Cafe for both nights of the holiday.

Food
If you've already accepted a seder invitation (or, better yet, are hosting your own) and would prefer to avoid the Manischewitz aisle at your supermarket this year, there's a whole slew of "artisanal Passover treats" (Ed note: Yeah, we kind of feel like a jerk for using that term -- but, hey! these products are delicious so just go with it) to choose from, assuming  you live in a city or hipster enclave, that is.  If you happen to live in Brooklyn, forgo the gelatinous unsightly mess that is most gefilte fish in favor of a gourmet (and sustainable!) version made from ground whitefish, pike and Pacific salmon courtesy of the folks behind Gefilteria.  What's more, this upscale fish loaf enterprise sells their wares from a "modern day pushcart" to enhance the whole hipster shtetl effect. As for the dessert course, when shopping for macaroons (the coconut, not the French variety, doofus!) forget the dry, cardboard-tasting store kind and go for the deliciously moist cookies at NYC's Danny Macaroons or Chicago's Sweet Mandy B's bakery (try the chocolate-dipped, dried cherry version...trust us).  For something a little less conventional, Los Angeles' LA Creamery has whipped up two Passover ice cream flavors: milk chocolate with coconut macaroons and vanilla bean with chocolate covered matzoh. (We cannot verify whether any of this stuff is Kosher for Passover but...we think they are?) 

Parties
Finally, if you practice the irreverent, Heeb-reading strain of Judaism and would rather use the holiday as an excuse to get shitfaced, New York's Hudson Terrace is the site this year for the 9th Annual Official Kosher for Passover Matzah Ball.


Easter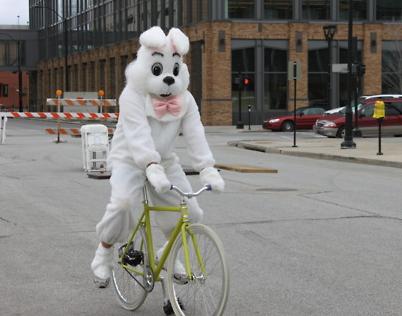 Adult Easter Egg Hunts
Scrambling around in pursuit of finding delicious chocolate eggs (or the plastic kind filled with money) can be a perfectly acceptable activity for the 21+ set, too.  Chicago's hip, farm-to-table resto, Longman & Eagle, will be hosting one on Easter Sunday (and entrants get a free shot of Cabin Still bourbon!) while Portland residents can hop on a bus courtesy of BarFly for some egg huntin' (well, actually it sounds like more of a pub crawl). 





Food

After you've worked up an appetite hunting for eggs, why not treat yourself to something more gourmet than an (admittedly delicious) Cadbury Creme?  Go full-throttle and make/order some scotch eggs (they're

trendy

, we hear) or indulge in some of the chocolate kind like the luscious concoctions made by San Francisco's

Christopher Elbow Artisanal Chocolates

that come in flavors like raspberry caramel, passion fruit, and fleur de sel caramel.




Parties

Jews aren't the only ones who can use a deeply religious holiday as a reason to get down.  Gentiles have plenty of options this year to rage after their Easter brunches: Brooklynites can head over to

Bounce Attack

, a New Orleans-style dance party at

The Morgan

featuring tunes by

Nicky Da B

(watch

this

to get an idea) and

DJ Rusty Lazer

.  Meanwhile, Austin folks can check out the "Easter Romp" at the

Butterfly Bar at The Vortex

, which will feature an Easter egg hunt, a petting zoo with "live baby animals and sexy humans," an Easter bonnet contest and the chance to roast marshmallow Peeps over an open fire.