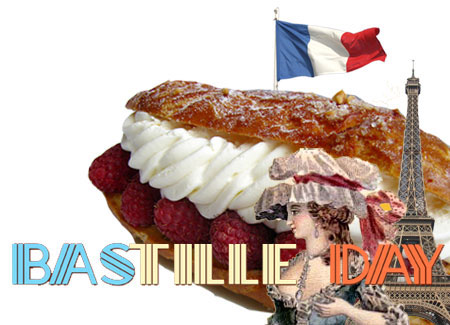 Bastille Day commemorates the storming of the Bastille prison on July 14, 1789, which began the brief overthrow of the French monarchy and the French Revolution. Fun! In France, the holiday makes for parades and fireworks. In New York, French expats and Francophiles can get in on the celebration via the finer things: food, wine, shopping and film. We've rounded up some events for you below.
Hors d'oeuvres
The Joy of Cheese brings you Fromage et Vin, a French-themed tasting of --what else?--  nine French cheeses paired with five wines. Sample Ossau-Iraty, a sweet sheep's milk from the Pyrenees and Hervé Mons Roquefort, an ardent blue cheese that's hard to find over here. Tomorrow, midtown's Le Bateau Ivre is offering six oysters and a glass of white wine for $20.50 or a French mojito (with liqueur and champagne substituted for soda and rum) for $12.

Stella, 13 Front St., (212) 533-3072, Tuesday, July 20, 7:30 p.m. Buy tickets here; Le Bateau Ivre
,
230 E. 51st St
.,
(212) 583-0579.
Manger
Honor France's magnifique cuisine with an indulgent steak au poivre or some frites.
La Grenouille
offers a pricey ($325 with tax and tip) eight-course menu with six wines, while
Bouchon Bakery
has a deal for slimmer wallets with a buffet of french cuisine, wine, champagne, and music for $65. The person who answered the phone at tried and true French bistro 
Le Relais de venise
told us "every day is Bastille day" at the restaurant, and though they're not doing anything special tomorrow, their usual $24 pre-fixe dinner makes it a nice little option.
La Grenouille, 3 E. 52nd St. (212) 752-1495. 7 p.m.; Bouchon Bakery, 10 Columbus Circle
(212) 823-9364, 7 p.m.-10 p.m.
;
Le Relais de Venise.
590 Lexington Ave., (212) 758-3989.
Fêter
New York may have the corner on nightlife, but the French know a good party, too. Fort Greene's
Chez Oskar
, "le funky French bistro de Brooklyn," celebrates Wednesday with a prix fixe menu, a jazz quartet, s DJ, and dancing, while social club
French Tuesdays
welcomes those dressed in revolutionary costumes or business attire to their
soiree at Water Taxi Beach
, also on Wednesday, with music by
Jean Michel
. This weekend brings us the largest
pétanque
(like bocce, but somehow much cooler) tournament this side of the Atlantic at
Bastille Day Brooklyn
on Cobble Hill's Smith Street, which also promises wine and munchies from nearby
Bar Tabac
.
Chez Oskar, 211 DeKalb Ave. Fort Greene, Brooklyn, 6 p.m. (718) 852-6250. Free. chezoskar.com.; Water Taxi Beach.
54-34 2nd St., Long Island City, Queens.
6 p.m.-1 a.m., $20. Buy tickets here; Bar Tabac. 128 Smith St., Cobble Hill, Brooklyn, (718) 923-0918.

Faire des Courses

Bring out your inner Parisian chic by stopping by one of these sample sales by French designers. At French label Lilith's sample sale you'll find their playful, ultra-femme Spring collection for 40 to 50 percent off. With a name fashioned from the French word for poppy, it's no surprise that the shoe brand and boutique Coclico are as girly and charming as the bloom itself. Samples of their environment-friendly kicks are up to 70% off, along with selections from the Nolita shop like free-spirited frocks from Wren, Chie Mihara's jaunty heels, and Mociun's organic prints.Gents can head to C'est Beau, a pop-up shop created by three Syracuse University business students where you can find minimalist cardigans and pullovers from Nom de Guerre, 90's-inspired streetwear from PegLeg, and Claw Money's impressive collection of vintage shades.
Lilith, 227 Mulberry St. (212) 925-0080, Mon-Sat, 11 a.m.-7 p.m., Sun 12 p.m.-7 p.m.; Coclico, 670 Broadway, Ste. 502., Tues.-Thurs., 12 p.m.-4 p.m; C'est Beau, 55 Delancey St., Mon.-Sun.,12 p.m.-8 p.m.


Les Artistes

The Museum of Modern Art opens its three-month long exhibition "Matisse: Radical Invention: 1913-1917" this Sunday. The exhibition investigates a pivotal and experimental four years of the French painter Henri Matisse's career, which many historians have long ignored as a  deviative reaction to cubism, but produced his most esoteric, stunning works, including "Bathers by a River" and "The Moroccans."

Museum of Modern Art, 11 West 53rd St., (212) 708-9400. Check here for hours. July 18 - October 11.
Le Cinematheque

Sultry bed hair, seductive cat eyes, and pouty lips are perhaps French actress and style icon Brigitte Bardot's greatest legacies, but you can check out her acting chops in En Cas de Malheur (Love Is My Profession). Brigitte plays a petty thief who returns her lawyer's services with some, er, services of her own, as his lover. It's considered one of Bardot's best, if not smuttiest, roles. Allez-y!
French Institute Alliance Française, 22 E. 60th St., (212) 355-6100. Tues, July 13, 12:30 P.M., 4 P.M., 7 P.M. $10. Tickets here: