PAPERMAG Web Interns Wanted!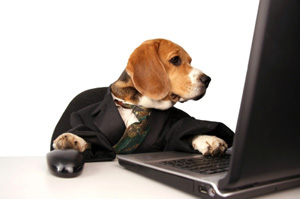 PAPERMAG is looking for interns to help with day to day stuff on our website, including formatting posts and stories and helping us with various little things. Applicants should live in New York City and love editing photos and making photo galleries. Note that this isn't an editorial position per se, but if you want to send us a short writing sample, you should!  Also, liking PAPER and/or
knowing who we are
is a big plus. Please send resumes to Elizabeth Thompson -- elizabetht@papermag.com --  with the subject line "PAPERMAG Web Internship."
P.S. The internship is unpaid, but we can offer college credit.

Above: Our current intern, Greggy. Don't worry, you don't need to wear a suit and tie to the office -- this place is casual! Also, don't be a dog. Just kidding, do be!