"Wait, are we in Williamsburg?" asked a confused young woman standing impatiently in line to see the Honey Brothers. No, as it turned out, she was not. She was in Manhattan, outside the Mercury Lounge. Indeed, the excitable, slightly-crazed and overheated fans (mostly female) who had come from far and wide to catch HBO darling Adrian Grenier play with his band, the Honey Brothers, seemed slightly discombobulated. They waited amid a sea of disaffected cowboy-boot wearers and angular-haircut sporters, who were forced to step around their line on Houston Street. But once inside, and after Adrian and his band-mates took to the stage, it was clear that the fans knew exactly where they were. "I want to have sex with you!" they yelled. "Oh, my God, he's so hot," they cried. "He doesn't even have to try!" they said. They were, of course, referring to Grenier. (When we told Grenier that his female fans were getting really randy, he sternly looked us in the eye and said, "That's not funny.")
The 29-year-old actor turned musician (but don't worry, still an actor) is famous for his portrayal of Vince Chase on the HBO hit Entourage. It's the story of a dude from Queens who moves out to Hollywood to become a big-time movie star. Vince's buddies from Queens -- his entourage -- go along for the ride. This isn't too far of a stretch for the Brooklyn-born Grenier. But unlike his aloof and cardboardlike character on the show, Grenier is smart, witty, sweet, decidedly blase about fame and celebrity and, among other things, a really good drummer. But let's not talk about Adrian Grenier for a moment. Because Grenier was not in the picture in early 2003 when Columbia grads Ari Gold (who coincidentally shares his name with Grenier's slavering agent on Entourage, played by Jeremy Piven), Andrew Vladeck and Daniel Posner started playing music in Gold's living room. From the living room, the boys took their music to the streets and began walking down the Upper West Side, singing and playing ukuleles. Then, from the streets, they went back to the Living Room -- this time, a club on the Lower East Side. Starting a band seemed like the logical next step for Gold, a filmmaker; Vladeck, a singer-songwriter; and Posner, a psychiatrist. For a month in 2002, the brothers Honey played a midnight residency at the Living Room. During that time, Gold ran into Grenier (he had filmed the actor's documentary A Shot in the Dark about Grenier's search for his father, back in 2002) and invited him to see the band play. Taken with the Brothers, Adrian suggested that they record some songs in his basement. At that point the Honey Brothers were in the market for a drummer and a bassist; they turned to Adrian and his friend Pierre Michel, respectively. (A sad side note: Pierre tragically drowned in August of last year while kayaking on a lake in Massachusetts.)
The Honey Brothers, according to their Web site, are "N.Y.C.'s Hawaiian-Appalachian glam-rock band." In layman's terms, they sound a bit like Ween, Weezer, Sebadoh and the Beach Boys -- with a ukulele. Their EP "Songs for Your Sister" is a blend of alt-country-inspired tunes with strange lyrics ("Where do I get my cock sucked?/ Where do I get my ass fucked?/ I may not be good looking, but I know where to put it every time"). They're in the process of working out a record deal and will hopefully release a full-length in the upcoming months. The band's serious about their music but certainly have a silly side. At the Mercury Lounge, Grenier came out wearing a neck brace and throughout the set, members of the group frolicked across the stage like a bunch of hooligans. Additionally, each of them has a Honey Brothers persona -- Gold goes by Hoyt Honey, Posner is Dr. Carl Honey, Vladeck is Dorian Honey and Grenier's known as Fluffer Honey.
About 15 minutes into the show, a strange thing happened. As the Honey Brothers sang their two catchiest songs, "Oh, Dear" and the reggae-inspired "Little Boy," the crowd started exclaiming, "I love this song!" So in addition to blinding Adrian with flashes from their camera phones, the crowd began seriously rocking out to the music.
"For the first half of the show," Gold recalls, "I was looking out into an audience of people that were looking through my knees to see the drummer. But then, as the concert went on, I had the sense that people were looking at the whole band and listening to the music." It's clear that for the Honey Brothers, Grenier is a bit of a double-edged sword. While he's certainly able to draw people to shows, sell records and provide buzz, many of the band's most rabid followers are in it for the wrong reason, as it were. But celebrity-ogling gets old, and the crowd at the Mercury Lounge was ultimately able to look beyond Adrian's plump, juicy lips and adorably bushy eyebrows. They relaxed and took in some seriously good rock 'n' roll.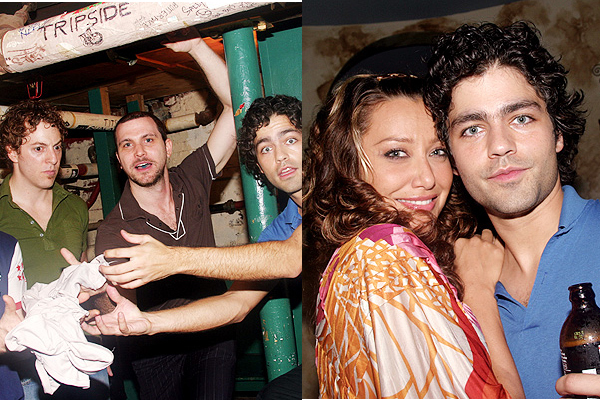 When the set ended, it was announced that all those with a Mercury Lounge hand-stamp would be allowed into the after-party at the nightclub Kush. So when the band left the stage, flocks of girls shuffled like obedient puppies through the humidity to the recently relocated Moroccan-themed club on Chrystie Street.
As R. Kelly once said, after the show it's the after-party. But what R. Kelly did not warn us about is that in between the show and the after-party, there would be lots and lots of girls milling around listlessly on banquettes, sipping Sofia Coppola Blanc de Blancs, waiting impatiently for their boys to arrive. When Adrian and his Honey Brothers finally entered the bar, the females bolted from their perches toward the actor-musician, hoping to compliment his drumming or tell him how much they love him. During a rare moment when he was not whispering sweet nothings into young women's ears (or vice versa), Grenier got real for a second: "I keep waiting for an original line," he said, "or an enticing line or something unique or special. When it happens, it's great, but it usually doesn't."
Grenier didn't seem too bummed about this, and when it's 11:30 p.m. on a humid Friday night in mid-August, getting real can get real tiresome. So he ventured back into the throngs of doting young women. And whether they were there for him or for the music, Grenier looked genuinely happy. The other Honey Brothers, sprawled out on the banquettes, hookahs firmly planted between their lips, looked happy. And the girls, within touching distance of their small-screen idol, looked really, really happy.