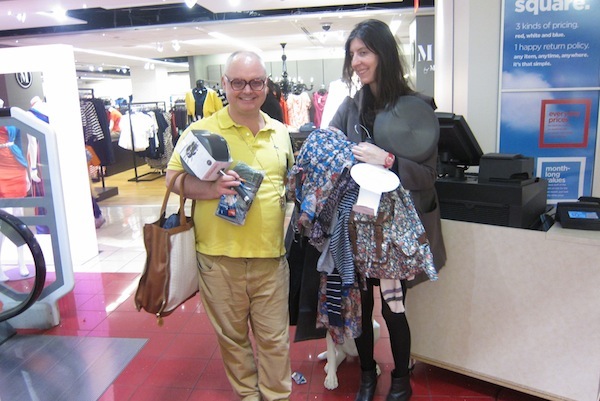 As a kid, the end of August always meant one thing for the Boardman family. We'd climb into Ole Yeller, my mom's 1969 canary yellow Buick Wildcat and cruise on over to the Woodfield Mall to shop for a new school wardrobe at
JC Penney
. My mom was only 20 when she had me (her second and last child) so she was pretty much the hippest mother in the neighborhood. My look the first day of elementary school was a pink button up shirt featuring a monkey-head pattern, and a pair of maroon pants covered in red fish. Pretty fashion forward for Hanover Park, Illinois!
I had the same feeling of excitement I used to get in Ole Yeller when Paper editor Alexis Swerdloff and I sauntered the block and half between Paper's office and the JC Penney at Manhattan Mall. Penney's had recently announced their big new makeover featuring its everyday low-prices, and the folks were kind enough to invite us over for a little shopping spree.
Changes were immediately obvious -- from the new JCP logo to the frame motif used throughout the store to showcase special merchandise. The prices were bananas -- 40% less than the previous ones. No more crazy sales and such. It seems like someone who loves jewel tones has taken over because everywhere you turned there were hot pinks, canary yellows and royal blues. The look feels fresh, although it will be a while before the entire store is fully made-over and turned into a giant mall of little in-store boutiques. I already loved the in-store
Sephora
boutique and Alexis flipped her wig in the
I Heart Ronson
boutique.
Charlotte Ronson
is a favorite among the cuties in our office so Alexis scooped up a handful of Ronson looks for the girls in the editorial department. We found a sexy sleeveless dress for editorial assistant Abby in the
MNG Mango
department, and some very heritage-esque, fishermen sweaters in the Liz Claiborne section. I personally got my trouser party on in the Levi's department. Yes my first pair of skinny jeans at 45!!!! I must be having a midlife fashion crisis.
Despite my embrace of the trendy dungaree, Mr. Mickey is all about the basics so we made a detour to men's undies section, before we ended up in the house wares department. Who doesn't need a high-quality sensibly-priced sauce pan? Sadly for Alexis, there was only one high-quality sensibly-priced sauce pan left so she got a charming and delightful frying pan. 
Loaded down with dresses, pans, Mickey Mouse T-shirts, underpants and skinny dungarees we gleefully skipped to the check-out stand! It was like
Supermarket Sweeps
, and we felt a bit giddy and out of breath. Take a peek at the photo gallery to get an idea of what the new JC Penney looks like and see the Editorial team modeling our purchases -- frying pan and all!