The
Rubell Family Collection
(95 NW 29th Street, Miami)  -- and the Rubell family -- celebrate two big occasions this year: the 20th anniversary of their incredible contemporary art collection and the 50th anniversary of Don and Mera's marriage. From December 3rd to May 29th, they will be showing commissioned solo exhibitions by Will Boone, Aaron Curry, Lucy Dodd, Mark Flood, David Ostroski and Kaari Upson; as well as a huge show called "To Have and To Hold" featuring key works from the collection, along with a 700-page overview catalog titled "Highlights and Artists' Writings, Volume 1." On Thursday, December 4th, 9 a.m. to noon, Jennifer Rubell will present a new, large-scale, food-based installation called "50 Cakes."
One of last year's best events is back! To keep the pre-opening excitement going for the 2015 launch of the
Faena Hotel Miami Beach
, Alan Faena and Len Blavatnik are hosting -- with Rem Koolhaas, OMA and Studio Job -- a private Argentine asado lunch with chef Francis Mallman. There will also be a site-specific installation by Gonzalo Fuenmayor and Studio Job.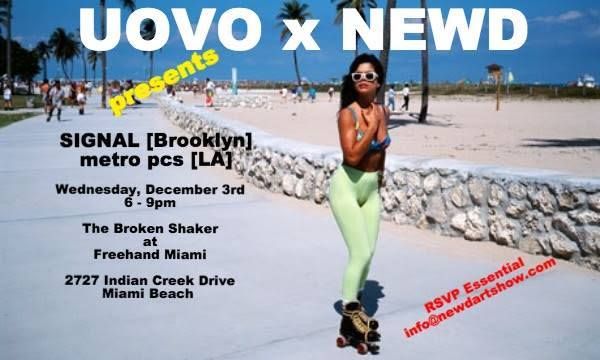 The fab FREEHAND Miami (2727 Indian Creek Drive, Mid Beach, Miami) hotel has an action-packed schedule for the week, including cool installations from Bushwick's
Signal Gallery
and the LA project space
Metro PCS
presented by UOVO Fine Art Storage and the
NEWD Art Show
; a party to celebrate the re-launch of the NYC-based streetware company British Knights on Thursday, December 4th from 10 p.m. to midnight; a "Dreamcatcher Workshop" to benefit Free Arts NY on Friday, December 6th, from 4 to 6 p.m. (tickets are
HERE
) and a big launch party for a new art and culture mag called Nah/No Magazine on Saturday afternoon from 2 to 6 p.m.
The AB/MB party for the 99%, Basel Castle, returns to their original spot in the "castle" at 41 NW 20th Street in Miami on Saturday night, December 6th, 6 p.m. until whenever.  They've already booked an incredible lineup including Swedish rapper Yung Lean and his
Sad Boys
crew, plus Future Islands and more TBA. Tickets are
HERE
.
LOGO TV's 2014
NewNowNext
award show will be taping (and partying) in Miami on December 2nd at the Surfcomber Hotel (1717 Collins Avenue, South Beach) for broadcast on December 7th.  Expected celebs include Jessie J, Nick Jonas,
Tyler Oakley
, Lance Bass, Meghan Trainor, Charli XCX and Betty Who.
Questlove
has invited an intimate group of his friends to a private home in Miami on December 6th for a "Food Salon" with three chefs -- Daniel Patterson, Dave Beran and Christina Tosi -- who will each prepare one dish. The lucky attendees will eat, relax and "discuss art, commerce, and the balance of it all."
Paul Kasmin's PK SHOP and Maison de Mode open a collab, pop-up called LIGHT SHOP in the Soho Beach House (4385 Collins Avenue, Miami Beach) from December 4th to 7th, 11 a.m. to 6 p.m., daily. Look (and shop) for artist editions by Mattia Bonetti, Saint Clair Cemin, FriendsWithYou, Jen Stark, Courtney Smith and more.
Last year's winner of PAPER's "Best New Nightclub" award,
Bossa Nova Civic Club
, is doing a pop-up during AB/MB on Thursday, December 4th, 10 p.m. to 5 a.m. at Gramps (176 NW 24th Street, Miami). DJs on the night are Jacques Renault, Marcos Cabral, Aurora Halal and DUST.
The
STANDARD
(40 Island Avenue, Miami Beach) hotel and spa launch the latest "artist" beach towels -- designed this year by James Rosenquist and Glenn Lignon and produced by the Art Production Fund-- with a private garden picnic on December 2nd. Pick one up in the hotel's gift shop, where Sight Unseen and Print All Over Me will also be selling a new collection of "beachy" items designed by various artists.
The STANDARD also has a bunch of super-private, VIP dinners and parties all week, including parties for Le Baron, Andre Saraiva, Nordstrom, Rosario Dawson and Jose Parla. The annual Lazy Sunday BBQ is poolside on December 7th from 2 to 8 p.m.
We also hear that PAPER faves, the art duo of Jonah Freeman & Justin Lowe will do a performance piece somewhere in the EDITION on December 4th at 10:30 p.m. And we were right about the bowling alley in the basement, because we now hear that several artists including Will Cotton, Blair Thurman, Jules de Balincourt and Daniel Heidkamp have been asked to design bowling balls.  Lots of galleries and museums including the New Museum, PAMM, Gavin Brown and Lehmann Maupin are hosting private events in the hotel.  Plus it looks like
Visionaire
's party for John Baldessari's issue #64 is happening there on December 4th, 7 to 10 p.m., in the garden; and Surface magazine is hosting a "Design Dialogue" with Hans Ulrich Obrist, author of Ways of Curating, also on the 4th.
The
Shore Club
(1901 Collins Avenue, Miami Beach). hosts a private BBQ with Island Records' founder Chris Blackwell on Thursday with fresh fish, reggae sounds and rum cocktails.  Also, check out the backgammon boards designed by Daniel Chadwick.
On Monday night, December 1st, 7 to 9 p.m. the
Mayfair Hotel
(3000 Florida Avenue, Coconut Grove) hosts a big benefit party for the
Sabrina Cohen Foundation
for Individuals Living with Paralysis featuring an exhibition of 50 portraits by Miami's Henry Perez called "La Force de Femmes au Naturel." It's FREE and open to the public and a raffle of selected works from the show will benefit SCF.
Acclaimed architect Zaha Hadid will host the ground breaking ceremony for her first residential building in the Western Hemisphere at 10 Museum Park (1040 Biscayne Blvd., Miami) on Friday, December 5th at 11:30 a.m.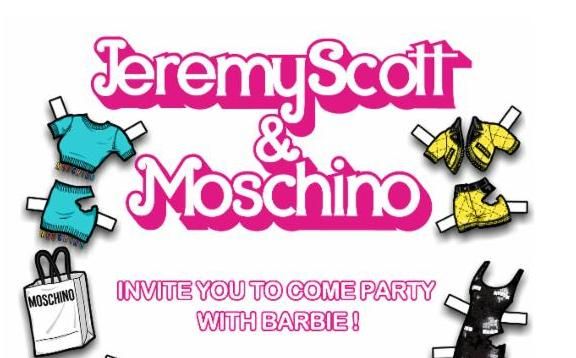 Jeremy Scott and Moschino are having a party with Barbie on December 4th, 9 p.m. to midnight, at the Thompson Miami Beach (4041 Collins Avenue).  RSVP mandatory.
Part 1 of Our Mega Guide is
HERE,
Part 2 is
HERE
, Part 3 is
HERE
, Part 4 is
HERE
, and Part 5 is
HERE
. 
For more Art Basel tips, visit our friends over at PerrierLovesMiami.com, who've compiled a comprehensive guide complete with a map!