Opening Friday: The Killer Inside Me!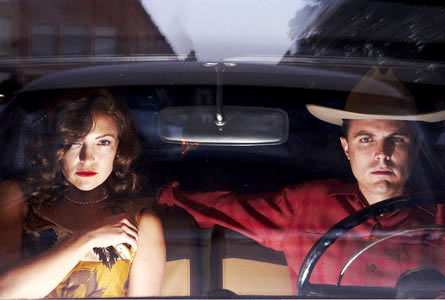 Opening Friday is
The Killer Inside Me
. Director
Michael Winterbottom
's scrupulously accurate representation of pulp crime author
Jim Thompson
's 1952 novel about a psychotic sheriff deputy.
Stanley Kubrick
described the book as "Probably the most chilling and believable first-person story of a criminally warped mind I have ever encountered." The always excellent
Casey Affleck
brings an oddball demented boyish charm to the creepy, viciously calculating, Texas lawman Lou Ford, who sets up a murder of a prostitute (
Jessica Alba
) to settle a score with a wealthy industrialist (
Ned Beatty
). It all also unleashes psycho-sexual obsessions from his past that he long buried which he takes out on his lovelorn fiancee (
Kate Hudson
, who's quite good). There is a lot of squirm-inducing scenes of unnecessary brutality against woman (which polarized audiences when it screened at Sundance for good reason). But compared to the 1976 boneheaded film version starring
Stacy Keach
this is a pretty good representation of
Thompson's savagely twisted fictional terrain.