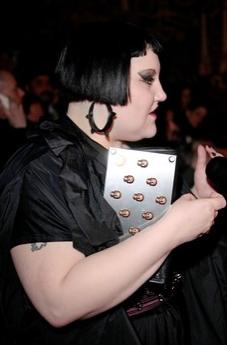 PAPERMAG did a one-minute chat with
Gossip
's leading lady Beth Ditto at the
Viktor & Rolf
show in Paris. And it only took 20 seconds for the irresistible Beth to say something outrageous.   
Hi Beth! 
Hi Mickey! I'm late for everything.   
What are you late for?  
Everything. I was late for my period. Late for shows...    
Well from what I read about you I have a pretty good feeling you're not pregnant.   
Yes! (laughing) I am not.    
So what brings you to Viktor & Rolf?
Well... pictures, perfume, sex mostly. I don't know which one I wanna bang. The Viktor, the "and" or the Rolf. I'm really excited.   
Well I think that says it all.    
Yes it does.