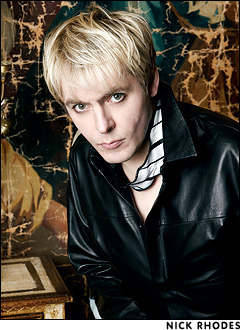 In their 25 years as pop culture innovators and centurions, Duran Duran has released 11 albums, sold over 75 million records and performed scores of live shows worldwide in front of millions of fans. In addition to garnering two Grammys and several MTV Video Music awards, in 1993 they were presented with a star on Hollywood's Walk of Fame -- physical proof that the superstars have "made it." At the commemoration festivities, lead singer Simon Le Bon remarked, "When you walk over our star be sure to smile down on us, and we'll be sure to smile back up at you." But even the brightest of smiles can wear thin with time, and Duran Duran's would be no exception.
Founded in 1978 by teenage neighbors Nick Rhodes (keyboards) and John Taylor (bass) in Birmingham, England, Duran Duran was all about image and style from the get-go. It's said that Nick and John looked at their instruments and scoffed, "Do we really have to learn to play them?" Real substance and skill, however, would soon emerge, thanks to Duran's tenacity, dedication and hard work. By 1980, the band's formidable lineup was in place: In addition to Nick and John, there was Roger Taylor (the shy one) on drums, guitarist Andy Taylor (the future tortured-rocker of the lot) and gregarious frontman Simon Le Bon on lead vocals.
In addition to causing young teenage girls the world over to swoon uncontrollably in the early 80s, Duran Duran fostered the modern-day MTV music video with such revolutionary classics as "Rio" and "Hungry Like the Wolf." In July of 1985, the fab five flew into Philadelphia to play what would prove to be the zenith and swan-song of their white-hot, five-year-and-15-minutes career. At Live Aid, Duran Duran performed four songs: "A View to a Kill," "Save A Prayer," "Union of the Snake" and "The Reflex." It would be their last official performance as the original five for 20 years.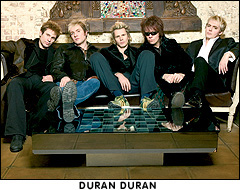 Indeed, later that year members began parting ways. By 1993 Nick, John, and Simon were left to put out The Wedding Album, which spawned the hits "Ordinary World" and "Come Undone." In 1995 the trio recorded "Thank You" a tribute to their musical influences. Then John dropped out and EMI unceremoniously dropped DD.
And then there were two. By the late 90s it was down to Nick and Simon with help from Frank Zappa and Missing Persons guitarist Warren Cuccurullo. In 1999, they released a 10th album, Pop Trash, and despite critical accolades, the band's label, Hollywood Records, treated it as such.
But Duran Duran are a hearty lot, and by 2001, the original five were in a Brixton studio recording "(Reach Up for the) Sunrise," the first single off of their 2004 release, Astronaut, a song which Le Bon says is about the band's rebirth.
Now, after nearly 18 months of touring, Duran Duran is indeed smiling back -- albeit with the help of some tooth-whitening treatments. This week, they wrap up the last leg of their US summer tour before setting down to record a follow-up to Astronaut.
PAPERMAG caught up with Nick Rhodes as Duran Duran blitzed across the Midwest and zeroed in on Dayton, Ohio.
Phil Smrek: Did you always have hope that the original five would regroup?
Nick Rhodes: Well, I never say never, but often say maybe, so I guess it was always on the menu, but just not available for a while....
PS: Since its inception, DD has been on the cutting edge of visual music media. We understand there's a pretty cool series of videos for "(Reach Up for the) Sunrise." Tell us about that and where can we see them?
NR: We actually out-conceptualized ourselves with this project! We wanted to create something completely new and unique to launch the first single from the album, so we decided to work with a brace of wonderful filmmakers called the Polish Brothers (and they are indeed brothers). The idea was to make five separate videos, one for each band member, showing some kind of journey home, all edited to different remixes of "(Reach Up for the) Sunrise." The sixth video was to be a combination of the other five films edited together for the single mix; fortunately this one was ready on time. However, the others took a little while to complete. But miraculously they have finally found their way on to iTunes and will no doubt be released in the most glamorous DVD package ever made, some time soon.
PS: DD recently played their hometown of Birmingham. How was it?
NR: Oh, it was just lovely, thank you for asking. The show was the most spectacular one we ever attempted in the U.K., and we liked it so much, we're already thinking about doing it again. The special added bonus of doing the show in Birmingham was, of course, that three of us got to see more of our family members than we have ever seen at one time other than at weddings and funerals.
PS: What can we expect on the US summer leg of the Duran Duran tour? We hear you played with a 70 piece orchestra in Orlando.
NR: We are always eager to please, so whatever your fantasy is, feel free to submit it on a postcard, all entrants will be considered. Orlando was a one off show, for the moment. It was quite something though, nothing more satisfying than been stringed along by a brass section. The rest of the tour is about pure electricity, songs from the whole catalog. As long as there are no power cuts, I feel supremely confident that we can deliver watts matters.
PS: Two part question: What's your favorite Duran Duran song and television show?
NR: Changes by the day, hour or minute, depending upon my mood, but right now it's "The Chauffeur," actually make that "Still Breathing," or maybe "Come Undone".... I never really watch TV, unless I put a DVD on. Oh, I'm lying, The Simpsons, the greatest ever American sitcom. But the most popular show with us boys for the moment would have to be Desperate Housewives. It is, after all, very Duran Duran.
Duran Duran play three area shows: July 29th at the House of Blues in Atlantic City, July 30th at the PNC Bank Arena in Holmdel, NJ and July 31st at Jones Beach in Wantagh, NY. For a complete tour schedule visit www.duranduran.com.