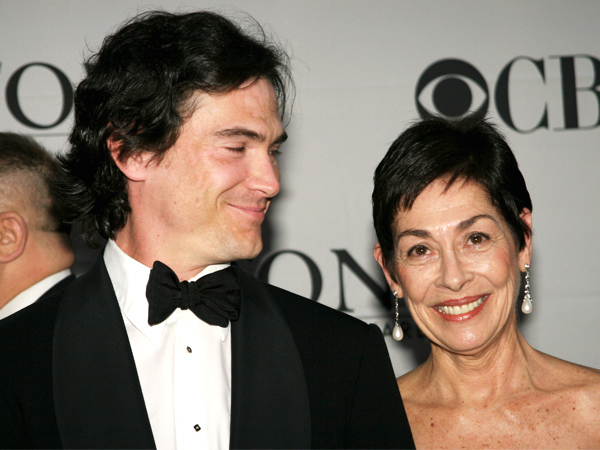 Instead of watching the Sopranos finale or attending the Rufus Wainwright PAPER party, I decided to channel my inner aggressive journalist and line up on the red carpet at the 61st Annual Tony Awards. After the red carpet, it was on to the media room where the Tony-winners speak and then to the Spring Awakening after-party at Spotlight NYC -- the best place to be, as the musical took home the the biggest award of the night, Best Musical, as well as many others. Here are some highlights of my evening.
• I was surprised about how sweet and slightly self-deprecating, Tony-winner Billy Crudup (pictured above with his mom) seemed and how not-nice his ex-girlfriend and current girlfriend of the equally charming Hugh Dancy seemed. She brushed past us on the red carpet and didn't seem in a good mood at all. I'll give her a break though, she was there with Hugh (although they didn't arrive together) and Billy was of course there and won! That might have been a very sticky situation for her! I would give these three the award for most awkward run in of the night!
• Ethan Hawk seemed a bit drunk as he was being dragged around by his publicist on the carpet. But when you are that cute and talented, I say have as many cocktails whenever and whereever you want them.
• Actress Julie White was so shocked when she won the Tony for Best Actress in a Play for her performance in Little Dog Laughed. This made sense, seeing as the play closed early on Broadway and she was up against the likes of Vanessa Redgrave and Angela Lansbury. She called the Tony voters a "wacky crazy bunch of kids" and announced in the media room that she hadn't even gone to acting school!
• The Office's Rainn Wilson, who presented at the Tony's said, "I'm going to present myself an award for best actor in the world." And then went on to say that if they made a musical based on Nirvana, he would want to play bassist Krist Novoselic.
• Conan O'Brien's Triumph the Insult Comic Dog and new character, The Turberculosis Guy, chased Tony nominee Donna Murphy down the red carpet.
• Duncan Sheik said he was "very freaked out," and was a bit ashamed to say that he had gotten a massage to relax. He was just as nervous to win because that meant he had to give a speech! "I can't stand having to talk in front of large crowds! It's so much easier for me to just sing something!" Sheik also said he and lyricist Steven Sater would be workshopping a new musical called Nightingale in the fall with director, James Lapine.
• Tony-winning director of Spring Awakening Michael Mayer said he's been talking with Colin Meloy of The Decemberists about collaborating on a new musical.
• Tony-nominated, 110 in the Shade star Audra McDonald said she had a great time primping for the Tony's: "I have a very loud and very talented team, my makeup designer and my hair designer they are very loud, very funny, so I sit back and the two of them just go out at it and my assistant drinks wine and my husband hangs out and my sister hangs out it's just a big party. I'm usually the quietest one there but I get completely entertained."
• Justin Bond of the Tony-nominated show Kiki and Herb: Alive on Broadway looked stunning in a low cut black and silver number with bangles and makeup. Definitely a different look for the Tony Awards!
• Laura Bell Bundy, star of Legally Blonde, compared the Tony's to a wedding day. "The whole process is like a [wedding] except I'm not making any serious commitments, thank god!" And although she wore blue and not Legally-Blonde-pink, she made sure to say, "My nails are pink and my heart is pink!"
• Tony-winning playwright Tom Stoppard said about his writing process, "I don't write at all until I get bitten by something and then I only write."
• At the Spring Awakening after-party Zach Braff seemed to be hitting on the musical's lead actress Lea Michele, and said to her, "well, I've already seen your boob!" referring to the controversial moment on stage where her love interest Jonathan Groff rips open her dress when the teens have sex for the first time.
What a great and glamourous night on Broadway!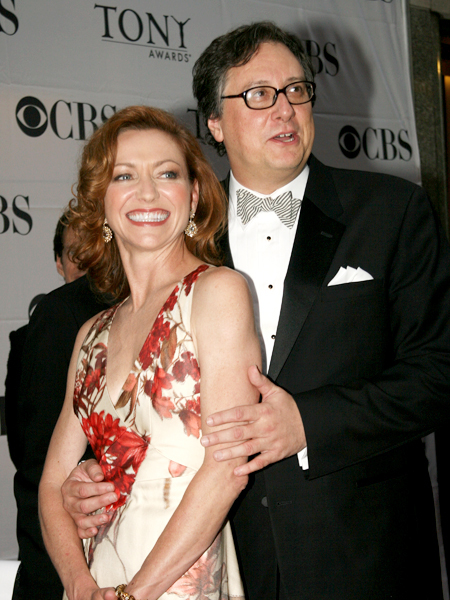 Julie White and playwright Douglas Carter Beane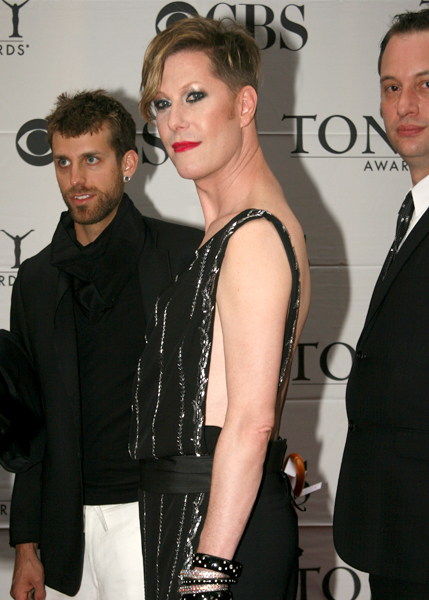 Justin Bond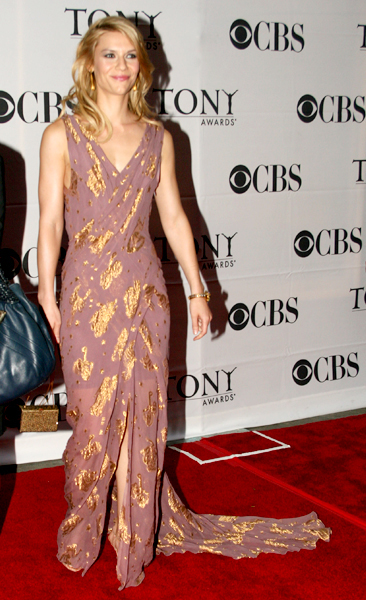 Claire Danes
Photo credit: Caroline Torem Craig