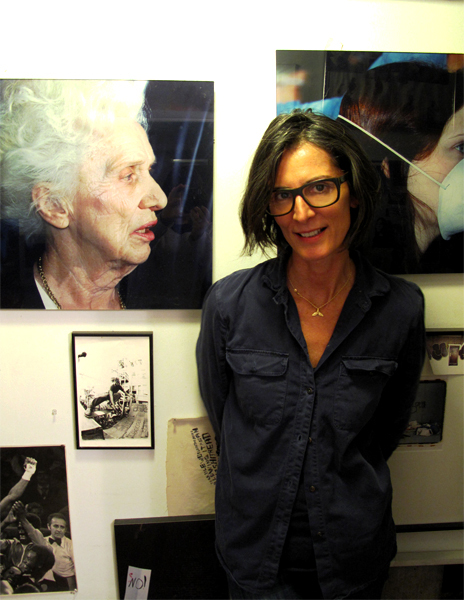 Cheryl Dunn
There are certain people that walk into a room and immediately grab your attention. For me, Cheryl Dunn is one of those people. From the first time I saw her at Ninth Street Espresso with her thick black frames and her effortlessly sexy -- yet casual -- style, I knew this was a woman who had some stories behind her. A well-known documentary filmmaker and photographer who recently made the street photography documentary,
Everybody Street
, she crossed that big bridge (George Washington) from New Jersey to Manhattan 30 years ago and never looked back. I sat down with Cheryl in her studio in the Financial District, which she has had since the late 80's, to discuss her love of travel as well as recipes for people who REALLY can't cook.
MENU
*
Coq Au Vin
*
Ginger Marinated Kale with Shaved Celery & Almonds
*
*Chicken From Quattro's / Mushrooms from Bulich Mushroom Farm / Bacon from Ottomaneli & Sons / Kale, Shallot, Garlic, Thyme from Keith's Farm*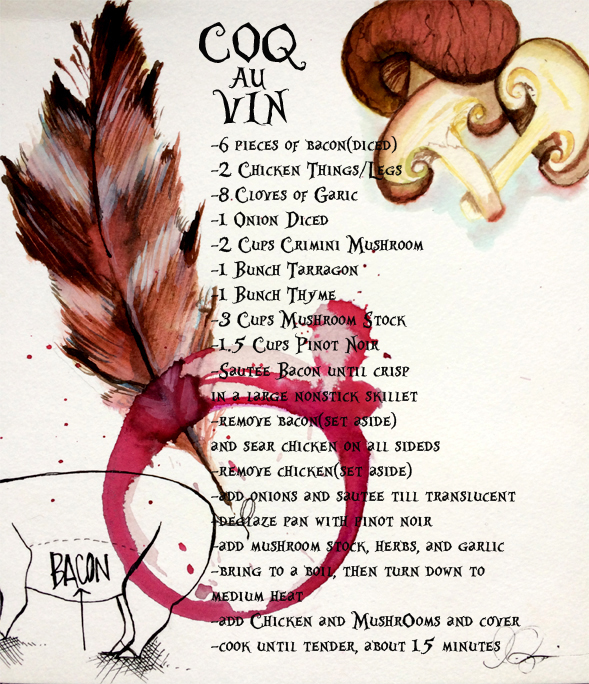 Coq Au Vin recipe

How did you get into photography?
I attended Rutgers University on a gymnastics scholarship and got a degree in Art History. I had no idea what to do with that -- I mean, I came from a blue collar construction worker / waitress community. That was my frame of reference -- no one in my family went to college or traveled outside the country. I wanted out! After traveling throughout Europe for months and months I returned to Jersey in the dead of winter and knew I needed to make the move to NYC. I started in fashion in some low level sales job, but was able to assist photographers on various fashion shoots. My boyfriend at the time was street scouted to be a model and he moved to Milan. I decided that I was going to move there too and become a photographer. So I got like three jobs to make money and saved for a couple of months and then I split. I lived in Italy and Spain for two and half years. You could live for so cheap there back in the 80's. I did test shoots and runway shows. When I came back to NY, I began working as a photo assistant and learned the business of photography. I did that for many years.
Did you learn how to speak Spanish and Italian?
NO! I was really isolated. There would be long periods of time where I didn't speak to anyone. But because I didn't know the language, I was able to really hone my observational skills. I studied people. I would watch things and write stories. It was extremely lonely, but in hindsight I think it was so beneficial. It's very important to yank yourself out of your comfort zone, especially in your twenties. Society is so focused on what we can do next just to entertain ourselves, but people never shake up their worlds. I think it is a really smart thing to do because you figure out who you are without a frame of reference. What do I think? How do I feel? All I did was read, write, walk the streets, go to museums and document.
Do you have any special memories about food from the time you spent in Europe?
You could eat the most insane meals at that time in Italy for so inexpensive. There was this place in Milan that all the models, photographers, creatives would all go to because you could have this incredible meal for like $2.50 and they would keep pouring wine....I also remember the gelato -- it was not in the States at that time so it was my first exposure. I really remember that because I would try NOT to eat it, but the flavors were so incredible. Also I remember a skiing trip in the Alps with a group of Italian friends and I ordered fish. They shunned me -- "You eat fish when you are at the sea and you eat meat when you are in the mountains." I learned the philosophy of eating regionally and seasonally through my travels in Italy.
What is your favorite meal?
I love dinner. I usually start my day with a cup of coffee and the paper at Ninth Street Espresso. Then I work all day. Dinner to me is when everything stops, I get to talk about the day with my husband, Michael, and just relax. We live in the East Village and we have such good restaurants. We pretty much just go out to eat. Michael is a great cook, but we are both workaholics and we don't really have the time.
What is your favorite local restaurant?
Edi & The Wolf. We go there all the time. Since going gluten free I don't get the spaetzel or the schnitzel any more even though they are delicious. I usually get the trout or the duck, which are so good. I always have a veggie, either the brussels sprouts or the kale salad. I am not a big red meat person, but I will have a bite of someone else's. I don't usually leave our hood for dinner -- I like staying in the "Letters" (meaning Alphabet City), so I also go to Back Forty or Lavagna.
Do you ever cook?
Ha, NO! I can't cook at all. Luckily, Michael is a great cook, but when he goes out of town it is up to me to fend for myself. I usually just make up strange things so that I don't go hungry. Our fridge is basically filled with condiments. I am really good at dishes that involve me spreading something on something else and making it a meal. I make this thing that is similar to a quesadilla, except I fold a gluten free tortilla inside the toaster and fill it with cheese and maybe a pickle and let it melt in there...The only two things that I can actually make are my mother's recipes for spaghetti with clam sauce or a rum cake. I told someone else this and then I realized that both of those are riddled with alcohol... what does that say about me?
I had pegged you as a good cook
No, but I am a wicked dish washer. I am the third of six kids and the first girl. My job growing up was to wash the dishes after dinner. I became really efficient so that I could get out of the house and go do the things I wanted to do, like hang out with boys.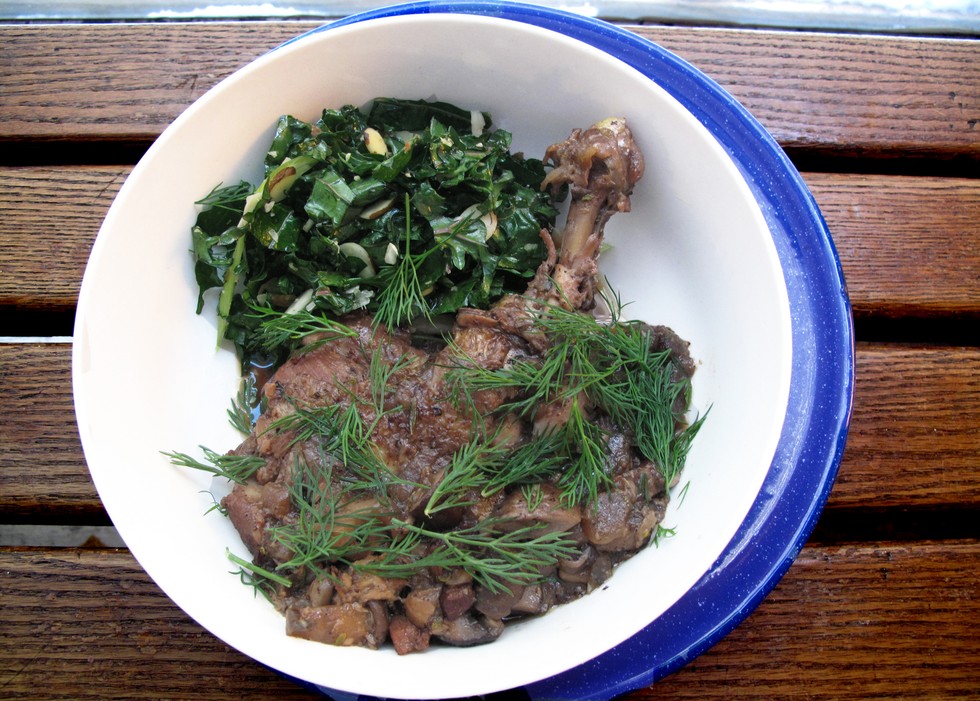 Lunchtime Coq Au Vin
Do you have any guilty food pleasures?
I love milk. At night I'll fill a jar with milk and a spoonful of maple syrup and shake it up. It's like a ghetto "milk-shake," it gets all foamy at the top. When you can't cook, you have to get creative!
What foods are nostalgic for you?
My mom's family is Italian and my Grandmother taught her to make a traditional lasagna. My dad's family is Irish, so Sundays were usually corned beef and cabbage or lasagna. I don't crave either of those dishes anymore, but they remind me of childhood.
If you could go anywhere in the world to eat where would you go?
Living in NYC we have such great restaurants and I feel spoiled but I would love to go to Vietnam. Although a meal that I have chased for years is this veal dish that I had in Torino when I lived there. A friend of mine took me to this little hidden spot and I had this paper thin veal that was so mind-blowing. It was so incredible, my search continues but I've never found it.
If you could have lunch with any other woman who would it be?
Dead or alive? Can I pick two? I'd pick Margaret Kilgallen, a friend of mine who passed away who was an amazing artist and painter. I'd like to know what it's like where she is and how she is doing. And the other would be [suffraggette] Victoria Woodhull -- she was a radical and a bad ass. I study how men think and I have written on my mirror "Think like a man, act like a lady, and work like a dog." I have survived in male dominated fields by that belief and that's what she did. She played the man's game and beat them at it. I love women that celebrate their womanhood and use it to their advantage.
Photos and illustration by Lauren Gerrie