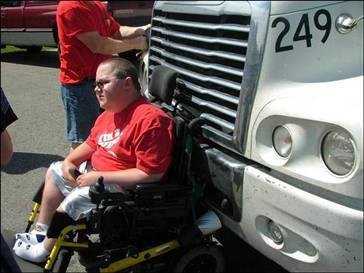 PAW PAW, Mich. - A man was taken on a wild ride when his wheelchair became lodged in the grille of a semitrailer and was accidentally pushed down a highway for four miles at about 50 mph, authorities said.
The 21-year-old man, whose name was not released, was unharmed but was taken to a hospital as a precaution. He had been secured to his wheelchair by a seat belt.
"The man spilled his soda pop, but he wasn't upset," said Sgt. Kathy Morton of the Michigan State Police.
About 4 p.m. Wednesday, a caller told police dispatchers, "You are not going to believe this: There is a semi truck pushing a guy in a wheelchair on Red Arrow Highway," state police said in a release.
(Thanks, Hot Lisp, for pointing this out to us!)