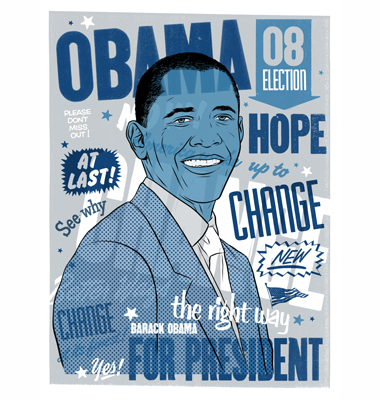 Yesterday the New York Post ran an article suggesting that the spontaneous outpouring of art works inspired by the Barack Obama campaign were less than viral. Instead, the story by Maureen Callahan, suggested that the campaign was secretely commissioning the works by the likes of Shepard Fairey and the Date Farmers and pretending they didn't know anything about it. Well, as often happens, the truth is somewhat in the middle. In the story Callahan identified Yosi Sergant as the secret operative behind the plot to make it appear as though Obama is the favorite candidate of street artists everywhere.
I caught up with Sergant last night and we had this im conversation.
David: Want to comment on the NY Post story for my blog?
Yosi: Sure. What would you like? The fact that she had over fifteen factual errors
beginning with the spelling of my name? It's such bad reporting/
David: Yes, stuff like that. Did they get the essential story right. That these artists were working for the Obama campaign? The quote by Shepard makes it appear so.
Yosi: Not even close. That's the biggest flaw. I ran into Shep [Shepard Fairey] at a party and he said 'I love Obama.' I said, 'make a poster,' and he said, 'You think that's cool?' And I said, 'GO FOR IT.' He did, it took off, THEN the campaign saw it take off and hopped on the train. They saw an opportunity and called Shep. If Shep talked with [campaign communications director] Scott [Goodstein], it was about his CHANGE poster, not the progress nor the hope ones. I'm quite literally the only one who ever saw those before they went to print. I'm an unpaid, grass roots volunteer and never consulted with anyone from the campaign on any of this. She's way off.
David: Any responses to you from Obama people re: posters?
Yosi: Not to me, to Shep [Shepard Fairey], a letter of thank you from BO himself!
I am no one. I just instigate.
David:Are there plans for any more?
Yosi: Just released another tonight by Morning Breath.
David: Where can I see it?
Yosi: Upper PlaygroundUpper Playground sells limited runs of 200 signed and numbered. The money goes to funding wider poster campaigns.
These posters... all of them... are artists stepping up. [Maureen] made them out to be so sinister.