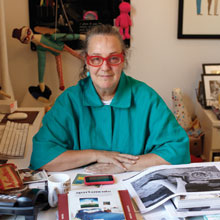 Failure has such a bad rap. I don't know why the hell everyone is so terrified of it. Mistakes are just the things that happen on the way to success. Failure stretches us, pushes us forward and makes us so much better at what we do. Risking failure forces us out of our safety zone, which is a good thing. Being safe all the time will never get you more than a B-minus in life. Risk is what gets us the A-plus jackpot! I have built much of my career on mistakes. After scraping together 4,000 bucks in 1984, we printed the very first issue of Paper as a giant foldout poster, which had 20 spaces for ads around the edges. It was an original and cool idea but not a smart or successful one. It didn't take us long to figure out that in this format we could never grow any bigger. Oops. Hey, at least we started a magazine instead of
not
starting one!
This fall I accepted an invitation to moderate a panel discussion on the subject of failure at Target headquarters in Minneapolis. The panel was in celebration of the company's annual design month, and I realized that failure is one of those subjects that is in the air right now. Big time. Each of the successful, smart and fearless panelists I invited to join me in this lively discussion seemed obsessed with the concept as well. The legendary book designer Chip Kidd -- who, incidentally was in the midst of prepping a talk for the Art Directors Club about "Failing Better" -- confided to the panel how a huge rejection by his professor in college was what inspired him to succeed.
Artist, producer and marketing-guru Andy Spade reminisced about rewarding risk-taking employees and docking those who played it safe at Kate Spade, the company he founded with his wife (which he no longer owns). He told a hilarious story about how he almost lost his shirt after hiring a disastrous CEO who cared much more about making money than the brand's DNA. Going forward he decided to establish a mandate that whenever he hired a financial person, he would also hire a crazy performance artist or creative troublemaker to balance it out. I loved that Spade's version of risk was what most people view as safety (a CFO) and his version of safety was what most considered a risk (a performance artist)!
The British package-designer Jonathan Ford showed me his new book called
FAIL (no) MORE
, which celebrates the 20th anniversary of his design studio, Pearlfisher. (One of the pages simply says, "Love fear, step to the edge and then let go.") Ford spoke about how waiting for perfection can often hold back progress, and how speed is important for creativity. He encourages his team to just throw ideas out there without over-thinking them, even if they are flawed.
The super-smart L.A.-based digital strategist Winston Binch spoke about brands that fail digitally because they refuse to risk making mistakes. He pointed out the gap that often exists between our own and others' perception of our failures. Haven't you ever noticed that others often see something that you feel is a disaster as no big deal?
Lastly, the brilliant experiential director, designer and artist Karen Kimmel, who's built a career on creativity and collaboration, spoke about practicing teamwork without ego or agenda. She advocated that ideas can and do come from anyone of any status on any team, not just the alpha dogs running the show. She also advocated risk-taking and letting go of control as a spark for success.
Eleanor Roosevelt tried to do something that scared her every single day. I love that. Years ago, I shook with fear the first time I played the triangle with my friends, the band Pink Martini, at the Hollywood Bowl in front of 18,000 people. I didn't perform my solo perfectly but I improved every time I played, until the band graduated me to the cymbals. You can't imagine a scarier failure until you crash the cymbals at the wrong time in front of a huge audience with Pink Martini alongside you. But that's the kind of blooper that kicked my ass into seriously polishing my cymbal skills. As my reward, I've now been upgraded to the glockenspiel and am looking forward to playing a solo with the band at Carnegie Hall this month. Am I scared to fail? Of course! I'm petrified! But hey, you've gotta get comfortable with being uncomfortable. Staying safe never moved the world forward. If I do mess up, I know that (as Chip Kidd would say), I will fail so much better the next time around.
Photographed by Dan Monick