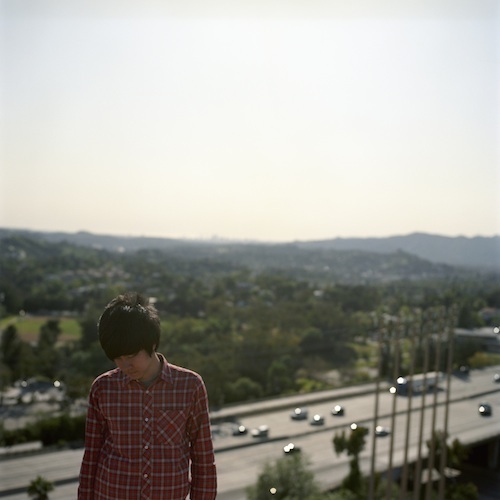 Jason Chung
(aka
Nosaj Thing
) has been fiddling around with the music-making abilities of computers since age 12. Now 26, he has an
EP
, an
album
and a near-endless list of remixes under his belt, including Radiohead, Portishead and Drake. If anyone's wondering where his spelling of "No Such" came from -- and before you're tempted to bad-mouth the L.A. county school system -- it's his name backwards.  We sat him down for a talking-to via Skype recently.
Are there any more collaborations on the horizon?
Right now I'm working on something with a good friend, Toro y Moi, and he's also going to
be on the next album. But we're putting together a few tracks, and we might put out on EP or
something like that.
Do you have any dream collaborations?
It would be amazing to work with someone like Bjork. She's just really interesting because she's explored all different types of sounds and worked with different producers, and I like that, that she constantly pushes herself.
I know that Ableton files allow you a lot of freedom to improvise. When you're performing live, do you try to stay pretty close to the songs as they exist on the record, or do you come up with a lot of off-the-cuff variations?
It's always pretty different. There's a lot of flexibility, but, just to explain it, just to simplify it, I
pretty much stem out all the parts of every song, so there's about 500 to 600 clips in a Live set, and I could just arrange and mix up. I could throw in a drum loop from one song and a bass line from another song and it's just kind of like a conductor connecting an orchestra, basically.
What equipment do you use in your live setup?
It's pretty simple. An Apogee Audio Card, an Akai MPD 32 Midi Controller and just my laptop.
I like to just keep it simple. I don't think having tons of equipment on stage necessarily adds
more. I've tried it.
When you're writing, do you think of an audience or space the music might inhabit? Are there any visual associations?
I try not to think when I'm writing an idea. It's just capturing the moment. It's like writing in a
diary or something: it's pretty personal.
Song titles? Are they arbitrary and there just for the fact of needing to name it something? Does a song title, for you, contribute to the final product in any way?
It's really whatever comes to mind. I like to keep it vague, so the listener can perceive it in their own way.
What are you listening to these days?
I really like this older mix tape of Kendrick Omar, it's called "Overly Dedicated." I been checking out some stuff from Nicholas Jaar. I've been skipping around a lot. Jaques Green. He's a Montreal producer, kind of more on the house tip.
What's the future of Nosaj Thing?
I'm about 95 percent done with the new album. After this record, though, I really want to focus on collaborating and producing other artists. That's what I want eventually to get into. It's really
interesting to me, and I like learning new techniques and new things all the time so I can grow
as an artist. That's the path I want to take for a while, and always do my own album, my own
music on the side as well.
When are you due back in New York?
I don't know. I'll probably be back soon. I'm working on a new show. I do this visual show that
I've been touring around. We did it last year at Coachella. I was frustrated for a while, and it's
not exactly an exciting thing to watch a producer up there with his laptop, so we made this visual component that I was really proud of and we toured it for about a year and a half. The show we put together was just really simple, 2-D, and minimal. We were trying to find a good balance, so the visuals wouldn't take away from the music. So now we're getting ready to make a 2.0 version of it.
What the difference between the first version and the 2.0?
We're still experimenting, exploring new ideas right now, so we don't really know exactly how
it's going to go, but I'm hoping to have it ready by the fall.
Nosaj Thing DJs at L.A.'s Mondrian Hotel Skybar tomorrow night.