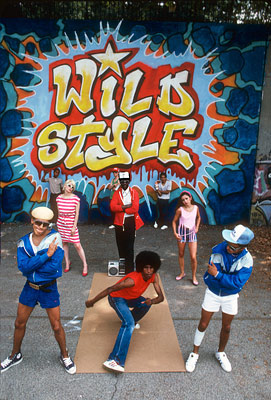 Bad news for New Yorkers. The blockbuster exhibit
"Art in the Streets,"
Jeffrey Deitch
's show at the
MoCA
in Los Angeles, will not be coming to the
Brooklyn Museum
as previously announced. Brooklyn Museum director
Arnold Lehman
has written a letter to the artists explaining the "unfortunate news," citing "severe reductions in financial support that require the Museum to make very tough decisions in light of the challenges facing us in the coming fiscal year. With no major funding in place, we cannot move ahead." Read the full letter
here
.
The news seems to have taken everyone by surprise. For one thing, Deitch had worked to raise funds for the show in Brooklyn. And a virtual guarantee of record-breaking crowds would also help offset the costs.
The New York Daily News
has been campaigning against the show's graffiti roots, which has also been cited as a possible reason for the cancellation. The Museum has been in the center of the storm before in 1999 when Mayor Rudy Giuliani threatened to shut it down when he found some work offensive in the "Sensations" show.
Though the Brooklyn Museum is out of the picture, fundraising efforts continue in order to help bring this major show of New York art to the city. PS 1 has been cited as a possible alternative.  
With a great proportion of the artists in the show New York-bred, the cancellation represents a huge loss to the city's street art community. One of the show's curatorial advisers
Fred "Fab 5 Freddy" Brathwaite
described himself as "numb" upon hearing the news.  "Maybe someone else can give this certified blockbuster a home."
"The Museum canceled the show citing money as the reason. Anything else is speculation," said PAPER senior editor
Carlo McCormick
. who worked on the show. As for the media's anti-street art bias, McCormick says: "These people say they're anti-graffiti, but they're anti-culture. These are the same people who look at a Picasso and say 'my kid can do that.'"
Pictured above: Wild Style mural by Zephyr, Revolt, Sharp, from MoCA's "Art in the Streets" exhibit. Front row: Doze, Frosty Freeze, Ken Swift; middle row: Patti Astor, Fred Brathwaite, Lady Pink; back row: Lil Crazy Legs, Revolt and Sharp; directed by Charlie Ahearn, photo by Martha Cooper. 1983
.