Manhattan is all about the moment and the most memorable moments often happen at night, at parties in every corner of the city. Though I love nothing more than a marathon of Intervention episodes in bed surrounded by carbs, I do my share of hitting the town. Here are my top ten nightlife highlights (and one semi- low light) of 2011.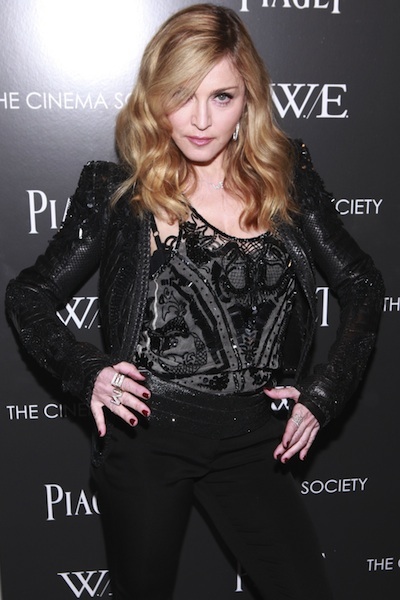 1. Let's get the dud out of the way first: the premiere of W/E at MOMA and after-party at The Crown which is the Upper East Side's trendiest restaurant. I love me some (Sex book era) Madonna, but this mess of a movie about Wallis Simpson (which is a fascinating subject) put me to sleep faster than a double dose of Lunesta. And Madonna comparing herself before the screening to "revolutionary" artists like Frida Kahlo and Patti Smith, who was in the audience, only made me loathe the film more afterwards. And the party -- don't even get me started -- as they say! Madonna sat behind a phalanx of burly security guards with her BFF Steven Klein as a small group of guests gawked at her like a peacock in a cage. I stayed for one "W/E" decorated cupcake and then bolted home. (Photo by Patrick Mcmullan)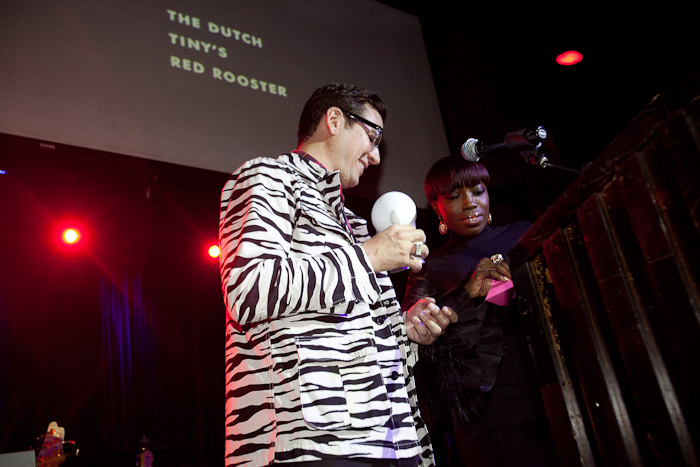 2. The Paper Nightlife Awards at Hiro Ballroom: OK, I am biased as I obvi love Paper, but I got to present an award with pop sensation Estelle, who held my hand on stage and was just a joy to be with. We became pals and now tweet at each other, a sign of very public love. And I never even told her how much I love her music. Estelle, I love you and your music. (Photo by Rebecca Smeyne)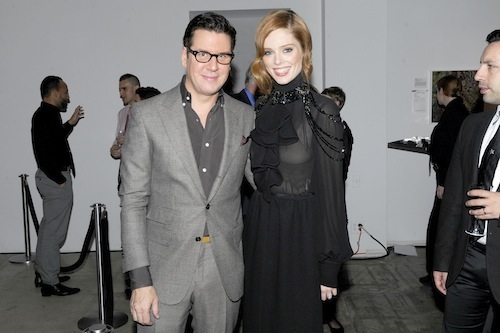 3. The 17th Annual Artwalk NY benefit featured Shepard Fairey, an artist I respect and collect and the money raised goes to my favorite charity: The Coalition for the Homeless BUT I will admit having my picture snapped with my fellow cohost Coco Rocha was the stupendously superficial supermodel thrill of the evening. Must post photo with Coco on Facebook immediately. (Photo by Patrick McMullan)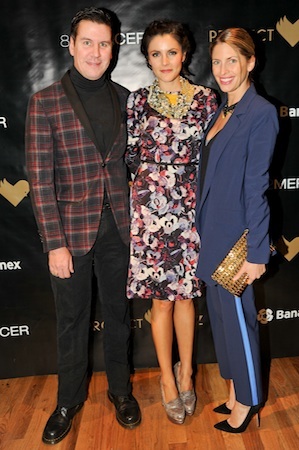 4. Cohosting the Project Paz [ benefit with my "wife," the stunning style siren Eugenia Gonzalez Ruiz-Olloqui (try saying her name 10 times, fast, in a Spanish accent) was a blast. I not only got to hang with friends like Vogue's Valerie Boster, David Lipke, menswear master Carlos Campos, Kristian Laliberte and jewelry designer Eddie Borgo to name a few, but at one point someone asked if I would have my photo snapped with "the first lady of Mexico" Margarita Zavala. Like duh, I was next to Zavala in a flash, pun intended. (Photo of Peter, Gonzalez Ruiz-Olloqui and Valerie Boster by Neil Rasmus/BFAnyc.com.)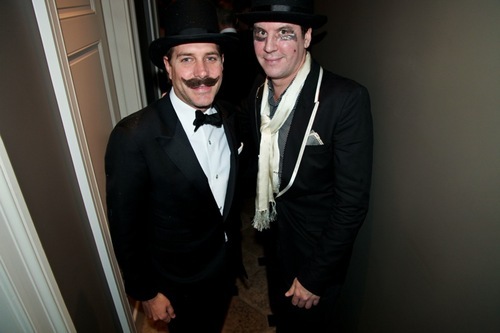 5. Halloween at Allison Sarofim's townhouse is always a major night. The theme was cabaret so I splashed some glitter around my eyes, threw on my black tie and a top hat and attempted to channel Joel Grey. You see everyone you adore in New York, decked in the most beautifully elaborate and insane costumes in one night - what more could a guy ask for? (Photo of Christian Leone and Peter by Zac Sebastian)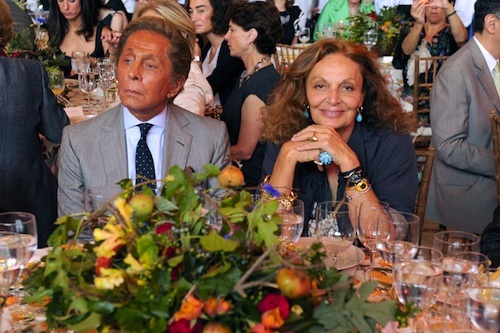 6. The lunch (yes, I do function from 9 am-5pm) for Valentino, hosted by the Couture Council at FIT lured every big name in the style universe under one roof at Lincoln Center. I sat at the table right next to Valentino, Daphne Guinness and Anna Wintour. Eye candy for days. And that's just table one. (Photo of Valentino and Diane Von Furstenberg by Patrick McMullan)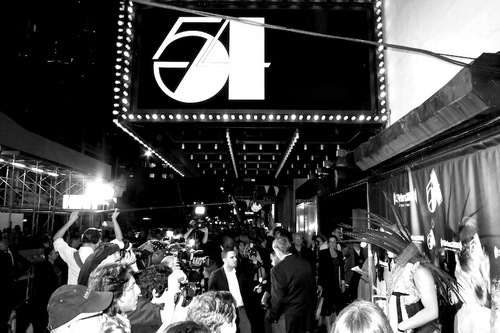 7. The one night only re-opening of Studio 54 was divinely decadent. And I shamelessly grabbed former porn starlet Traci Lords for an iPhone photo op. I never approach celebrities for photos or small talk unless they are sex industry stars or convicted criminals. Hence, my prized photo of myself with my (now) friend Heidi Fleiss taken years ago in Hollywood. You gotta do what you gotta do. Miss you Heidi! (Photo by Marco Ovando.)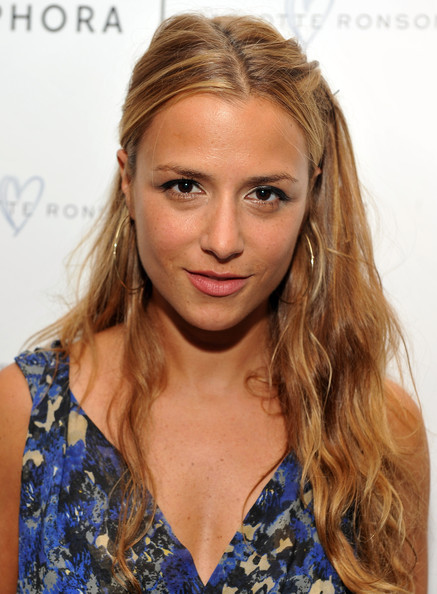 8. Charlotte Ronson's beauty product line for Sephora launch dinner at Hotel Chantelle was fabulous. I am a sucker for anything Ronson -- I love Charlotte, Samantha and Annabelle and Mark is both my style icon and celebu-crush. And mom Ann Dexter-Jones is one of the coolest women in NYC. So a Ronson dinner filled with New York natives I have known for years and chic fashion folk? A+. Enough said. (Photo via Zimbio)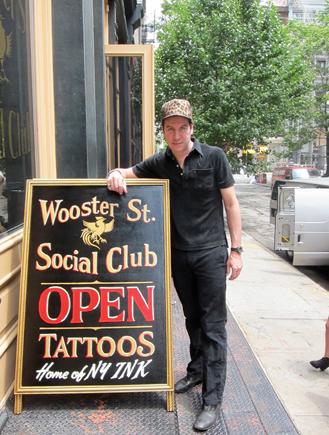 9. The opening of the Wooster Street Social Club was packed and loud and wild. This is N.Y. Ink TV star Ami James' new tattoo parlor and not only has Ami himself tatted up my arm with an Edward Gorey design, he is one of the nicest dudes in New York. I'm already planning another Ami tattoo as I type.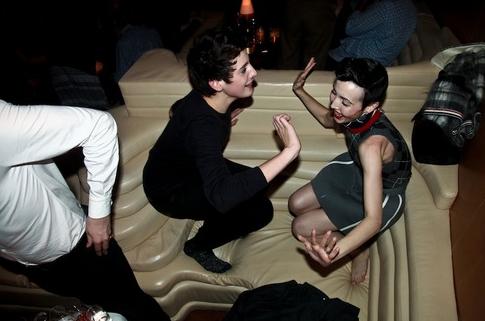 10. Finally, any late night at The Boom Boom Room/Le Bain is always a surefire success on the disco meter. The Boom Boom Room is still the chicest space in New York and Le Bain brings out the cutest kids. That said, I also love me some nights at new hot spots The Electric Room (run by Nur Khan) and Double Seven (ruled by David Rabin). Nightlife is always best when you keep it in the family and Manhattan is one big, happy clubbing clan. Now if only my Bungalow 8 sister would open up a new nightclub my after hours life would be complete. (Above: Michelle Harper and Harry Brant dance on a couch during the Florence and the Machine concert at the Boom Boom Room.)