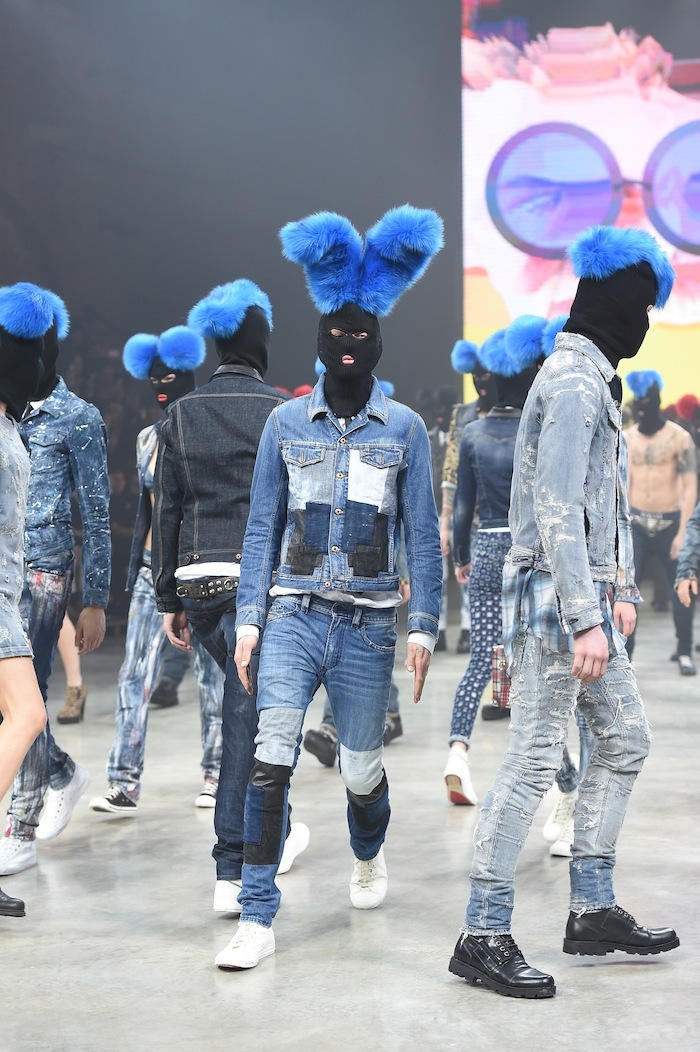 On my way to Venice to witness designer Nicola Formichetti's very first Diesel collection, I immediately started noticing the cute street kids gathered at the gate of my connecting flight in London. And, while staring at their crazy hairdos, piercings and tattoos, I began to realize that without a doubt these kids were headed to Venice for Diesel as well. And indeed, 48 hours later, there they all were...tromping in formation down the runway looking fierce and fearless in the looks from the new Diesel that Nicola was finally showing world.
As creative director of the entire Diesel brand, Formichetti has, over the past 12 months, been slowly but surely leading the company into "re-boot mode" with his modern vision of Diesel's cultural DNA. And, yesterday, it was finally time to see the clothes! Diesel founder Renzo Rosso had brought together all the people he cared most about -- 300 people comprised of family, friends, press, and business partners from all over the world -- to share this important moment with him, in the city that means the most to him: Venice. (Rosso lives in nearby Bassano and Diesel HQ is nearby as well.) And so we all descended on this crazy Disneyland of a town for three days of Diesel madness to celebrate the new look and their new creative director's vision.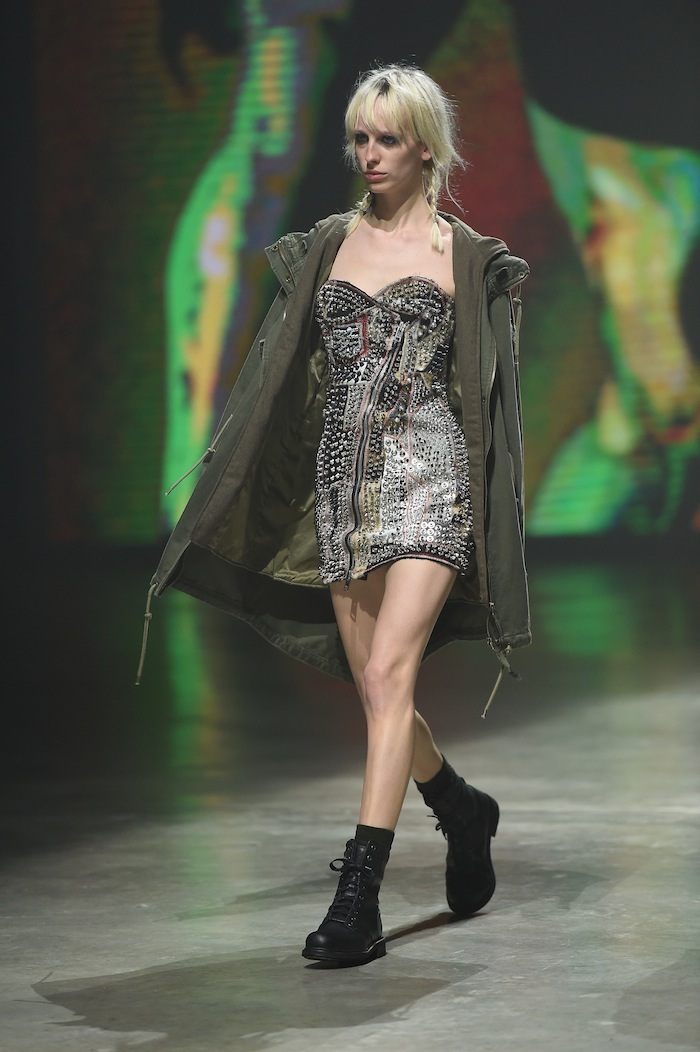 Held at the enormous Arsenale (also home to the Biennale), the evening was both a spectacle and spectacular. It was larger than life but also at the same time intimate and sweet. Hundreds of guests arrived by boat to be greeted by Renzo and his two sons, Stefano and Andrea, at the door as if you were arriving to Renzo's home. His daughter, Alessia, a filmmaker, was busy filming the show.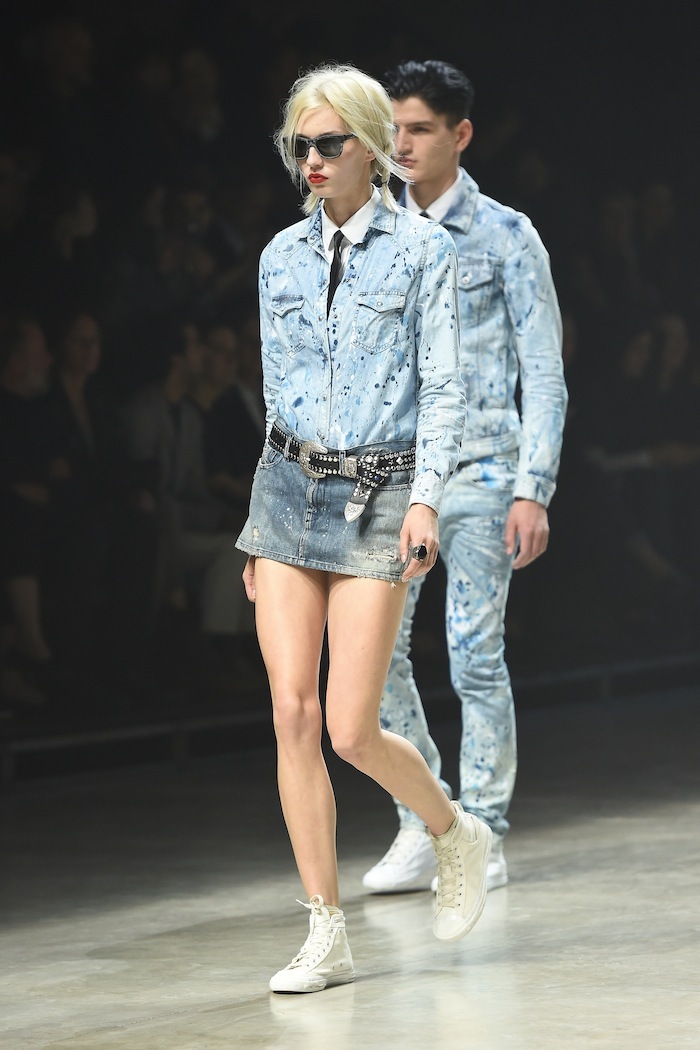 Nicola's show itself was epic (100 looks!), fresh and fun. Oh and COOL with a capital "C." I loved the skinny silhouettes, brothel creeper shoes, the fuzzy striped sweaters (very punk!) and all the denim from the simple to the extreme studded pieces that looked very DIY and the brightly colored graffiti jackets. There were even references to the evening's hashtag (#dieselvenice) with "Venice" purses and tops paying homage to the city that's so important to the brand. (Diesel's foundation has even committed to pay for the restoration of the famous Rialto bridge.)
Formichetti's role as creative director of the company showed in more than just the clothes; from the enormous video projections he commissioned from Nick Knight to the surprise performance by one of his favorite muses,
Brooke Candy
, the experience was entirely consistent with Formichetti's taste, inspirations, and vision. The show ended with an army of 100 people marching in formation wearing masks inspired by Pussy Riot (with a Leigh Bowery tip of the hat) complete with fur ears and mohawks.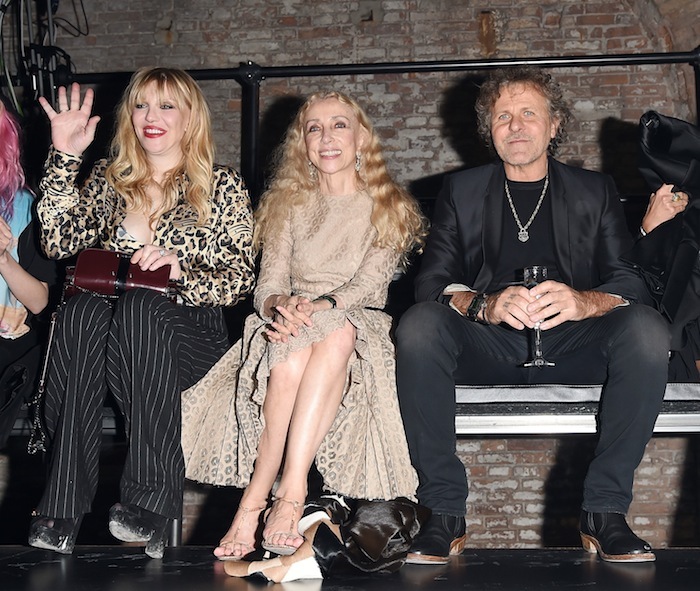 Courtney Love, Franca Sozzani and Diesel's Renzo Ross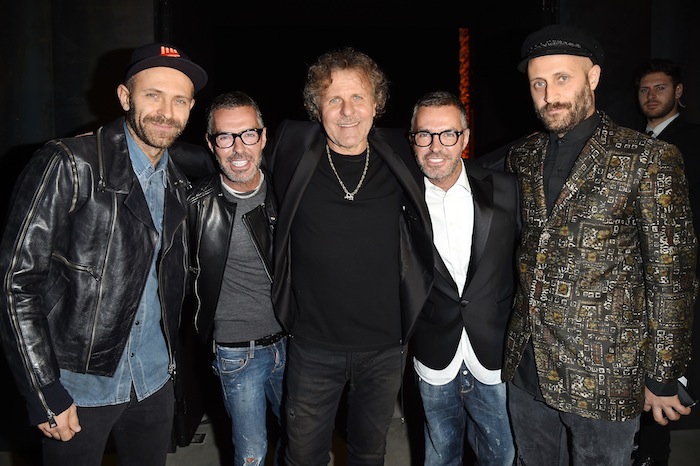 Renzo Rosso (center) with his sons, Stefano (far left) and Andrea (far right) and DSquared2's Dean and Dan Caten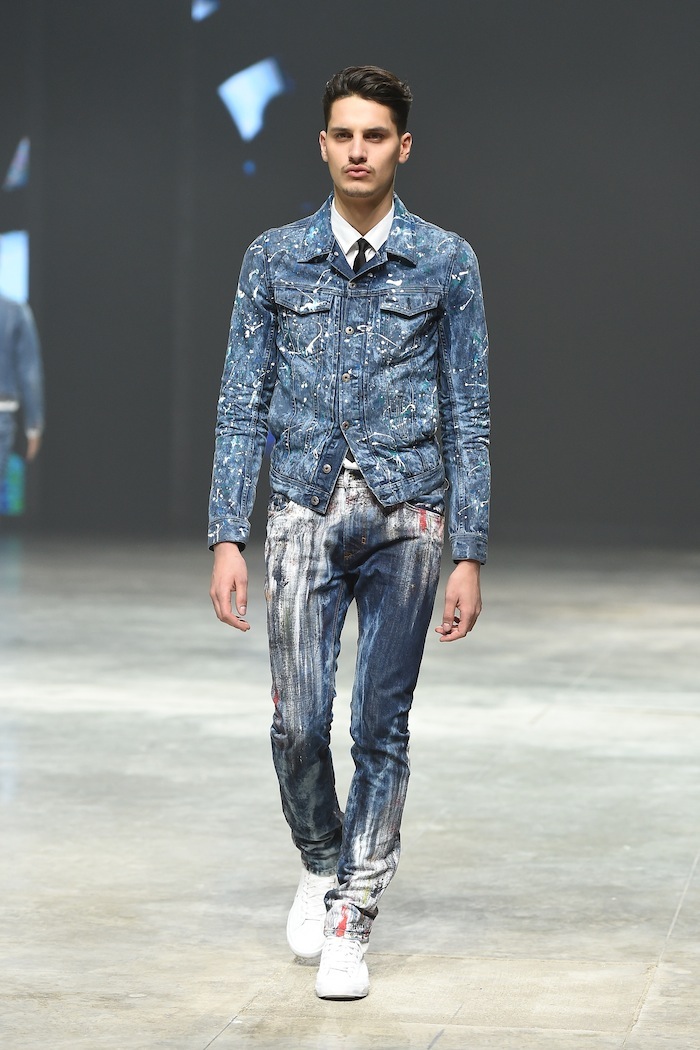 To me, Formichetti did an amazing job ushering Diesel's DNA into the 21st century and Renzo really followed his own advice; Diesel's slogan is "BE BRAVE" and Renzo was just that when he gave this talented kid the keys to his car. It felt exciting. Diesel is a billion dollar company that is no longer an indie brand and bottom line will continue to put pressure on this creative spirit, but one thing is for sure: this show and Formichetti's creative vision has really raised the heat on Diesel. And as for their re-boot? I'd say, "mission accomplished."
Take a look at more photos from the show below.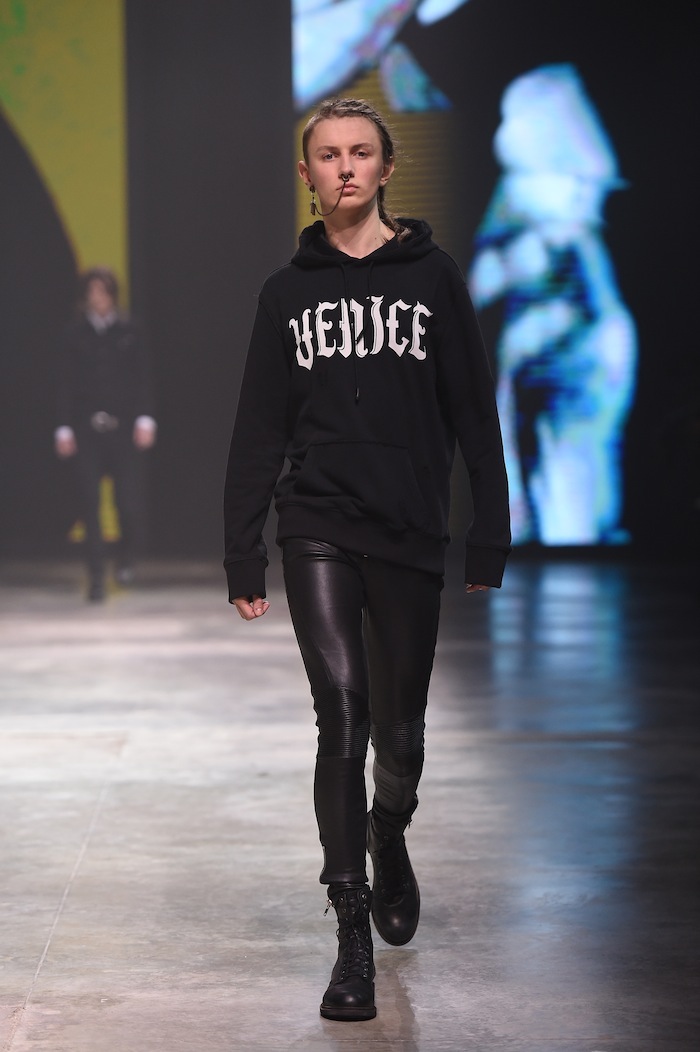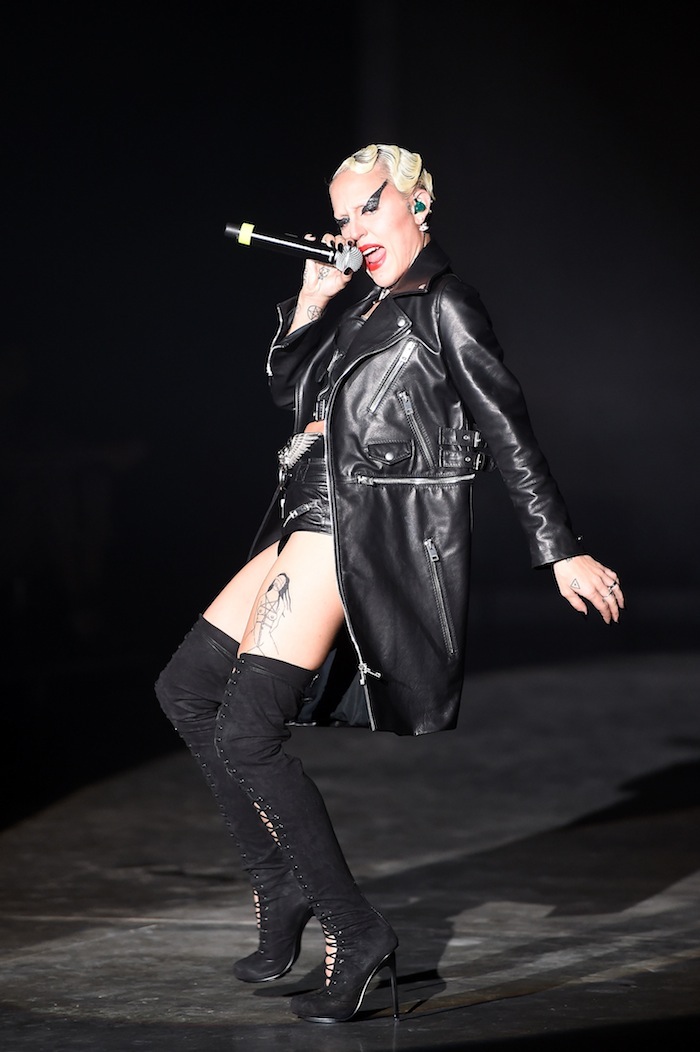 Brook Candy performs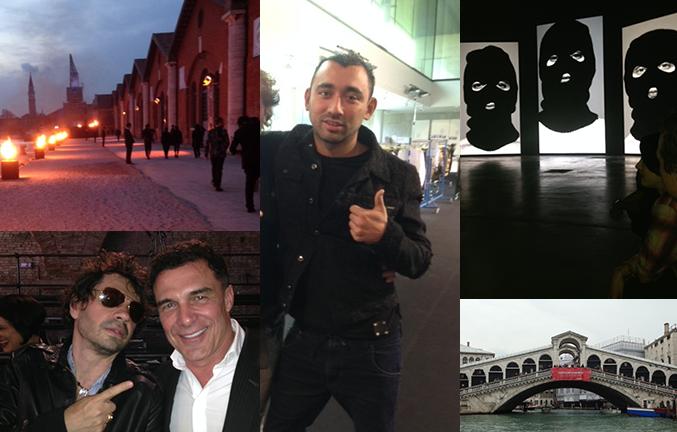 L-R, Up and Down: The Arsenale, Nicola Formichetti, Nick Knight's Videos,
Purple
's Olivier Zahm with hotelier André Balazs and the Rialto Bridge. (Photos by Kim Hastreiter)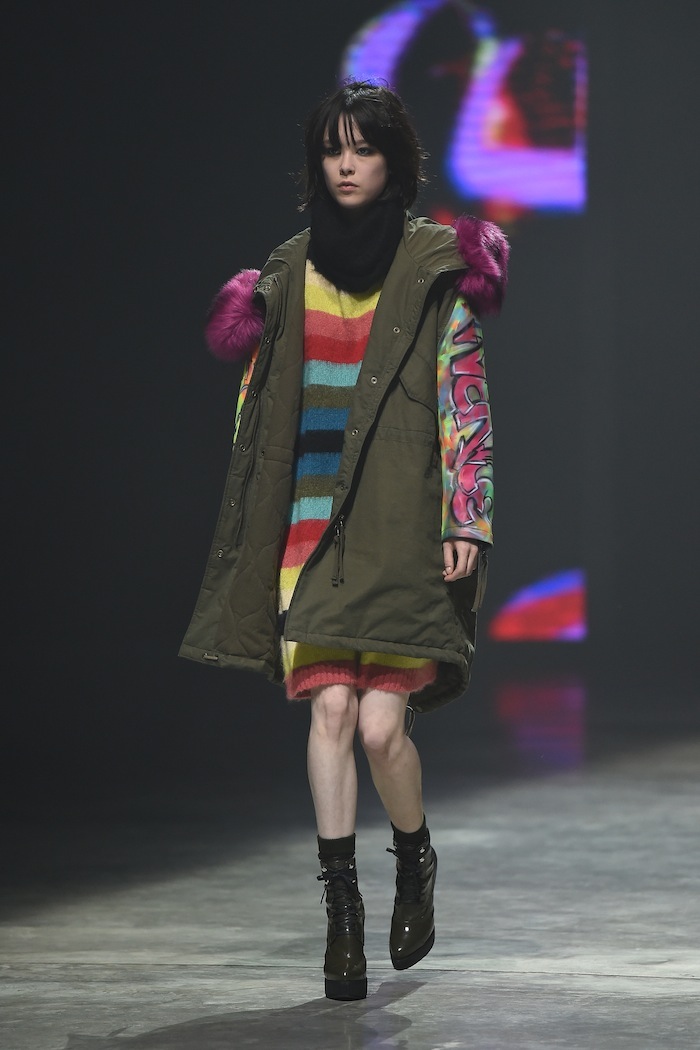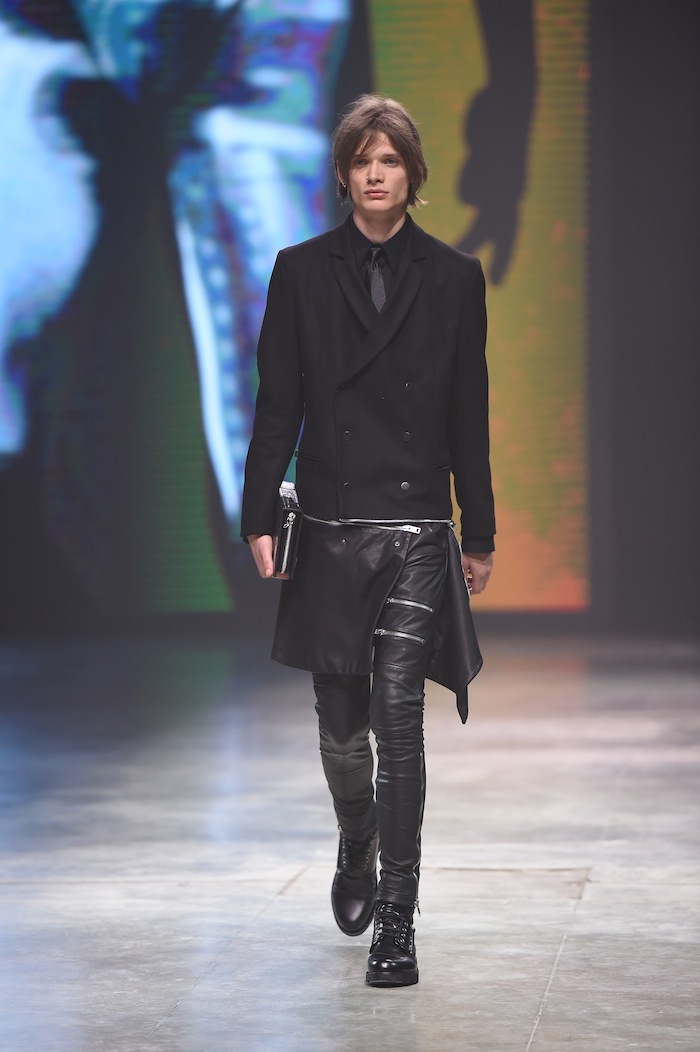 All photos by Getty/Diesel unless otherwise noted