Nick Jonas All Grown Up: The Pop Star On His Broadway Debut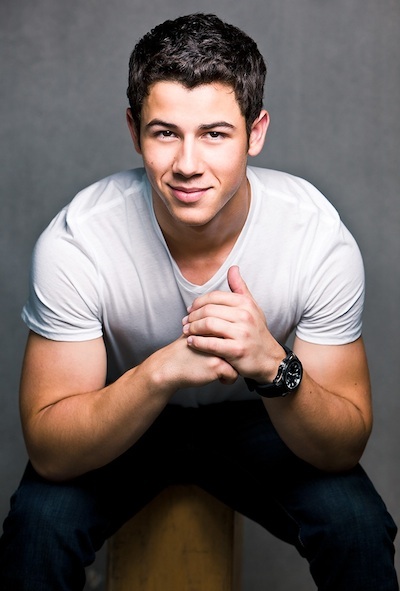 Though
Nick Jonas
has been in the entertainment industry since he was eight years old, it is this latest project that seems to mark a turning point for him.  Starting last week, Jonas took over the starring role of
J. Pierrepont Finch
in the Broadway version of
How to Succeed in Business Without Really Trying
, a part previously played by
Glee's Darren Criss
and, before that,
Daniel Radcliffe
.  No longer relegated to being a "teen heartthrob," Jonas' new leading man status also coincides with another signifier: at 19, he is technically an adult.  The former boy band-er, who currently lives alone in New York, appears to be deftly navigating a terrain that has mired many other young performers (including some of his famous exes).  Perhaps it's his well-publicized faith or his close-knit family that have allowed Jonas to steer clear of typical Hollywood pitfalls.  Or perhaps it's his intense focus and ambition.  On a morning before his show, Jonas spoke to PAPERMAG about these ambitions, being nervous on opening night and whether he's ever wanted to be a normal 19-year-old going to college.
How did your role in How to Succeed... come about?
I saw it and signed on board to do it.  It was a fun show and the music was great and the dancing, the way each of the scenes play out was all brilliant to me and I was immediately on board.
How does preparing for How to Succeed... compare to preparing for concert tours?
It's definitely a different kind of preparation for this show.  Obviously the rehearsal process is way different to setting up a tour in the sense that I'm doing a lot of dancing in the show, playing out scenes and doing all that, which is not something we do when we're on tour.  But also I've noticed my diet's changed a lot.  There are things I'm not eating so my voice will be in top form.
Did you not have to alter your diet when you were playing shows with the Jonas Brothers?
It's a different kind of singing, I'd say.  It's really a different kind of vocal stamina.
How so?
The placement of the voice for pop music and then for theater [is different].  I have a distinctly different sounding theater voice than I do for the kind of band-oriented stuff I do.  It's not that my voice is different by any means but it's just a different placement in my diaphragm.  [I need to] stay healthy for eight shows a week.
Have you--or will you--get into any regimens or routines during the show?  Do you have any pre-show rituals?
Definitely.  I learned a lot of good warm-ups and stuff when I was over in London doing
Les Mis
[
Les Misérables
].  There are a couple different melodies that I'll sing to get my voice warmed up, all with "ah" and "ooh" sounds.  My favorite one though is actually [
sings
] "And the way you look tonight."  Just singing that out.
So I was talking to your co-star, Michael Urie, and one of the things we were talking about was how a lot of Jonas Brothers fans seem to be coming to How to Succeed...  Have you noticed a difference in the audience at all between this show and Jonas Brothers concerts?  Are you reaching a broader or older fanbase?
I think that it's definitely been pretty diverse.  There's sort of the classic theatergoer crowd along with new people that are interested in me and Michael's takes on these roles and, yeah, there are the Jonas fans.  They're amazing.  It's been really encouraging to see too that there are so many new faces from all different age groups at the show as well.  
Do you ever get nervous onstage?
I didn't think I would and then on the first night--I start the show and I basically am sitting down on this lift, being pulled up 25-30 feet up in the air and that's how I start the show as a window washer.  I was getting set to start the show and just in that moment I got a bit nervous and I hadn't been nervous all day so it's kind of a shock. Once I got in the show and past the first couple minutes, it was fine.
Do you plan to continue acting after How to Succeed... wraps up or will you go back to recording music?
I think that I like an even balance of both.  I started my journey doing both--singing and acting.  And dancing as a kid.  And to come back and do that now is great.  I've had some acting opportunities the last year, which were so much fun in
Last Man Standing
and
Smash
.  There's been more and more acting opportunities and if there are roles that feel right and that I can take on and tackle, then I'd love to get more into it.  
Would you want to do some more TV or film or theater
?
I think that it all depends.  My opinion is that it's just gotta be the right role [whether] it's a theater role or television or film.  I'm very passionate about music and I'm sure when I wrap up this run on Broadway, I'll want to jump back in to music but if the right role comes up and I feel like it's something that I'm really passionate about then I'll definitely consider it.  
Do you have any dream roles?
There are a few.  What's been really interesting is I've sort of had to adjust my list now because one of them was Marius and I was able to play Marius last year [in
Les Misérables
]  and one of them was Finch and now I've been able to do that.  As far as the rest go, I think that a revival of
Miss Saigon
would be great [and me] playing Chris.  
Do you think that you and your brothers will record again?
We've already started thinking about the next step for the brothers.  The great thing about the theater schedule is I've got the days free for the most part when I'm not doing press.  I've got the days free to create and I've set up a home studio in my apartment here, which is fun.  I get a fair amount of work done in here without having to travel.  You may even see some new Jonas material out sooner than you think.
What kind of music do you have on your iPod?
I've been listening to
The Beatles.
The White Album
has kind of been my main deal.  I think it's maybe because it's within the period of the show we're doing and also just because it's amazing music.  And then the way I have my dressing room set up, I kind of have a nice, homey vibe.  It kind of reminds me of Texas, which is where I was born and where we have a family farm.  I've been listening to
Braid Paisley
.
Are you a country fan?
Yeah, to a degree.  I love a lot of country songs and I think that Brad Paisley is one of the best overall musicians and performers I've seen.  I think his song writing is incredible.  So I listen to that and it gets me hyped up as well.
So another thing I wanted to talk about is the fact that you're 19 and while many people your age are studying and partying in college, you're starring on Broadway.  Have you ever wanted a more typical young adulthood and did you ever want to go to college?
I've been really fortunate to be able to do what I love without an education and I definitely did consider--and even went as far as visit--a couple colleges and think about whether or not that was what I wanted to do.  This was probably about two years ago.  I finished school a little early--I finished when I was 16 so I had two years to consider [college].  I would've wanted to go to college to study English as well as Journalism actually.  It didn't really turn out--that's not the way things went for me.  Things were kind of different because that was in the heat of things for my brothers and I and it's been an amazing life since then so I'm really grateful.  It's always in the back of my mind that maybe one day I will go [to college] but for now I'm content where I am.  There's no regrets.  Life's too short.
Do you live alone in New York or with friends or family?
I'm completely alone, [it's just] me and my dog, Elvis, just hanging out.
What kind of dog is Elvis?
He's a Golden Retriever.
Will you be watching the Super Bowl this weekend?
I'm a big
Giants fan
.  I think I'm the most excited person in the entire world.  We have a matinee that day so we'll all be able to watch.  I think I'm sort of having a bit of a get-together here in my apartment with my castmates.
What are you most excited about when it comes to the future?
Following the show, I [want to] continue to record and release music. [My brothers and I] want to experiment with different things and take that journey that we never really did take, which is trying a million different things and seeing what sticks and going with that. I think that we've all sort of grown so much as people in these last two and a half years that we haven't really been doing much together.  Our musical taste has changed so much.  When the time does come for us to get back together, it'll be the first record we've made where we're all men and we can really dig in and have fun with it.
Photo by Johnny Buzzerio