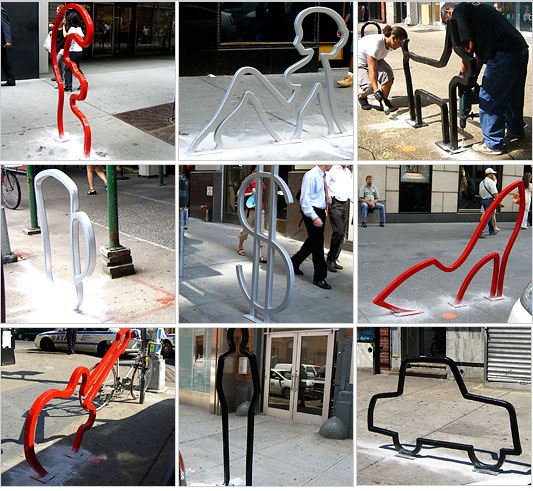 If you know anything about David Byrne, you know that he loves riding his bike around New York (remember how upset he was when his bike was stolen?). Recently, Byrne took his bike-aphilia to the next level and teamed up with the Department of Transportation and PaceWildenstein to create nine temporary, super-snazzy bike racks that have been peppered throughout the city. They will be removed 11 months from now, at which point they'll be sold as works of art. After the jump, via the New York Times' City Room blog, are the names and locations of the racks.
The Jersey: Northwest corner of Ninth Avenue and 39th Street, near the Lincoln Tunnel
The MoMA: South side of West 54th Street, east of the Avenue of the Americas
The Ladies' Mile: West side of Fifth Avenue, north of 57th Street (in front of Bergdorf's)
The Chelsea: In front of 530 West 25th Street, east of 11th Avenue (in front of PaceWildenstein Gallery)
The Hipster: West side of Bedford Avenue, near North Sixth Street, in Williamsburg, Brooklyn
The Olde Times Square: South side of West 44th Street, west of Seventh Avenue
The Villager: In front of 536 La Guardia Place, between West Third and Bleecker Streets
The Wall Street: North side of 82 Wall Street, west of Water Street
The Coffee Cup: West side of Amsterdam Avenue, between West 110th and 111th Streets
In other news, Byrne and Brian Eno digitally self-released their new album Everything That Happens Will Happen Today on August 18.