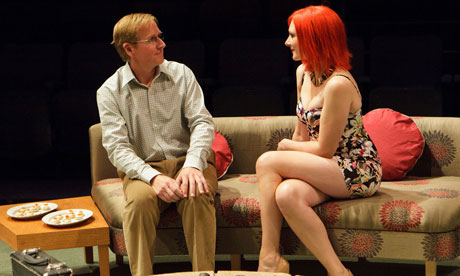 NEIGHBOURHOOD WATCH
Alan Ayckbourn
, a theatrical institution in England, has written and had produced 75 plays! He obviously knows his way around a play script and how to keep an audience interested.  His latest has a cast of eight and he will direct.  The plot focuses on two newcomers to the suburban Bluebell Hill Development, a brother and sister, who are robbed on the day of their housewarming party. The pair decides to do something about a veritable plague of theft, petty crime and vandalism, and their good intentions lead to both amusing and sinister results.  
59E59 Theaters, 59 E. 59th St., 212-279-4200. Nov. 30-Jan. 1, 2012. Tickets here.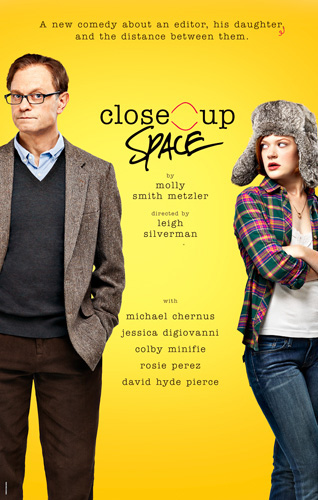 CLOSE UP SPACE
This is a new comedy set in the rarified land of book publishing, written by M
olly Smith Metzler
, and directed by the excellent
Leigh Silverman
, who handled
Lisa Kron'
s
Well
very well indeed, and also helmed
David Henry Wang
's current hit,
Chinglish
.  The star-studded cast includes
Rosie Perez
,
David Hyde Pierce
,
Michael Chernus
,
Colby Minifie
and
Jessica Di Giovanni
.  Pierce plays a book editor with problems: his assistant (Chernus) camps overnight in his office, his famous author (Perez) is looking for a new editor, his intern (Di Giovanni) hinders more than helps, and then his fierce daughter (Minifie) shows up and reads him the riot act -- in Russian!  
Manhattan Theatre Club at New York City Center Stage, 131 W. 55th St., (212) 581-1212.  Previews Dec. 1, opens Dec. 19-Feb. 5, 2012. Tickets here.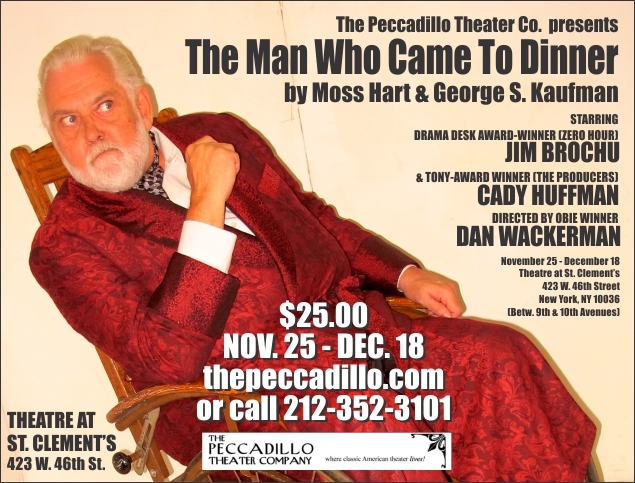 THE MAN WHO CAME TO DINNER
This is a classic wacky American comedy by two of the best writers of their time,
Moss Hart
and
George S. Kaufman
.  It opened in 1939 and ran for 739 performances.  It was also made into a popular movie, starring Clifton Webb as a pompous East Coast radio personality, who is forced to stay in the rather conventional household of a Midwestern family, which he drives quite nutty with his eccentricities.  In this
Peccadillo Theater Company
revival, with a cast of 28 (!), directed by the capable
Dan Wackerman
, the magnificent
Jim Brochus
plays Whiteside.  Brochus won the 2010 Drama Desk Award for best solo performance as Zero Mostel in the wonderful bio,
Zero Hour
.  Tony Award-winner
Cady Huffman
(hard to forget as Ulla in
The Producers
) co-stars. 
Theatre at St. Clement's, 423 W. 46th St., (212) 352-3101. Opens Dec. 4. Tickets here.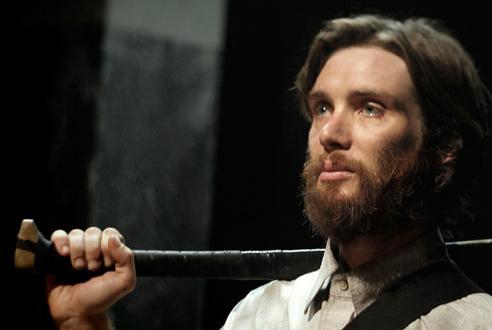 MISTERMANSt. Ann's Warehouse
loves
Enda Walsh
.  This is the fourth play written and directed by Irishman Walsh to be presented by Brooklyn's very fine St. Ann's.  It's a surreal solo piece for
Cillian Murphy
, making his stateside debut, and comes from
The Galway Festival
in Ireland, where it caught the fancy of the natives.  Murphy, in  the grand Irish performance style, plays Thomas Magill, the village of  Innisfree's local fanatic and grouch.  During the 90 minute play, Magill walks through his small town, with a word of advice or judgment on all his neighbors, becoming the other characters as he does so, and reacting to the many voices he hears in his head. 
St. Ann's Warehouse, 38 Water St., DUMBO, Brooklyn, (718) 254-8774. Through Dec. 21. Tickets here.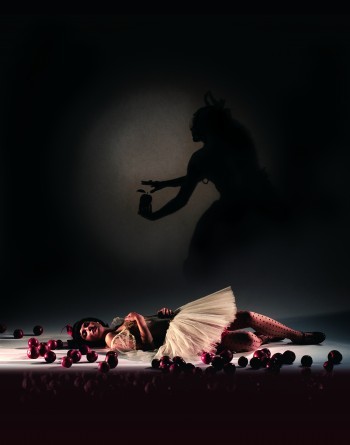 SNOW WHITE
This is a revival by
Company XIV
of their 2009 hit, conceived, directed and choreographed by 2010 Paper Beautiful Person,
Austin McCormick
.  Inspired by The Brothers Grimm's fairy tale, with a new text by
Jeff Takacs
, McCormick and his troupe of dancer-performers blend opera, dance, circus and theater to put on a  holiday show for the whole family.  McCormick's choreography is baroque, and he has a great eye for design and theatrics. 
Laura Careless
plays the Evil Queen,
Gracie White
plays Snow White,
Lauren-Michelle
will sing the operatic numbers, and
Circus Juventas
will add their part. 
303 Bond Street Theater, 303 Bond St., Carroll Gardens, Brooklyn, (800) 838-3006. Previews Dec. 2, opens Dec. 4-Jan. 15, 2012. Tickets here.