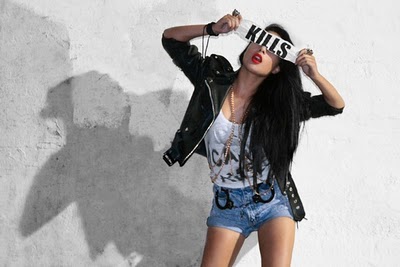 For all of you heading to the
Robyn
concert tonight at Terminal 5, here's a little PAPERMAG tip: get there early for dark-pop artist
Natalia Kills.
We've been intrigued with the British up-and-comer ever since hearing (and learning every lyric to) her addictive single, "Mirrors", off her forthcoming debut,
Perfectionist
. But we officially fell in love with her at "
OUT in AC
" over the Halloween weekend, where she killed it (sorry, I had to) on stage in a blood-red trench and lingerie. Did we mention she raps?  We recently caught up with Kills to discuss all things Robyn, the weirdness that is Tampa, Florida and why the Gaga/Rihanna comparisons are okay with her.
How excited are you to play Terminal 5 tonight with Robyn?
I'm really excited. It's great to be on the Robyn tour. I've been a fan since I was like 17, by the way. I remember I really wanted to go to one of her shows and she was playing in London and I didn't get to see her and I was devastated. It's kind of funny to open for her on tour a few years later. A dream come true!
Are you and Robyn BFF now? Any discussion about a future collab?
I would love that. And someone else brought it up the other day but nothing's official or confirmed yet. We've been hanging out and she's super cool, really nice. And all of the cities we've been to have been so different than Europe so we have conversations about that. We were just in Tampa and we were weirded out by the structure of the town so we had a long conversation about that which was kind of funny.
So what can we expect tonight from your live show?
Debauchery and lots of it.
Explain.
(laughs) Debauchery is what drives us all -- that certain wild, animalistic and selfish hedonism. Isn't that the whole nature of having fun as a human being? Because I know I'm certainly having fun on my most debaucherous moments on stage. I'm gonna prepare you -- it's going to be debaucherous.

I'll take your word for it. How have you reacted to your growing fan base?

I like being discovered but at the same time it's quite bizarre to me because, just that whole "Oh my God, you're Natalia Kills" thing. Obviously I'm used to myself and then when I'm recognized as extraordinary by some people, it is a very strange feeling. But it's cool to be discovered. It's good and it's bad. If you're quite a private person or if you're not looking for fame, it's very surprising and it's a bit weird. But I suppose it's a measure of your success because if no one recognizes you then what the hell are you doing? It's a measure of your hard work -- it means it's paying off.
Let's talk about your album Perfectionist. Do you remember sitting down at a meeting and being like, "This is my vision, this is what I want it to sound like, this is who I am..."
I actually came up with the concept to my album before I even started recording or getting signed. I wrote a few of the songs already -- just the lyrics and melody and was waiting to meet the right producer. I was really into Giorgio Moroder from the '60s, '70s, '80s -- an incredible producer. Really euphoric and digital like the original Daft Punk. I was listening to a lot of him and was like, "It's gotta have this synth, euphoria-meets-real beats, drum sounds, noise." Everyone's doing dance music, but I'm not really into it. Apart from "Mirrors," not much of it is dance-y or danceable. It's just pop music.
And you say a lot of your music is influenced by film soundtracks...
I don't know if you've ever watched a scary film on mute, but it takes so much of the impact and thrill out of it. Music dictates so much about how we relate to what we're seeing on the screen. Other kinds of film -- like action and drama, you get a sense of when it's sad or when you should cry or when it's happy or suspenseful. I wanted my music to convey that same suspense and emotion. Because at the moment, radio music does its jobs and it gets people dancing, but I'm not sure how relevant it is. If you're singing a song about heartbreak, it should sound like the soundtrack of heartbreak. What does heartbreak sound like sonically? Is it fast? Is it slow? What key is it in? That's how music should be interpreted. So that was my approach to my music.
Would you say you're a dark person?
(laughs) You know me, I'm not that dark, am I? The best way to describe me is confrontational. Everyone should say the unsayable and think the unthinkable and just be open.
On that note, what do you think of today's pop music?
Well, I love Robyn. I can't stop loving Robyn. I always have. I also listen to the Yeah Yeah Yeahs -- they really got me with that song (starts singing the chorus to "Zero".) I love The Knife -- you know that Fever Ray girl? That is musical perfection to me. It's so moody and euphoric at the same time and it's digital and it's real drums. I love it. And Sleigh Bells, oh my God! I'd kill myself to go to a Sleigh Bells concert right now. It's not necessarily pop, but you'll be singing it because it's a catchy hook -- just like radio pop music. I've always liked Kanye too. Kanye's producer actually produced four songs on my album.
And as with any new bold pop artist, there's the onslaught of comparisons to your pop peers. How do you feel about this?
. I think it's great. Compare me to anyone. With my song "Zombie", I had a comparison to Rihanna because it's more rhythmic, it's more hip-hop, and I'm an "ethnic" lady being Jamaican. That's great. She's hot. I've got compared to Gaga... we're label mates. Robyn... we're label-mates. La Roux... We're both British. As long as you're comparing me to someone brilliant or talented or positive, comparisons are great. And if you compare me to trash, then I don't know. I guess I'm not for you.
You better work
.
(laughs) I've just got this mental image of you in your pajamas, sucking a lollipop and wearing furry slippers, writing the interview with a pencil and notepad and with every response of mine you're writing 'BLAH BLAH BLAH!'