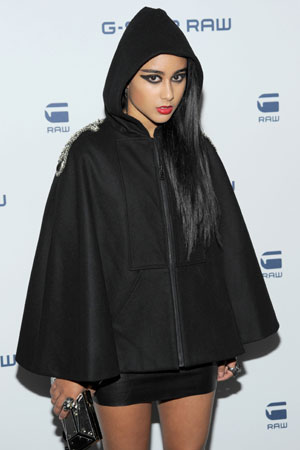 If
Natalia Kills
looks familiar, it's because she was all over the place during New York Fashion Week  -- performing at
Prince Peter'
s rock 'n' roll presentation and the Box, making the rounds at after-parties for
Prabal Gurung
and
Style.com
, and kicking it front row in head-turning numbers at a number of shows. You'll likely be seeing even more of Kills in the coming months -- the budding Brit was discovered by
will.i.am
, and she's readying a debut album,
Perfectionist
, of gothy dance-pop gems to be
released on Cherry Tree/Interscope records in early 2011. She's already booked some massive gigs, opening for
Kelis
on her European tour as well as
Robyn
on her US tour. Before she headed back to LA to prepare for her inevitability jam-packed 2011, PAPERMAG caught up with the eyeliner-loving chanteuse to chat about her adventures at debaucherous NYC club The Box, her self-directed web series and her influences.
For people who don't know Natalia Kills just yet, how would you describe your sound?

I keep hearing the term "dark pop" being used as a reference to my sound... it's definitely more wild and confrontational than conventional radio music. I like to provoke and challenge the listener with the most honest and direct way of putting my thoughts across.
You have a little web series called "Love, Kills xx" that you write and direct. How'd those come about?

A few years ago when I first started performing I did some acting and TV work, and although I loved the expression and entertainment aspect, I soon realized it wasn't enough to interpret someone else's vision. I wanted to be the one writing, directing, producing. I wanted to be the creator and the creation. Finally, I've found a way to do that plus include my music all in one frame. Whenever I have a dream or nightmare, or something unusual happens I write it down, then make a three minute story out of it. Then I put myself in it, reacting to these scenarios my imagination has come up with, then sound track it with my music. That's how each episode of "Love, Kills xx" is made!  
You were everywhere during Fashion Week! What was the highlight for you?
I was invited to perform at The Box, which was the most bizarre and beautiful place I've ever been. If you have a weak stomach or are easily offended I don't recommend a night out there... I, however, felt quite at home. 
 
How would you describe your personal style? You seem to have a thing for black..
Film and photographic art are my biggest influences when it comes to music and personal style. I don't really follow fashion or designers -- I like to dress to depict whatever mood I'm in. People have been describing my music as "dark pop" so I think there is a certain "drama" to how I sound and dress. 
 
Who are some of the people who have influenced you creatively?
Lady Godiva... Marie Antionette... Jimi Hendrix... Kate Bush... Alfred Hitchcock... Mae West... Salvador Dali... Quentin Tarantino...  Anyone who believes in and lives for their cause and are not afraid to suffer for the risk of their choices.  

Only one living person was in that bunch! Do you ever wish you had lived in a different decade?
Sometimes I wish I was born in the '50s so I could experience the post-war values and live out my twenties in the '70s, but I feel like now is a great time. There are so many movements to draw from and so many ways technology can enable our expression of how past eras have influenced us.