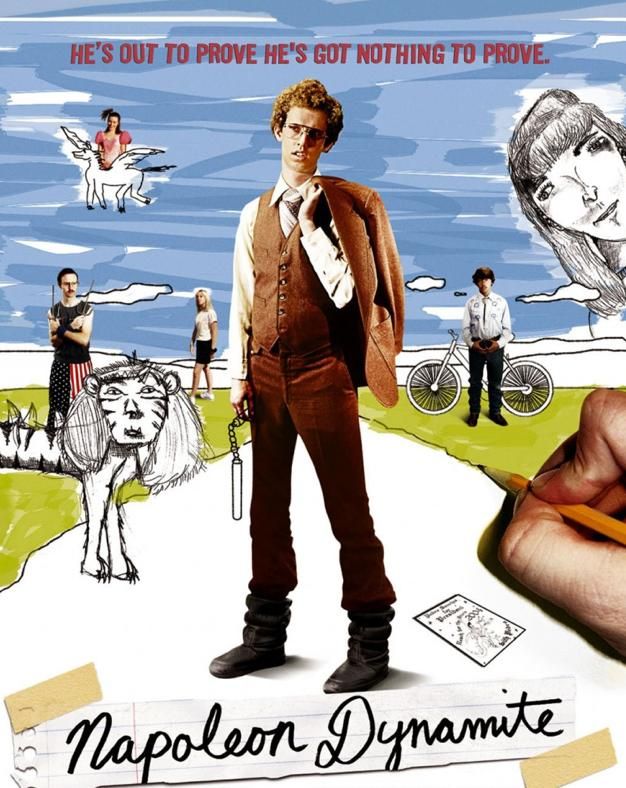 2004 was a big year, apparently, for teen-oriented flicks with enduringly rabid followings.
Mean Girls
,
The Notebook
,
Dodgeball
and
Anchorman
all celebrated their 10 year anniversaries this year and now another mid-aughts gem --
Napoleon Dynamite
-- approaches the decade mark next week. The cult indie favorite about a socially awkward teen living with his "modern family" in Preston, Idaho, generated catchphrases ("gimme some of your tots!"), Halloween costumes,
an animated TV show
and even profits. Shot by filmmaker Jared Hess on a shoestring budget of $400,000, the film went on to gross
$44 million nationwide by the end of 2004
. In honor of the movie's anniversary, we caught up with Napoleon (Jon Heder), Uncle Rico (Jon Gries), Kip (Aaron Ruell) and Lafawnduh (Shondrella Avery) to hear their memories of filming the movie, what kind of impact the film had on their careers and what they're all up to now.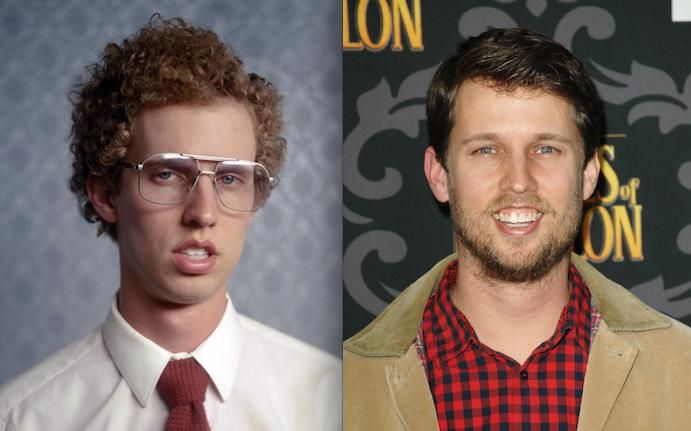 Jon Heder (photo on the right by David Crotty/
patrickmcmullan.com
)
On getting cast in the movie:Jon Heder (Napoleon Dynamite):
I went to college at Brigham Young University with Jared Hess, who wrote and directed the film -- that's where it all really started. I had done very little acting, only like a few student projects -- I didn't have an agent or anything. So Jared and I worked on some of the same student projects and he had brought [a short film version of
Napoleon Dynamite
] to me and he was like, "I think you could do this, I think you could pull it off."
Shondrella Avery (Lafawnduh):
At the time, I worked at Hilton Hotels Corporation in Beverly Hills as an executive negotiating contracts for all of the lighting packages for all of the Hiltons worldwide. But the casting call came through and it was [for] a 5'10" or taller, African-American women, full figured so right then and there, I really didn't have anything to do other than to look the right part. I figured I already had 90 percent of the battle because I knew I could act.
I remember I read the script in Kinkos and I thought, "If this isn't the funniest thing I've ever read!" It was just hilariously funny to me. So I went in for the casting and there were a few other girls there but I walked in and the casting guy was immediately like, "If you can act as good as you look, then you're going to Utah." 
On prepping for their roles:Jon Heder:
[Napoleon] was kind of a perfect mix of Jared's younger brothers and my younger brothers where they'd say, "Life isn't fair." It's their cadence, how everything was unfair, everything sucks, everybody's an idiot and stupid.
Jon Gries (Uncle Rico):
I think there's a universal truth in Uncle Rico. He's a character that a lot of people like. Even though he's kind of a bad guy, the fact is there's a sense of being a couple of steps away from something he really believed he could've done. I think that we all share that in one way or another. There's either, the person -- the one that got away -- or the dream that didn't quite happen.
Aaron Ruell (Kip):
I have a brother who spent a lot of time chatting online with babes. He had an affinity for Russian women, so my role was easy to tap into.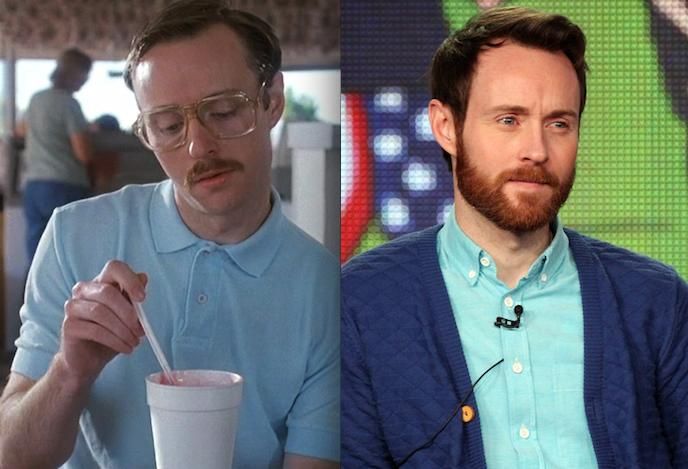 Aaron Ruell
On what it was like shooting the movie:

Jon Heder:
I was always hanging out on set or helping the art department make stuff, or make all those boondoggle key chains they were giving out when they're saying, "Vote for Pedro." They had to make a ton of those, so I'd just sit and make boondoggle key chains all day.
I also remember that I was always like, "what do I do for dinner?" I was a newlywed and we had one car and my wife was using it. So since I didn't have a car, I would be allowed to use Pedro's bike, "The Sledgehammer," to ride around town at night after filming to grab McDonald's.
Aaron Ruell:
People might be surprised to know that the cast for the most part never really broke character during takes to laugh. We all played it pretty seriously for the most part. The crew around us would bust up though. I remember the boom operator ruined a couple of takes because she couldn't hold the boom still due to laughter.
Shondrella Avery:
One big memory I have is of my real family being in the movie -- a lot of people don't know that. When [Lafawnduh and Kip] get married, the wedding scene -- girl, that's my mama in there! My mama, one of my sisters and my two younger brothers. My 9-year old brother is in the film. My family also got per diem, which was shocking. And I didn't.
The other thing is that people always thought a lot of the wardrobe was from a stage house or something but no, no, no -- it was current and in a store. The wedding dress was a current wedding dress in the store!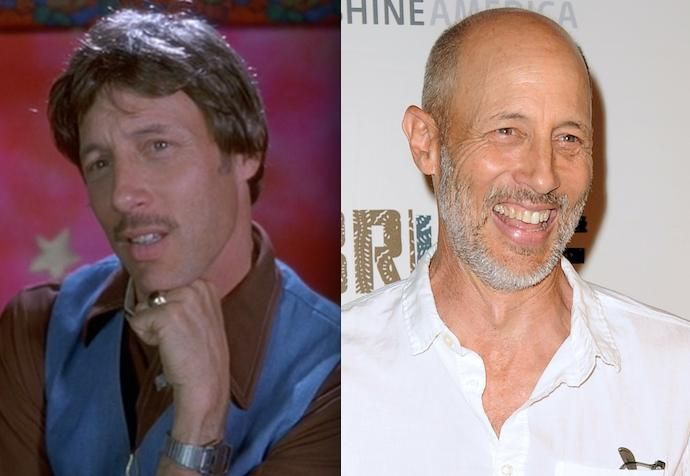 Jon Gries (photo on the right by Andreas Branch/
patrickmcmullan.com
)
On their reactions to the movie becoming a hit:
Jon Heder:
There was never a point [we thought it would be a hit], it was such a slow burn. When we got the news that it would be at Sundance, we knew that was great news. But again, films come and go at Sundance. So it was a hit at Sundance, but that doesn't mean it'll be a hit across the country. So again it was like, "well okay."
Maybe when they called me in to take a body scan of myself so they could make figurines, I think that might've been the moment [I first knew it'd be a hit]. But Fox Searchlight was really smart about trying to build this slow-building audience to capture this cult feel and make this website. We had cult-hit status early on in the summer. By the time the DVDs came out in  December of 2004, that's when it felt like, "Okay, this is pretty big."
Jon Gries:
When we were shooting, I called a couple of people that I know in film distribution and said, "I think this film could probably make like a million bucks... or maybe two." I thought that it could get a limited run and that was within the first week of shooting when I was there. Later I would go to the editing room and that was when I started to think, "This could do pretty well." I brought a couple of friends in from time to time to watch while we were there and they'd be laughing the whole time. That's when it really became evident that people responded to this movie. 
Aaron Ruell:
It was very surprising [when it became a hit]. I didn't think anyone would really see this film. I thought, best-case scenario it makes it into a handful of festivals. I had someone tell me that they saw the DVD being sold on the streets of Guatemala City...that was crazy.
On the movie's impact on their lives:
Jon Heder:
I'm still so proud of that film. It's absolutely a blessing. I'm where I'm at today because of it. It was also my first film, so it holds a very special place in my heart. It felt very personal, we were out on a journey to make something different and to see the life of it become something huge -- I couldn't ask for a better circumstance. I'm a family guy and it's a family film, it's an odd film. It's about nostalgia and growing up. I love it.
Aaron Ruell:
The movie opened doors for me. I never had any aspirations of being an actor so I wasn't thinking about that side of it but what it did was provide the means for one of the producers from
Napoleon Dynamite
to finance two short films that I wrote and directed the following year. And those films [
Everything's Gone Green
and
Mary
] went to Sundance and because of that I started directing commercials. And because of the photography that I shot for
ND
, it also played a role in getting my photography seen all over.
Jon Gries:
There's no way that having an experience like this could change your life for the worse...The self-satisfaction of playing that role and feeling like I hit the notes that I needed to hit in that role was enough to make me feel like I grew leaps and bounds. Everything else that has happened around the role has just been the cherry on top.
Shondrella Avery:
For me, it's like Kip says in the movie and I say it all the time: "Lafawnduh is the best thing that's ever happened to me. I'm 100% positive she's my soul mate." This movie was the best thing that's ever happened to my career.
Forest Whitaker said it best: He said "Shondrella, if you can get just get one cult classic in your career, you've done it. You've done it." Because he said most people want to run away from something like that. He said, "Don't even think twice, you embrace it, you love it. When people say 'Lafawnduh?' You say, 'Absolutely!'"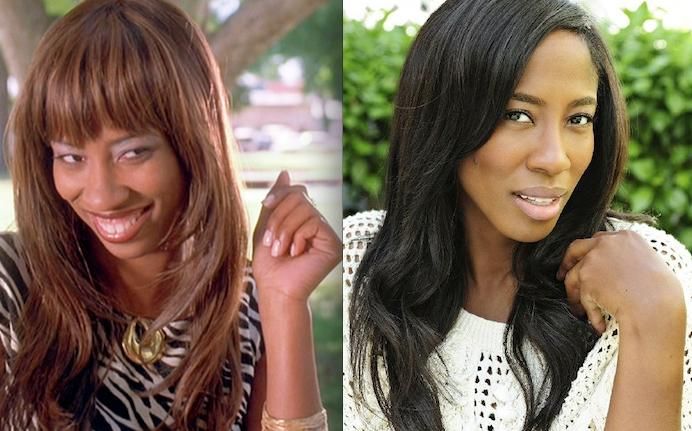 Shondrella Avery
On what they're up to now:Jon Heder:
I've been doing a lot more independent films recently and have a couple in the can that are coming out. I'm shooting one right now called
The Tiger Hunter
[directed by Lena Khan]. I'll also start work pretty soon on an animated TV show for Disney that I'm really excited for called
Pickle & Peanut
. It's kind of like
SpongeBob SquarePants
meets
Ren and Stimpy
.
Jon Gries:
I've been doing three things at once. I've been doing this series on FX called
The Bridge
, which won The Peabody Award for "Best New TV Show" for last season. I have a recurring role so it seems to work pretty consistently. It's a very interesting character, totally different from anything I've ever done. I also just completed a pilot for Adult Swim called
Dream Corp LLC
[executive produced by John Krasinki] -- a ridiculously funny pilot. And then I'm also doing the film
Taken 3
with Liam Neeson.
Aaron Ruell:
I just wrapped a new campaign for AT&T and also another for Coke -- the commercial work is pretty non-stop. I've also got another book of my photography that will be published fall of this year. And I'm working on a new body of work for next year.
Shondrella Avery:
I'm a huge philanthropist and an extreme advocate for sickle cell disease. I'm a board member of the California Chapter of Sickle Cell Disease Foundation. And My family lives with sickle cell -- my mom has it. My two pairs of siblings that were next to me passed away from it. My brother lost a battle at 17, his twin sister at 8 months. And my brother went to [Camp Crescent Moon] for 10 of the 17 years he lived.