Mystery Science Theater 3000: Volume XVI On DVD!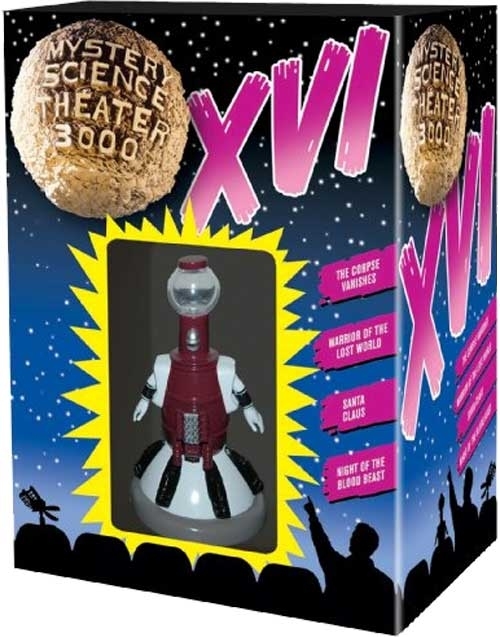 Out this week on DVD is 
Mystery Science Theater
3000: Volume XVI
, a glorious four-DVD box set (with a
Tom Servo
figurine included) featuring hilarious episodes of the space-stranded Joel, Mike and robot pals wisecracking through an endless series of bad movies. This set is just one of the all-time best, and includes
"The Corpse Vanishes"
with
Bela Lugosi
killing brides at their wedding ceremony and later stealing their bodies; 
"Warrior Of The Lost World,"
 a crappy sci-fi apocalyptic tale with with a motorcycle-riding warrior fighting an evil empire; 
"Santa Claus,"
 a goofy Mexican-made kid's movie with Santa battling Satan for children's souls, which has some of their funniest ad-libs; and my favorite,
"Night Of The Blood Beast
," a Z-grade sci-fi movie from the 1950s about an astronaut actually impregnated by an alien. "I can feel it kick" the bots wisecrack. The set also has a hilarious opening short
Once Upon A Honeymoon,
 directed by
Gower Champion
that was sponsored by a telephone company and had me falling off the couch with laughter. This set makes a perfect Christmas gift.