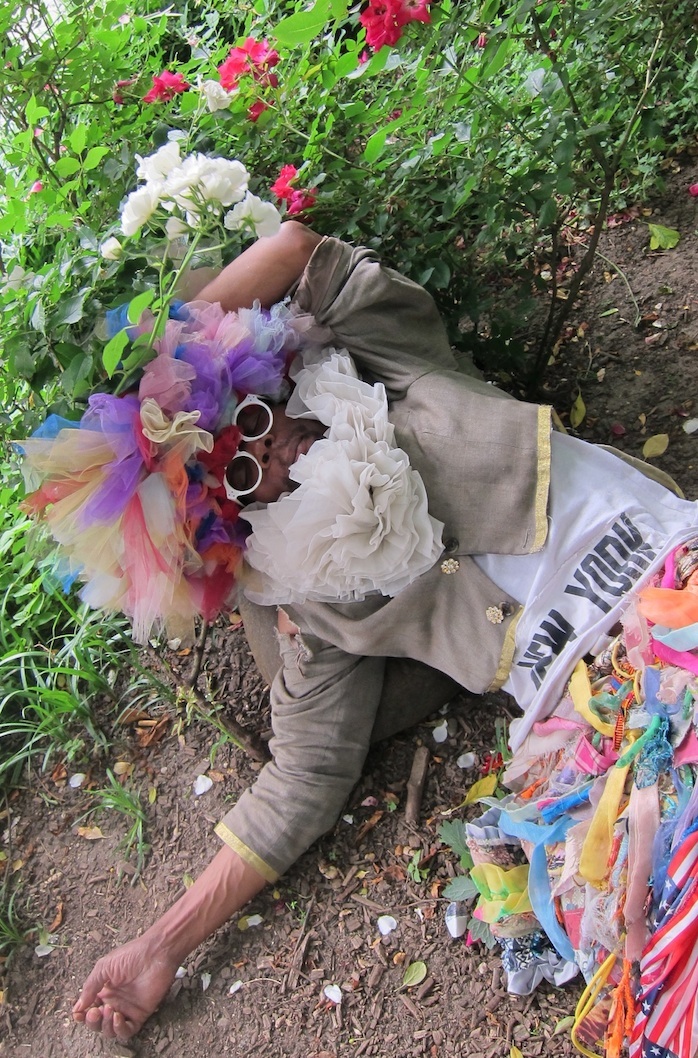 For weeks I've tried to track down Wendell Headley, the DIY designer and Union Square regular who can often be seeing wearing a top hat, goggles made out of plastic bottles, and futuristic blue jeans underneath a multicolored skirt. I went to Union Square and asked people who lived in the park if they had seen him. They hadn't because, it turned out, the 59 year-old-designer was busy shooting for his
new book
and dressing visitors at his current photo exhibition at the Sugar Hill Culture Club,
Where's Wendell
. I went over to the Harlem art collective and talked to Wendell about his back story, how he got interested in clothes, and why he thinks the "American tradition in fashion is unacceptable." Read on.

Why did you start designing clothes?
I used to make small abstract paintings on envelope but they weren't going anywhere. My work as a designer started with my daydreaming in school. I would go through magazines and check out the fashion articles for hours when I was supposed to be doing my assignments.

What was the first thing you designed?
I worked in a cleaners so it could have been a button I sowed on a shirt but it was probably the first t-shirt I cut the sleeves off and cut the label off and shortened. Then there was the pair of pants I cut to make shorts because, you know, that's designing, too.
Where do you draw your inspiration from?
From the people and culture I see in the street everyday. A lot of what I do with color, concept, and style is what I call absorbing the culture and traditions of the people I see everyday on the subway who are originally immigrants from other countries. When they come here they drop their traditions. Spanish people don't dress like this, Italians don't do whatever they do in Italy, but Africans still have their traditional outfits. I'm impressed with that.  But the American tradition in fashion is unacceptable.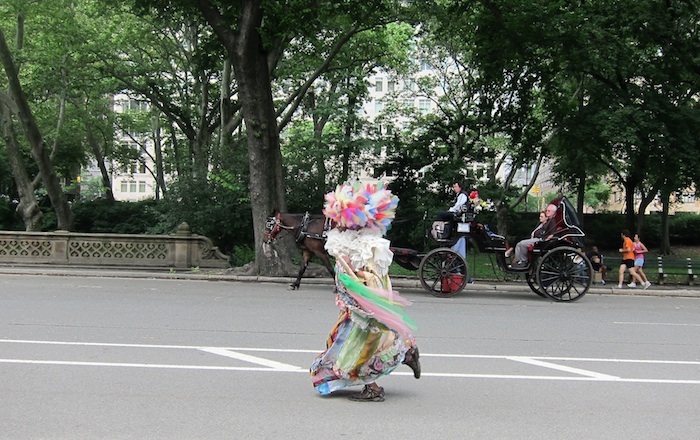 How come?
The pants are too tight, and the blue jeans are from the farm!
What did you do to update your blue jeans?
These are the blue jeans that haven't been discovered yet. The evolution of blue jeans. You should have asked me what to do with blue jeans. I gave them more room, and swagged them out. I took in the waist a little bit so they are naturally a little baggy. I added pockets everywhere. The original pockets I sewed on. Then I added my own pockets where I thought the hands would be comfortable. I brought them up to date.  
Have you ever sold anything?
It depends on what you mean by selling. People take photographs of me and I get a dollar and a coin and that's like selling an image.
Does your life experiences influence what you design?
A lot of what people aren't wearing influences me. 
How would you describe your aesthetic?
It's up to the individual who wears it. I wear it and it keeps me clam, cool, collected, and connected to my family and friends. My fashion is like a magnet -- it draws people to me. If I was wearing blue jeans, a t-shirt and a necktie my whole life I'd be just another person.
Where do you find your fabrics?
My favorite place is the garment district but one time I woke up in the middle of the night and said 'there's a couch out there' and I found it and cut the fabric out of the couch to make my hat.
Tell me about your glasses.
I found it comfortable to have a pair of frames where if the glass breaks I can replace them. So I went to this place that sells monocles and I got  frames that I could pop out. The sides are plastic bottles.
Would you ever wear clothes by another designer?
My job is to clothe the naked. But when I'm discovered and someone buys me out and I can afford what I want to wear, I would tone it down to a three-piece suit.
Why do you think people think you're homeless?
When you've lived in five different places in three years, and you can only afford a certain amount of rent because you are on a fixed income, and your technical job is walking around shaking a cup in people's faces for tips, [people characterize you] as homeless. I can have a key and roof over my head but I live in a community where no one understands me and what I'm trying to do and that can be very dangerous.  
Photos by Felicia M. Gordon