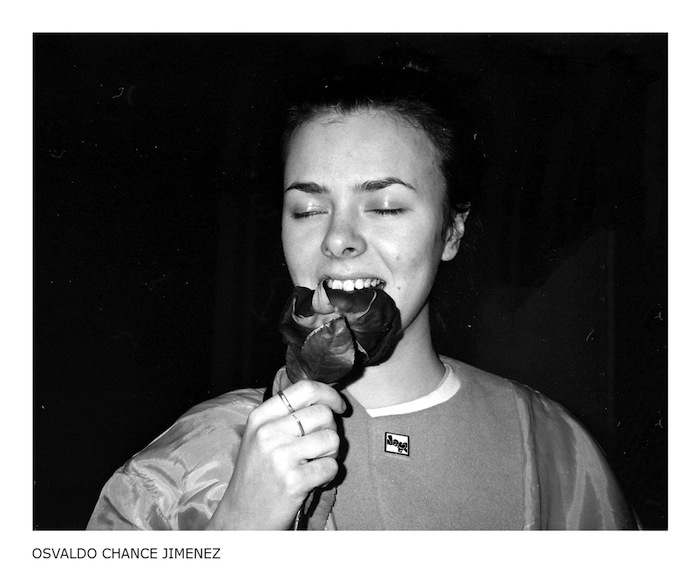 Osvaldo Chance Jimenez aka Slutlust, "Milana"
If in the past ten years you've ever found yourself in New York City partying from 4am on Saturday through Tuesday afternoon, chances are high that Osvaldo Chance Jimenez has photographed you or someone you know. Jimenez, who is also known as OJ and SlutLust, captures raw moments reflecting his experiences and moods. Using a $5 camera purchased at a 99-cent store, Jimenez chronicles his life through his photographs and writes accompanying stories about them, which he posts on his blog,
SlutLust
.
Jimenez, who is first generation American and says he "grew up dirt poor in Harlem and the Lower East Side," says he writes and photographs for no one other than his 13-year-old son. From August 21st-28th, Jimenez's work, alongside photographs by Mike Krim, PJ Monte and Harry McNally, will be showcased in a week-long exhibition,
Never Too Young
, at
No Romance Galleries
(355 Broadway) in downtown Manhattan. Graffiti and fine-art artists Mint & Serf, in collaboration with Good Peoples, are holding the exhibit to coincide with the publication of the seventh edition of their zine,
SGU (Special Graffiti Unit),
and honor the artists featured. In 2010,
Mint & Serf
included Jimenez in the inaugural issue of
SGU
and the three artists have been good friends ever since. Prior to the show opening, we talked with Jimenez about his various monikers, inspirations and techniques.
Where did the name SlutLust come from?
It comes from me being a 15-year-old always in love with the girl that didn't love me. It was always lust. I used to write these poems for all of these girls who would just look at them and see "secret admirer." When they found out who it was, they'd be like, "Oh, not that guy..." Then a friend of mine wanted to make t-shirts and use Lust as a brand, but I thought Lust alone sounded weird. I was thinking about a name and realized that lust and slut have the same letters. I was just like, "Oh! SlutLust!" It was one of those epiphanies. That was my entire life: I was always in love with sluts. Not to be slut shaming, but it was slut lust.
You've been referred to as OJ, SlutLust and Osvaldo. What do you prefer to go by?
To be honest, all of my close friends call me OJ, but people who know me from the Internet call me SlutLust, but for my professional art, I go by my full name. And as loud as I might seem, I'm an introvert. SlutLust is my letter to my son. If he searches me, he can see everything that I've written about my life -- good or bad. I try not to omit things. I am who I am. So my blog started off as a diary for my son about my life, but after a while I noticed it also became a diary for the scene I've been a part of for the last 10 or so years. It started to resemble my love story with New York.
So how do you feel when your photos are presented without your writing to accompany them?
I feel like that nightmare when you're in school naked. I'm not a professional photographer. I walk around with a $5 camera that I bought in a 99-cent store. You're getting things in the most raw sense. My camera reflects exactly how I feel in the moment I'm taking the photo. If the photo is blurry that means I was probably drunk. If it's out of focus, it means I was probably shy. If it's overhead that means I was probably really nervous about taking the photo. But if it's something that was beautiful and in-focus, it means that I was so in love with it I just had to take it, no ifs, ands, or buts. My camera is like my mechanical emoji and the writing helps explain it. Someone else might see it and go, "Yo. This guy sucks." And you know what? They're probably right.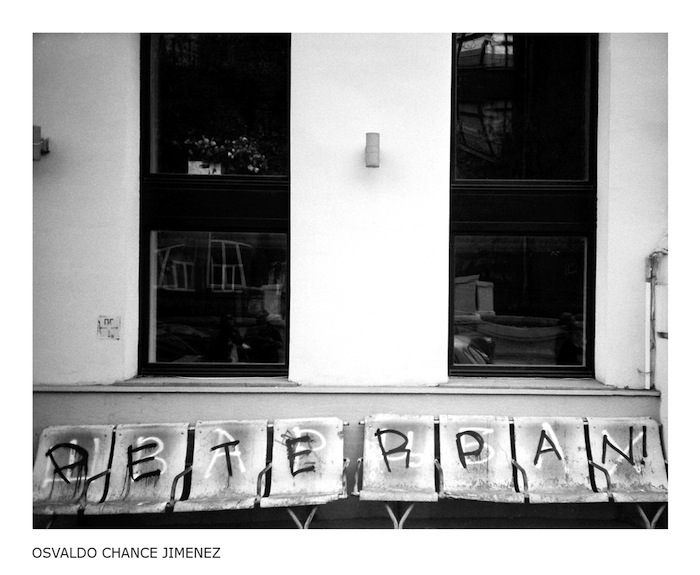 Osvaldo Chance Jimenez aka Slutlust, "Borscht & Benches"

That's no way to think of yourself.
I mean, come on. The bulk of new media is self-deprecating. I don't try to sugarcoat myself. I love my life, everything I've done, and the people around me, but I wasn't always the best person. When I say stuff like that I'm being really honest with myself.
What inspired you to start shooting photos in the first place?
In 2001, when a friend gave me a camera, I would walk around and take photos of tags. My inspiration was New York and the streets. A little later, I broke up with the mother of my child and I couldn't see my son for a long period of time. I got really heavy into drugs. Then one day, about five years ago, I got hit by a car. Everyone who saw the accident was like, "Dude. You should be dead right now," because I flew across five lanes of traffic. But I got up from the accident without a scratch on me. I was able to walk away. The first day you're like, "I got hit by a car hahaha," and you take painkillers. By the second day, you're thinking, "Oh man. I should have been dead." During that time, me and the mother of my child weren't speaking and I hadn't seen my son in a couple of years. I was like, "What if as he gets older he decides to go online or look for me? What is he going to know besides whatever negative things his mother's gonna say?" [The photos and writing are] for my son. When I write, I'm not writing for anyone else. I'm writing for my son to understand exactly who I was.
What role does nightlife play in your work?
When I had my son, I gave myself to nightlife -- the drugs, the partying. I gave every aspect of my life. I found this new family of vampires and ghouls. But in the last 2 or 3 years, I rekindled my relationship with the mother of my child, so I see him more often. At the same time, I still have this nocturnal world, but me and my new girlfriend also opened a store and I manage two bars.
It's great and I love everything that's happening, but at what point do I stop doing cocaine and start managing my art career? Or if I stop doing cocaine, will my art be as good as it was when I was doing it? It's like the same issue that Basquiat had. He finally got clean and everybody said his art lost its edge. Sometimes I feel like I have the same battle.
So you're still involved in nightlife now?
Everyday. And you know what? As much as it bothers me, the sad truth is that I love nightlife and I love my life. I've probably saved more lives hanging out at night than a lot of people imagine. I'm the one person who actually has a cup of water to give to you when you're burning. I love being that person because for a really long time I didn't have anyone. I managed to hide from my entire family, living only one block around the corner. How do you hide from your family if you're only one block away? But because of that I found another family and I still love that family. They were there for me when I had nothing and I don't want to leave them when they have nothing.
Can you talk about the two photos in the show -- one of a girl eating a rose and the other of chairs that say Peter Pan?
The one girl eating the flower is a Russian designer. Eight or nine months ago, I flew to Russia to put out the book Mint & Serf did,
Support Therapy & Instability
. That girl and her friend were like our best friends, they took us everywhere in Russia. We were running all around Russia, tagging up everywhere with the cops following us. It was so invigorating. I'm an '80s baby, you know? I grew up during the Cold War with Reagan talking about Russia -- "if you have Levi's blue jeans and send them over there, they're worth a million dollars." To see where Stalin was and all of the World War II stuff was great and to tag it was even better.
How would you sum up your photography philosophy in one or two sentences?
I take photos of you, you being New York City and the people that I'm in love with -- the DJs and the writers and the artists, the people that I've come in contact with in the last 12 years. You're the picture -- I'm just the frame.
More photos from
Never Too Young: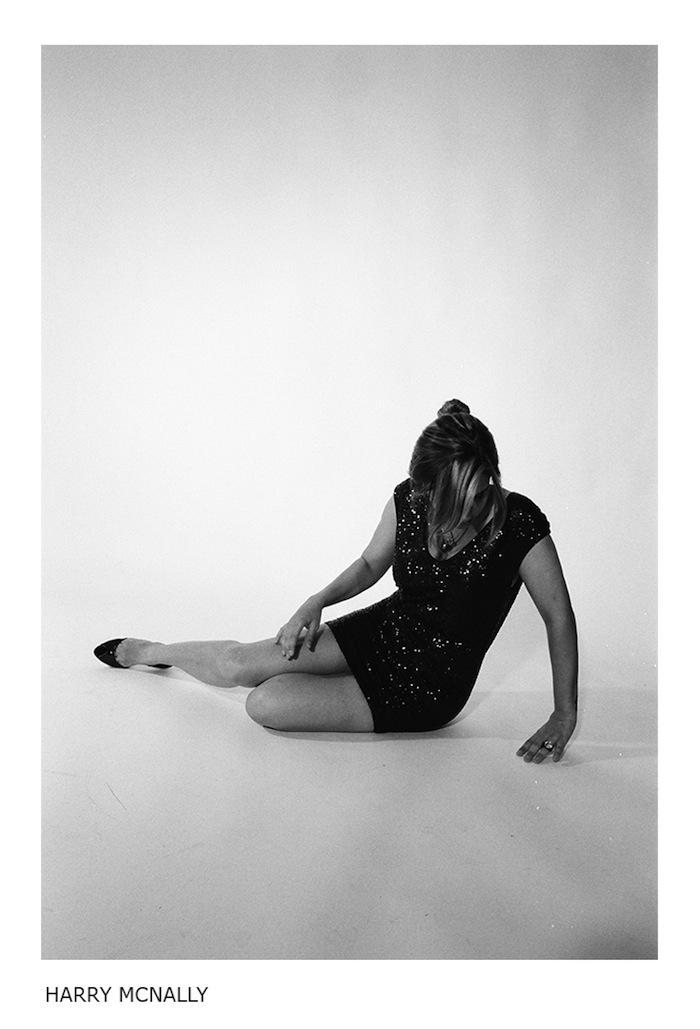 Harry McNally, "Collision"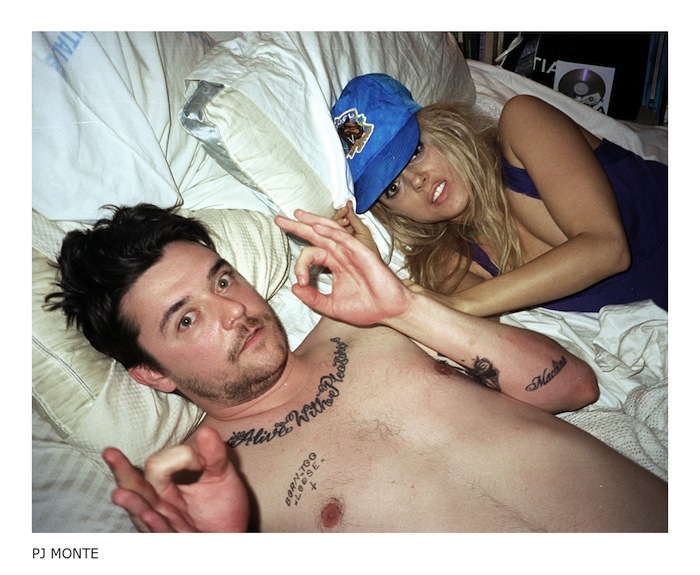 PJ Monte, "Got Milk"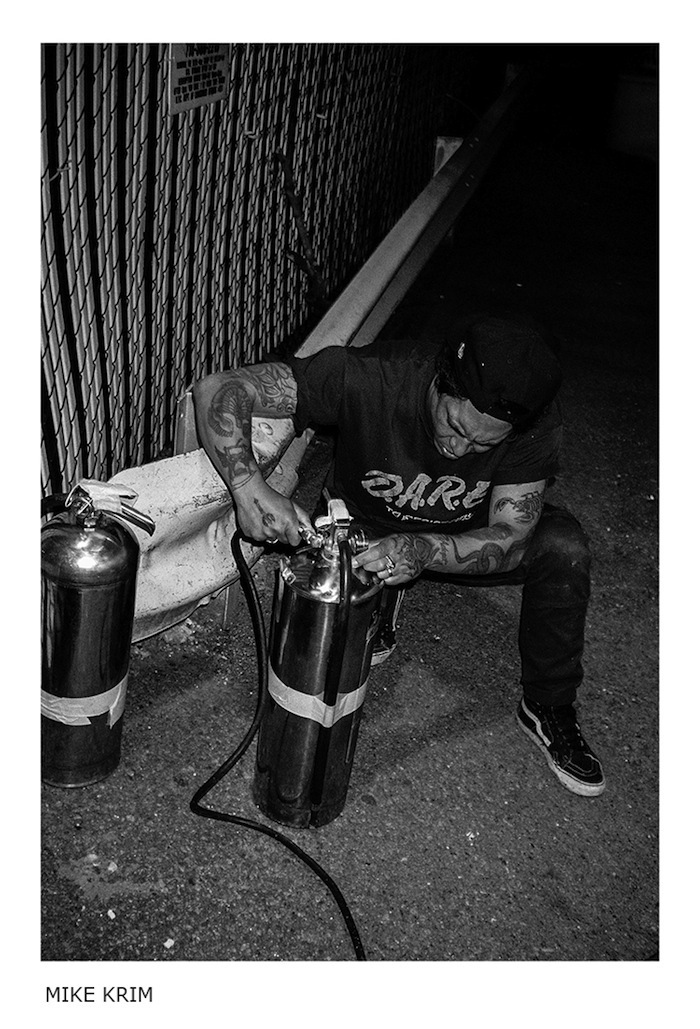 Mike Krim, "RAMBO"