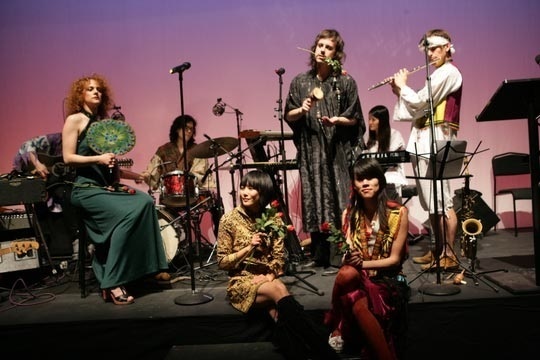 The L.A.-based performance collective My Barbarian perform a special Halloween show tonight at the Silverlake Lounge. It don't get more esoteric than this folks (I recommend seeing Dusan Makavejev's cult classic "Sweet Movie" beforehand). Don't forget your Krautrock kostume!
From My Barbarian's email blast:

"When the German Toothbrüsh commune first began to jam, they only had their collective unconscious on their minds. Soon, a faction split: would they be terrorist street theater or simply a drum circle? And couldn't a drum circle lead to action? Or was it implicitly conservative, creating a decadent ring of self-congratulation in the face of class conflict, racial strife, feminist agitation, and eco-entropy? Two new groups emerged: Germaaine Toth Bush, the theater agitators, and their more thoughtful, more introspective orgy of the intellectual dandies: Germanium Tøøthbrüsh II. See them rise from the embers of our primal political scene tonight, on Halloween."
My Barbarian as Geranium Tøøthbüsh II @ 10 PM
Weds Oct 31 at Silverlake Lounge | $10
2906 Sunset Blvd. LA 90026
323-666-2407