Many an evening in this year of Affordable Care Act website woes and the moral degradation of Miley Cyrus was spent atop a barstool -- at 5'1," hoisting myself up is harder than you might imagine -- in the name of research. A plethora of drinks were placed before me: highballs bubbling with from-scratch sodas, vermouth-centric apéritifs and bitters-heightened whiskies over seemingly unmeltable cubes of ice -- some of which I have shared with you in my Cocktail of the Week column. I haven't sipped my way through every one of New York's fine tipples, so I can't make the bold, subjective declaration of which are the best, but here are 10 that made an impression on me long after the N train ride home.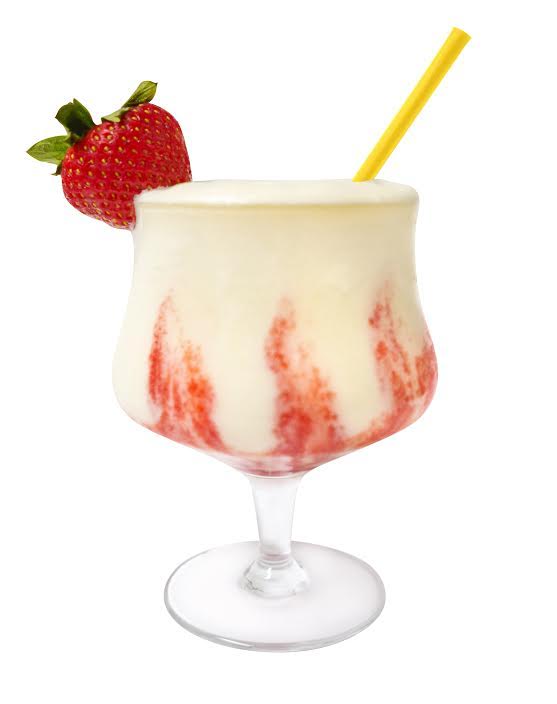 1) I was born just as disco was making way for the Walkman, when the country's bar scene was notorious for shoddily made drinks. Perhaps that's why I'm drawn to Greg Boehm's Golden Cadillac, where a jaunt to the powder room means being surrounded by circa-1977 Playboy covers. The drinks are all quality overhauls of the 1970s' over-the-top quaffs, including the joy-inducing Lava Flow. Served from a slushy machine, the pristine Piña Colada is made with rum, passion fruit, pineapple and cream of coconut gushes forth and gets decadently swirled with strawberry puree. 
2) Inside the
Dead Rabbit Grocery and Grog
's fancy bound cocktail book at the perpetually crowded swank upstairs Parlor, a staggering amount of historic libations seduce. When in doubt, bar manager
Jack McGarry
's version of
the Automobile
is a boozy and bittersweet go-to. He revitalizes the turn-of-the-20th century classic with absinthe, the purplish orange-and-vanilla liqueur Parfait Amour, simple syrup and celery shrub, while capping it off with the elegant effervescence of Champagne.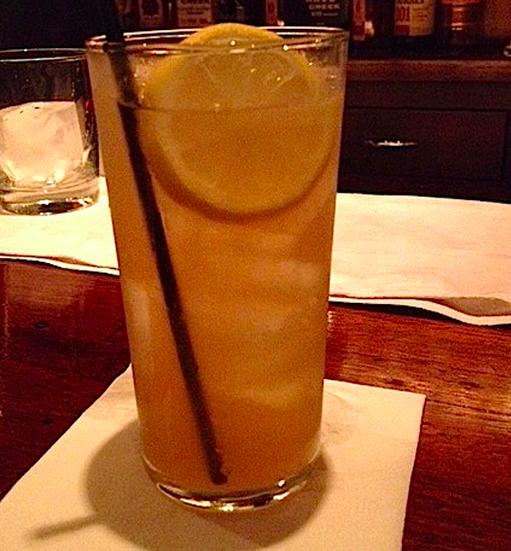 3) Long Island Bar, home to one of the city's most talented barkeeps, co-owner Toby Cecchini, is the kind of watering hole that makes me wonder why I don't call Cobble Hill home. How I would love to say goodnight on a regular basis tucked inside one of the retrofitted vinyl booths or at the cigarette-burnt bar, a relic from the space's days as a mid-century diner. I love the Rip City Fizz with aquavit, Cynar, hard cider, lemon juice and honey that manages to straddle refreshing and complex with aplomb.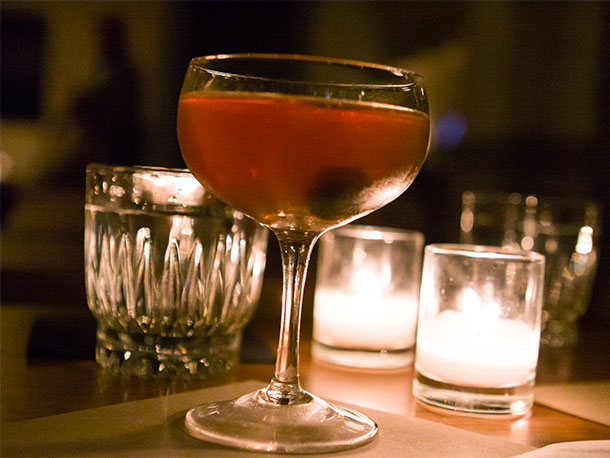 4) Tiny Wallflower's concoctions are intriguing -- as you would expect from Xavier Herit, Daniel Boulud's former head bartender. The Ambrosia #2 is one of the best at this West Village boîte. In it, Cardenal Mendoza brandy combines with two types of sherry -- Pedro Ximénez and Gutierrez Colosia Oloroso -- verjus, sparkling wine, maraschino liqueur and orange bitters. It's a heady ode to Spain.
5)
Thomas Waugh
's cocktails are just as beguiling as the uni toast at sexy
ZZ's Clam Bar
. Instead of dreaming up clever names for them, Waugh illuminates the dominant ingredient. Enter the sublime
Pistachio
. I'm a sucker for a well-whipped egg white, and in this drink its ethereal nature makes a swell companion to Plymouth gin enlivened by Acacia honey syrup, muddled kumquats and what Waugh deems a "proprietary pistachio mixture."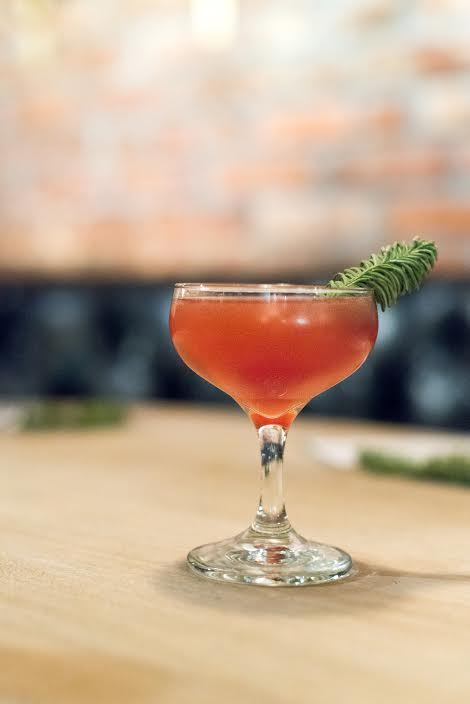 Photo: Carlos Detres Photography
6) Walking through the phone booth to get to Jim Meehan's PDT is a ritual that may never get old -- not when the new cocktails are as consistently good and surprising as the Nolet's Noel. As its name implies, Nolet's Silver dry gin comprises the backbone, but tart-sweet Averell Damson gin liqueur, Clear Creek Douglas fir eau de vie, fresh lime and grapefruit juices and cane syrup add lively piney allure. It's a balanced, surefire route to creating gin converts--with the added bonus of conjuring mythical winter wonderlands.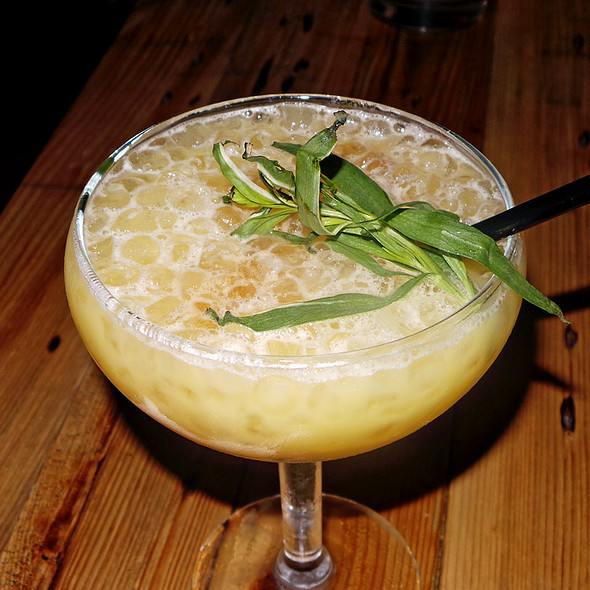 7) I have a thing for mezcal and luckily so does
John McCarthy
of
Greenwich Project,
because his passion for the smoky spirit has unleashed the laborious
Oaxaqueño
. He infuses agave with cinnamon, makes his own habanero bitters and melds them with Fidencio mezcal and fresh corn and lime juices. Chocolate bitters and a sprig of tarragon complete the unexpected sensory awakening.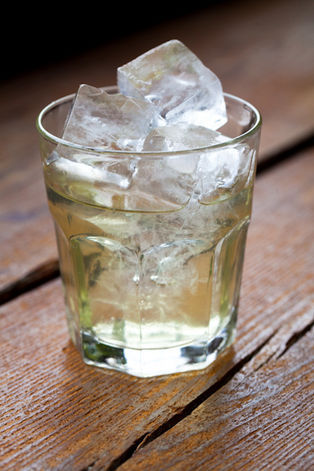 8) I'm often at
Betony
. Executive chef Bryce Shuman garners well-deserved raves for his food (dude makes puffed quinoa a work of art), but general manager
Eamon Rockey
's bar program is equally enthralling. His
milk punch
is not of the frothy variety I clamor for when in New Orleans, but beautifully bright and crystalline obtained by straining a coagulating base that includes tea, fresh pineapple juice and hot milk. Rockey lets guests pick the spirit of their choosing to mix it with, but I'm most enamored by his mildly Asian cachaça variation with kaffir lime leaves and palm sugar.
9) Queens teems with vibrant ethnic joints, yet sadly, when I crave a quality cocktail in my home borough there are few options beyond returning to a bleak patch of Long Island City to tie on one at
Dutch Kills
. The ambiance behooves you to order a classic, and that's why a Ramos Gin Fizz is usually what's in my glass here. But one of my recent visits coincided with the unveiling of a new menu and when I sipped
the Peter Piper
--
named for the Run-D.M.C. song -- I knew I had found a worthy newcomer. Made with Jamaican rum, amontillado sherry, lemon juice, orange curacao and maple syrup, it flaunts a savory spark of black pepper.
10) Every time I reach for the menu cleverly tucked away inside the table at
Pouring Ribbons,
I discover a new satiating cocktail that I know will be made with the utmost care -- the bar staff is one of the city's most solid. One that stands out is
the Holidays Away
. Scotch drinks are not a dime a dozen and this one, showcasing the Islay single malt Bowmore Legend, only seems to deepen when kissed by Bénédictine, honey and the bitter herbal Hungarian liqueur Unicum.
SEE ALL OF PAPER'S YEAR-END COVERAGE HERE