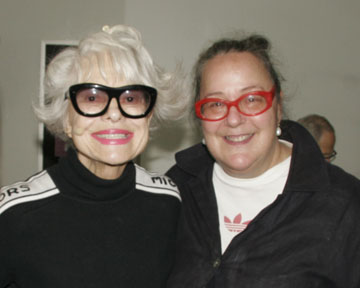 OK, now can we talk about one of the most fun experiences I have ever had in my whole entire life?????? I have been playing the triangle for three days with Pink Martini and their guest star Carol Channing who I have bonded with. I play the triangle in three songs starting with Ms. Channing's song "There's no Business Like Show Business." This is in front of 18,000 people, folks. And I am not just in the background. These crazy musician friends of mine actually gave me some solo dings to do!!!!! OY. It is SO SO SO much fun I can't even tell you. Every night Thomas Lauderdale gives me more dingalings to do solo and now on the third and final night I had the crowds cheering. I kid you not. It was hilarious. Oh and then there is Carol Channing. When Ms. Channing sings "Razzle Dazzle" she is sooooo cute.
The Pink Martinis are all so wonderful. I have known the brilliant lead pianist Thomas Lauderdale and the gorgeous nightengale of a singer China Forbes for about 15 years now. They've always asked me to go play something up on stage, but this time the Hollywood Bowl and Carol Channing was too tempting -- so here I am. The band is all so wonderful and I've known them for so long it's not even scary. Plus my dear friend Paige Powell is up there on stage with me playing the coconut shakers!
I die for my two favorite parts: 1) Is when Thomas screams out to the crowd: "AND ON THE TRIANGLE IS PAPER MAGAZINE'S KIM HASTREITER FROM NEW YORK CITY" and 2) when we do "Brazil" (my third song), the entire band and the symphony orchestra take a deep bow in unison. I've always wanted to take a bow. And now on my third and final night, I found I have become a minor triangle celebrity here at the Hollywood Bowl. Everywhere I walked people shouted to me "nice triangle!" One cute girl even ran up to me and said, "Dude, you were rad on the triangle!" (I love when the kids call me dude.) Anyway, hard to describe... I'll look for footage of it on YouTube this coming week. Who knows, maybe my triangle playing will find its way up there....
Meanwhile, I had the time of my life! check out some pix: