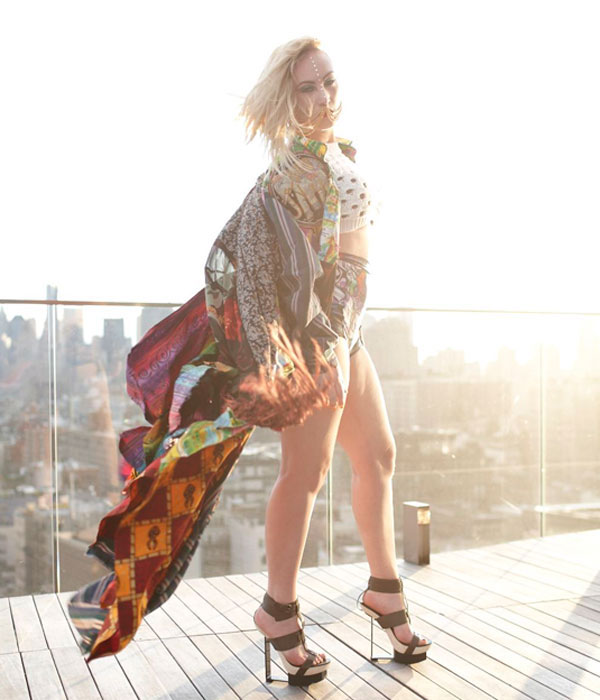 Claire Fitzsimmons--who goes by Ms. Fitz-- believes that if you look nutty enough, people in New York won't mess with you. "If you come off as 'trendy crazy,' people try to fuck with you, but if you look 'crazy crazy,' people are too afraid to bother," she says. You can catch the 26-year-old artist and designer looking the latter, clad in men's clothing, bright colors, and clashing patterns; staples are her super-sized Peggy Noland pants and a nose chain.
Fitzsimmons moved to New York in 2010, having made a name for herself in her hometown of Sydney, Australia. She worked her way through Sydney's art and nightlife scenes, eventually becoming a fashion editor for an avant-garde zine, styling shoots, and backup dancing for Peaches and Rye Rye. After a while, Australia became "too much of a bubble for her," and she had to break out.
But in New York, she says, "no one gave a fuck about me." She turned inwards, and cultivated an Internet persona, gaining thousands of followers with her kaleidoscopic designs, and GIFs starring her beloved dog, Gulliver.
Offline, Ms. Fitz can be found creating 42 outfits to be worn by--get this--two live tigers. That's one outfit per tiger per day for an upcoming 21-day art exhibit. She's also running a jewelry line, aptly called "Ms. Fitz." Her new collection debuts this month. "I'm a creative octopus," she says. "I like to have my tentacles everywhere."
Ms. Fitz
wears a jacket by
Vaughan Alexander
, shirt by
Jil Sander
, pants by
Jamie Lee Major
, shoes by
United Nude
and jewelry by
Ms. Fitz
.
MEET THE REST OF OUR 2012 BEAUTIFUL PEOPLE