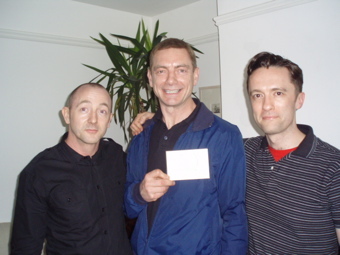 Mr. Mickey must confess that his photos of the drool-inducing boys of Dublin don't really do them all justice. Then again maybe it's because they were all taken between 3 and 7 a.m. after a wild night of Irish-style shenanigans!
Whatever the case, take MM's word for it, the man in the middle of this shot, craft gardener Mark is the Daniel Craig of Dublin. Hot. Hot. Hot. The body on this real man is not to be believed. At one party Mark, a former celebrity DJ, was standing in front of Mr. Mickey with his back to MM. A zippy tune came on and Mark did a little horizontal ass shaking and they needed to bring out the smelling salts and give Mr. Mickey a diaper change!!!
With Mark are the charming and delightful Nigel and Niall, cuties both. They live in London but Niall is a native of the Dublin mountains! How chic does that sound? Niall is an organizer of the AMI and the duo have a super hip London design firm called Pony Design.