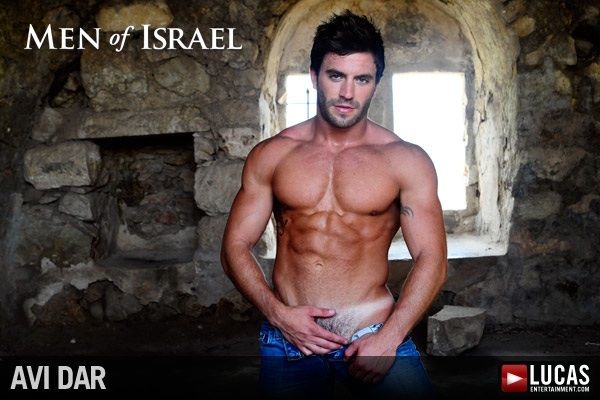 Avi Dar
's one of Lucas Entertainment's hottest new talents. The sexy former hairdresser, who appears in brand new films
Men of Israel
and
Obsession,
recently chatted with
PAPER
's
Mickey Boardman
about moving to New York from Tel Aviv, being shy, and whether he'll still be working after 40.

Mr. Mickey
: How did you get into this business?
Avi Dar: I was a hairdresser in Israel when I met adult film director Michael Lucas, who was looking for people in Israel and went to do an audition. I met him and I think he loved it. He told me 'You're in!'

MM: And have you always wanted to do porn? Or when did you decide? 

AD: I decided to do porn because I wanted something different to do from hair. I did hair for ten years. 

MM: So when you met Michael, did you know who he was before you met him? Did you know about him? 

AD: No, no. 

MM: And what did you think? He's a very unique character. 

AD: Yes, very unique. Very handsome, too. And he's a nice person. I feel, you know, like he cares. He makes you feel comfortable with yourself, which is very important. When you do porn you need to feel comfortable, and he makes you feel very relaxed. He's not too aggressive. All the set is very relaxed.

MM: And for the audition, did you just have to send pictures or come in person? 

AD: I came in person and he asked me a couple of questions about myself and what I love to do and for pictures of myself naked. I was of embarrassed of my cock hard but he told me 'You're in.' Maybe it was because of my face or something, or my smile. And a few days later... 

MM: And a few days later you made the movie? 

AD: No, one week after I auditioned.  

MM: Which is? Men of Israel or ... 

AD:  I did the Men of Israel in Jerusalem, oh my god... I remember this.
MM: Men of Israel was shot in Jerusalem? 

AD
: Yeah.

MM: You're in that sort of old building, not like the temple on the mount, but in an older place.

AD:  I loved filming in an older place like that. You can see Jerusalem through the windows. It was very nice.  

MM: You do great things in Israel, very spiritual. You grew up on a kibbutz?  

AD: Yes. But with a kibbutz, you know, everybody is working for one. Everybody is working together. My father is a farmer.  

MM: A fireman? 

AD: A farmer. 

MM: A farmer. Okay. 

AD
: My father grows everything: tomatoes, potatoes, greens.  I love to drive in the tractor and sweat because sweat is very sexy. When I did this I told myself, 'Oh, I need to do a session here.'
MM
: On the tractor? 

AD
: Yes, on the tractor.

MM: I think it's a good idea. You could direct your first movie.  

AD: Yeah, so. 

MM: So was there any gay life in the area? 

AD: No. It's difficult in Israel to be gay. If you're not living in Tel Aviv or Jerusalem or a big city.  I think Tel Aviv for gay people is more comfortable. [Outside of there], it's old thinking. You know what I mean? It's good for [gays] to go to Tel Aviv because it is a community for gays. So if you go out to the club and you walk the street, it's not a problem. It is very open for lesbians, gays, and transsexuals.

MM: And that's where you went? To Tel Aviv? Or did you go to Jerusalem? 

AD: I chose Tel Aviv because I had a business there for three years doing hair and taught for seven years on how to cut hair. I opened my first business there when I was 22. It was nice,  but I stopped because I was starting to lose the passion. It's not for me. I love to do porn.  

MM: Why do you love it?  

AD: I love it because you learn how to understand yourself, how to feel comfortable with yourself. You learn how to not be afraid of what you have in your body.

MM: So, the way the sex scenes work, do you ever have to do anything you don't want to do? Is there a script that says  'now you kiss, now you do oral' or is it more natural?  

AD: It's very natural. All the movies --  that's why I love to do work with Michael. It's all sexy, natural. He tells you only a couple details before you do the session. That's all. That's why, when you do the film, you don't feel shame. When you feel shame, people see that. You need to give it to the camera, to the people who need to feel 100%. For me, I also speak with  the person before I have sex with him to make me more attracted to him. I can't just have sex, because I feel nothing. I need to speak with him to see if he's good person and if he has good eyes and a good smile. And Michael knows how to choose the boys very nicely, especially with me. I like good eyes, a good smile, and intelligence. I like people with intelligence -- it makes me feel more horny.

MM: Is there like a favorite scene that you've done or a favorite partner you've worked with?

AD: My favorite is the last one I did. Wilfred. Wilfred is very romantic. He's very... he knows how to touch, how to speak. I told him what I didn't like and he very much knows what he's doing. He was my last session. 

MM: What movie is that for? 

AD: Obsession.  

MM: I haven't seen it. I have it. I'll watch it.  

AD: Yeah, its very very hot. When I see it, I look at myself and I say 'I love myself.' 

MM: So you said that 10 years is kind of your limit for something. Do you think that you'll last that long doing porn? Or will you keep doing it as long as you like it?  

AD: When I feel I'm done, I'll tell myself it's done. But I don't feel that now. I know how to do [porn] perfectly. I know how to do it with my eyes closed. But porn is like modeling -- you can't do it when you're forty.  

MM: Come on.  

AD: It's like modeling. Someone can't model until they're 45 or something unless they're very famous. I know a couple people like that. But it's the same. And when I feel, it's the end I will tell Michael that. He totally understands it. 

MM: And what made you come to New York? To do more porn or to do... 

AD: Michael told me to come here and told me he wanted to do more films because people love how I look. He told me he would find me a place to live, because before coming here, I didn't speak English. Nothing, nothing. [I could say] Hi.  And he told me not to worry, and he found me a house and I told myself 'Okay, I need a change in my life.' 

MM: Had you ever been to New York? 

AD: No, its my first time.
MM: Wow.  

AD: Yeah. its my first time. It's a lot. 

MM: How long have you been here? 

AD: How much am I here? 

MM: When did you come to New York? 

AD: Two months ago. I'm studying English in school. Before I came here, I didn't study English and now I study English every day. And Michael told me 'Avi, you need school, good school,' and I told him I wanted to go because I need something to do in the morning for myself. I'm a morning person. It's good for me to wake up and do something.

MM: And what do you think of the men in New York? Are they better than Israel? I think New York is great because there is such a variety. 

AD: New York is better. You have all the types. You can choose. You have the younger, you have the older.  In Israel they are very friendly, but very shy. It's not like here. Here people aren't shy. Here, if they want you, they come to you. They're not scared of what you say. If you don't want [one guy], you go to the next one. Better luck.

MM: Are you shy?
AD: No. I'm okay to walk in the street naked. With guys here, it's 100% different from Tel Aviv. You're not shy, you're very open for everything. But, you know, it's hard to form relationships here because there are too many guys. Relationships in Israel are not difficult because we don't have too many guys there. Here, everybody is everywhere in everyone. You sleep with this man, and this, this, this, and this man. But in some parts of Israel it is very open for gays. In the past five years, it has become very different. People have started to love gays because of television. Before, people in Israel thought 'Oh gay, it's a problem. He has HIV' and all this stuff. [Being gay] was like a disease. And now, Israel is more open because [when a straight character on TV loves a gay person] people say 'Oh, we can love this person. Oh, he's gay and its not problem.' New York is like Tel Aviv because everybody comes here -- transsexuals, everyone. And I love to go out here. I love the nightlife here. 

MM: Where do you like to go? 

AD: Splash, 57. Fridays, I go to Rocket. 

MM: I don't know Rocket.
AD: Rocket is 56th street between 7th and Broadway. I have a friend here from Israel who goes there and everybody knows him, so I am now starting to know people. But I don't want to eat all the cake, you know? I'm enjoying what I'm doing. And I love New York. 

MM: And New York loves you.