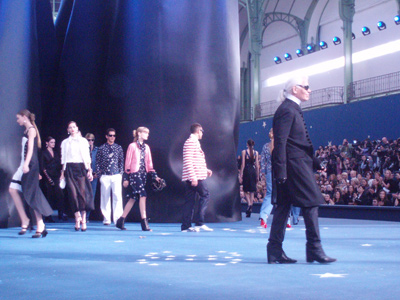 Sitting down front at the gorgeous Palais Royale waiting for the Chanel show to begin, it's easy for a fashion-addicted journalist to feel like he's really hit the big leagues. Honestly, does it get much better or more glamorous? The production of a Chanel show is flawless, period. Chanel is such a gigantic money maker that it dwarfs almost all other fashion companies. Karl Lagerfeld has ruled the house for over two decades, mining the iconic imagery that Coco Chanel herself left behind and walking a thin line between not rocking the multi-billion dollar boat and moving things forward fashion-wise. So we end up seeing some some classic Chanel favorites each season reworked and served up for the legions of Chanel devotees.
Black cocktail dresses are something that scream Chanel and this season the black dresses were some of the best looks that paraded out of the giant bow that was plopped on the middle of the runway. Denim is also something that Lagerfeld has played with over the years and the contrast of luxe Chanel doing populist denim, is an inherently fun idea. Over the years some of the best Chanel collections have been
inspired by street trends that Karl has thrown into the Chanel blender, coming up with a fascinating hybrid that serves as a wearable time capsule of the time. Hip-hop culture and the way it embraces high-end fashion's label culture was a rich source of material for Chanel. Yet now it seems that the last street-to-the-runway-and-back movement was the skinny skinny rocker look of Karl's friend Hedi Slimane at Dior. What is there out on the streets to inspire Karl, the designer who is notorious for constantlly throwing out the old and looking for the new? We don't know, but we're sure Karl will find something to keep him inspired.