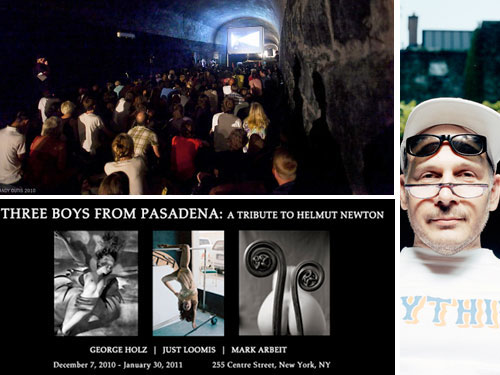 1.
Rooftop Films
is screening two programs of short films in the Atlantic Avenue Subway Tunnel (Atlantic Avenue and Court Street, Brooklyn) on December 11 and 12. Tickets are $20 and the doors open each day at 1 p.m. and the fun starts with a tunnel tour and ends with an afterparty at Last Exit (136 Atlantic Avenue) featuring complimentary Sailor Jerry Rum to keep you warm.  All the details are
here
.


2. Jack Black and Jason Segel (who star together in the upcoming Gulliver's Travels) updated the holiday classic "Peace On Earth/Little Drummer Boy" originally recorded by David Bowie and Bing Crosby. The track was made for a television special in 1977 just before Crosby died and eventually was released as a single.  Black's 2010 "rockified" rendition benefits the non-profit Blue Star Families and is available starting today on
iTunes
.
CollegeHumor
has an animated video, too.
3. The filmmaker and author of
American Hardcore
, Steven Blush, is hosting a panel discussion with
Dag Nasty
's
Dave Smalley
and
Laura Albert
(aka
J.T. Leroy
) on December 15, 7 p.m. at the Strand Bookstore (828 Broadway).
4. Legendary New York City street photographer
Ricky Powell
curated the new "Frank Chapter 43: Bug Out!" and everybody's getting together to party (and check out Rickster's photos) on Thursday, December 9, 8 p.m. to midnight at Sacred Gallery (424 Broadway) with music by Chances With Wolves.
5. Celebrate
Frank Sinatra
's 95th birthday this Friday, December 10, 1 p.m., at Patsy's (236 West 56th Street).  Seventy-five dollars gets you a full lunch including Frank's favorite dishes plus celebrity guests. (btw: Frank's actual birthday was December 12, 1915.)
6. For the first time in 20 years,
Phillip Glass
and
Robert Wilson
's
Einstein On the Beach
will hit the road for an international tour in 2012 and 2013 with a stop in NYC for BAM's 2012 Next Wave Festival.
7.
Clic Gallery
(255 Centre Street) opens a new show tonight, December 7, called "
Three Boys From Pasadena: A Tribute To Helmut Newton.
"  The exhibit, curated by
June Newton
, features photos by
George Holz
,
Just Loomis
and
Mark Arbeit
plus journals, letters and snapshots of Newton at work. It's up until January 30.