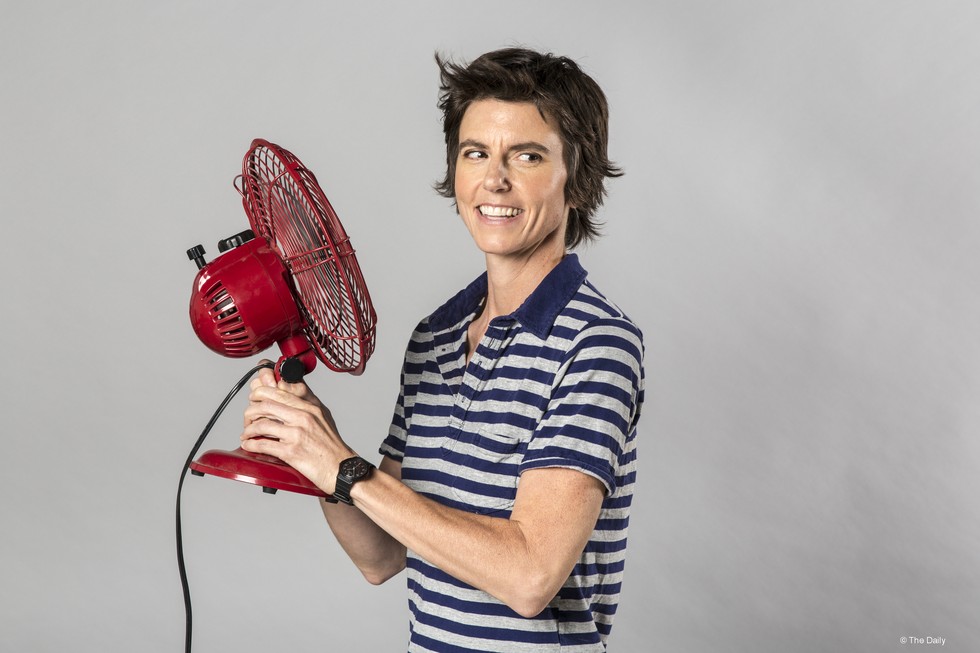 In our December/January issue (on stands now), comedian Tig Notaro
shared a crazy story
about a rebellious road trip to hit up strip clubs and camp in a tepee on the side of a mountain when she and a friend were teenagers. Below, read more from our conversation with Notaro, who within the span of a few months last yea
r was hospitalized for an intestinal virus, broke up with her girlfriend, lost her mother in a freak accident and was diagnosed with breast cancer. In August, during a now-legendary set at the Los Angeles comedy club Largo, Notaro told an audience about what she'd been going through. The set, touted by everyone from Louie C.K to Lena Dunham, and since made into an album titled Live, is 30 minutes of raw reflection on the absurdity of life. Notaro recently moved to New York from L.A. with a clean bill of health to write for Amy Schumer's upcoming Comedy Central show (on which she'll also appear)
.

How is living in New York after years in L.A.? Is it a strange transition?
No, it's fine. I usually come to New York four or five times a year, anyway. It's not like I just moved to Hong Kong or something. It's nice. I wouldn't mind doing the whole bi-costal thing. I have to see what's going on with my life coming up.
You got so much great attention from your Largo set and it sounds like things have continued to go well since then.
Once I had my surgery, my life turned into nothing but good news. For four months, it was just bad news non-stop. And now I feel healthy, happy and excited about everything that's coming up. It's been a process going through so many changes but for everything that's happened, I'm in an extraordinarily good place with things. I feel really, oddly, good.

In your Fresh Air interview with Terry Gross you said that you didn't decide to mention your cancer and your mother's death in your Largo set until the last second. Were you concerned about how the audience would react? Or how you would react while you were sharing this information? 
I had no idea what was going to happen. I was less concerned about getting upset, I didn't think that was going to be a possibility. But onstage there were two or three times where I did feel like I was going to start crying. And I did not account for that. I'm not a hyper-emotional person, I don't break down into tears very easily, and certainly would not not have done it publicly. And there I was thinking, "Oh my gosh, how am I going to get through this?" But I pulled myself together. It's interesting because you know what you look like and what you were feeling at certain moments. I've seen myself in interviews ... when I was on
Conan
, there's a point right after I said my mother had passed away, and I see myself taking a breath, and shaking my head, and it was because I was going to start crying, but I held it together.
For me crying is something where I will be completely fine, and then out of nowhere it'll come on, and the next thing I know I'm making this horrendous crying face. I'm sobbing, and I'm like, "Where did that come from?" In the Largo audio, when that guy yells out, "This is fucking incredible," or whatever he says, and the audience starts cheering, that was one of those moments, too. I was starting to lose it.

Some of your Live set talks about people catching themselves before they complain to you about something inconsequential and just generally acting differently around you in the wake of everything you went through. Now that so many people have heard your set, have you experienced that even more?

People pretty much act normal around me, but I also haven't socialized too much. After my surgery I recuperated in Los Angeles, and then I moved to New York and started work immediately, so I haven't really been out at parties or in places where I'm seeing people I haven't seen in a long time or strangers. Actually today, I heard from this friend of mine, a friend I haven't talked to in a while. And we were catching up, and I was like, "So what's going on?" And she freaked out and was like, "Nothing." I hadn't talked to her in a year and a half. I said, "What do you mean, 'nothing?'" And she's like, "Just life, it's nothing. I can't even go into it compared to what you've been through."  And I was like "No! Tell me what you've been through." And so she starts talking, and it turns out, of course, she has so much going on.

I'm sure it will be interesting to start socializing again, but I'm not itching for a huge party. I want to slowly go back out into the world.

Do you think that the Largo set will change your standup going forward? Will you incorporate more of your life into your work?

I don't know. I haven't performed since that show but when I picture myself going on stage, I can't see myself doing any of my old material. I also don't picture myself doing any of the material that is on my CD. It's kind of like I have a clean slate now. 

Is that exciting?

It's definitely exciting, and it's also really scary. I'm not going to claim that I'm a really personal comic and I've never claimed I won't do an old joke again. I'm not going to claim anything, because those four months of my life taught me who the hell knows what's coming up? Anyone's guess is as good as mine. Am I going to turn into a prop comic? Who knows? It's a good problem to have.

Photo by Kate Lacey for The Daily