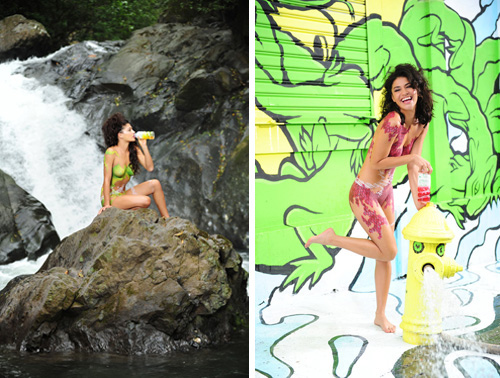 While she may not be queen of the Upper East Side,
Jessica Szohr
and her rockin' body will indeed rule the jungle, as evidenced by a series of stunning photographs for her new
Sobe Lifewater
ad campaign. The
Gossip Girl
starlet is the second to don a selection of the beverage brand's signature skinsuits, sexy tromp l'oeil-painted getups inspired by Sobe's two newest Lifewater flavors, Strawberry Kiwi Lemonade and Macintosh Apple Cherry. Szohr is no stranger to body art: the actress has a number of tattoos including her grandparents' anniversary date and her mother's childhood nickname, so she was a natural choice for the campaign. The images, shot both in the lush Costa Rican rainforest and against lizard-laden street murals by San Jose artist
Gualicho
, will officially debut in this year's edition of the iconic 
Sports Illustrated Swimsuit Edition
but I got a sneak peek yesterday at a special meet and greet happy hour last night with Szohr herself. After taking my obligatory fan photo with the lady of the hour, I sampled some of Sobe's delicious Lifewater cocktails and let me tell you, those electrolytes had me seriously buzzin'. Run-ins with a Gossip Girl, a "SoBe on the Beach," and a DVR freshly packed with new reality TV? That's what I call the American dream.