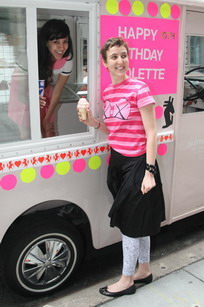 WOW I'm exhausted today. Wednesday was a wild one. First we hosted a luncheon at Indochine celebrating the tenth birthday of our fave shop in Paris, Colette. Sarah Lerfel and her mom (and shop namesake) Colette hopped over to New York for the occasion and it was SUCH a fun crowd. It was a great mix of artists, DJs, designers (young cool ones mostly), socialites and hipsters who all respect Sarah's eye and vision and wanted to come celebrate her. We had a great table of friends of Sarah -- many of whom I also knew.
Brian Kaws (the artist, see his photo below) was across sitting next to Supreme's James Jebbia who just became a dad! To my left was Weiden and Kennedy guru John Jay, and to my right was fabulous designer Thomas Brown, who I introduced to my Portland friend Thomas Lauderdale, who was playing at Carnegie Hall that night with his group Pink Martini (that's a whole other story to come!). I think Brown should dress all the Pink Martini guys actually.
The downtown power girls Daryl K, Victoria Bartlett and Maria Cornejo were at the next booth and next to them was a super-cool table with more power arty downtowners like Rita Ackerman, Agathe, and Claw Money. The Misshapes came and were gabbing with Vogue's Sally Singer nonstop, who was sitting next to the awesome vision in extreme fashion Iris Apfel (see photo).
Oh there were so many more fabulosities! But the best was when our friend Leyla pulled up her vintage ice cream truck and gave Sarah a cone. She adored it and invited Leyla to come to Colette to park outside her shop on Rue St. Honore... Can you imagine? Thanks to our Caroline Torem Craig for the photos of the party!!!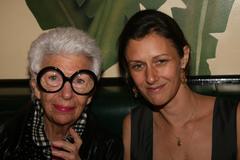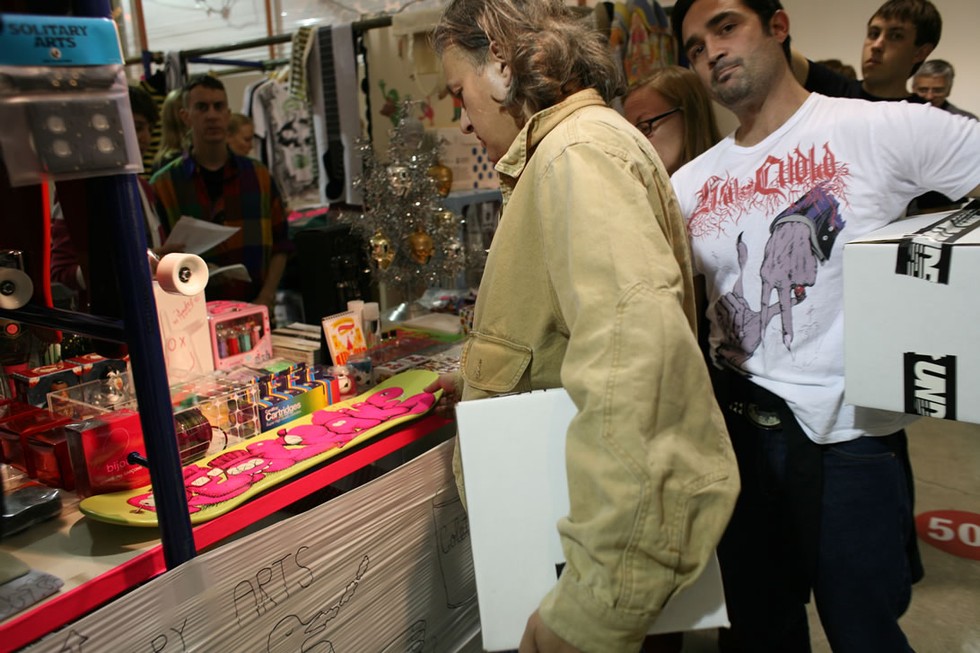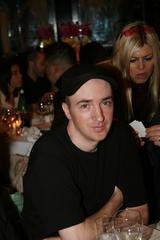 From left to right, Iris Apfel and Sally Singer; Daryl K and Maria Cornejo; Brian Kaws.
I scraped myself together and then ran uptown with my friends James Gager (MAC creative director) and Richard Feretti (Gourmet magazine creative director) to Carnegie Hall so we could dole out the tickets we had to a bunch of cuties I'd invited: Threeasfour, Citizens Band's Sarah Flicker and her hubby Jesse Peretz, Screaming Mimi's' Laura Wills and of course Paige Powell.
A few rows in front of us was the entire Clemente clan, all there to see their gorgeous mom sparkle on stage singing her song called "Una Notte de Napoli" in her deep raspy voice. What a night. My friend and lead singer China Forbes looked gorgeous. I'd arranged for the amazing Ric Pipino to do her hair and James arranged for M.A.C makeup wizard Romero Jennings to do China's face and she looked gorgeous. And she sounded even more gorgeous. It was wonderful. By the last song, Chiara Clemente and Waris had begun a conga line and soon everyone was jumping out of their seats to join in and conga around Carnegie Hall. It was the BEST! Here's a photo of the Martinis with friends and family outside Carnegie Hall!