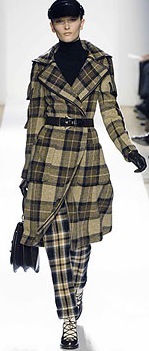 I know, I know, I always talk about collectors items, but so often there is stuff (whether clothing accessories, furnishings, etc.) that I wish I would have bought when a designer I adore goes to a company and then they're gone! Especially designers who are smart, avant garde and do stints at companies that produce their ideas flawlessly. That's when I always think, "Damn, I shoulda bought this, or, why didn't I buy that?" When great stuff is available we tend to take it for granted -- until it's gone!.
Take Margiela at Hermes. I mean that was HISTORICAL! His amazing coats, watches and accessories... WHY DIDN'T I GET ANY OF THIS STUFF. This will be in museums someday. Or what about Isabel Toledo at Anne Klein??? They had a huge sale of her stuff (check out the cool plaid photo) and now I regret I didn't stock up. Now another really interesting designer Tess Giberson is leaving Tse Cashmere where she has designed super cool stuff for the past few years. The stuff she did for Tse is really good. So grab it while you can. (See style.com photo above from her spring show.) Even Isaac Mizrahi's stuff at Target will be collectible someday. A lot of stuff at Target is collectible I think. A lot of those designer collections are so fun, from Erin Featherston to Libertine. I love all that stuff. And now it's gone.
And let's not even talk about how much I want one of the Richard Prince Louis Vuitton bags. You can't even just go and buy one, you have to put your name on a waiting list!