Monks 'N Poppies N' Stuff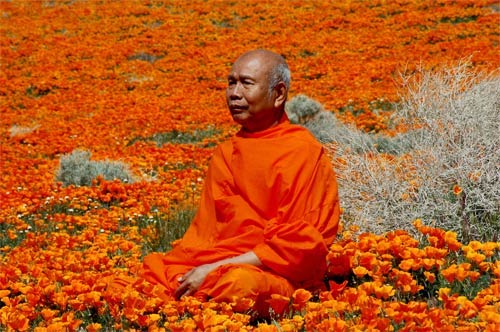 I just had to share this fantastic photograph that appeared in Sunday's Travel section of the L.A. Times. The most recent editor's choice from the "Your Scene" page (which features reader's 'amateur' photographs) this visual jolt of orange sunshine should see me through my two months back in West Virginia... where I should be by the time this gets posted. Hope I am as lucky as Sam Chien of Tustin and happen upon six meditating monks on the red-eye flight back east! If not I'll just imagine I'm in a field of California poppies! Viva L'Orange!
From the L.A. Times: "At the peak of bloom season, Sam Chien of Tustin decided he'd better get up to Lancaster to see the poppies. So he and a friend, Tom Wang, drove north. "That day was wonderful," Chien says. While there, they happened upon six monks, also absorbing the riot of blooms. One 'started to meditate, and I thought it was a lovely subject.' Chien used a Nikon D70S."