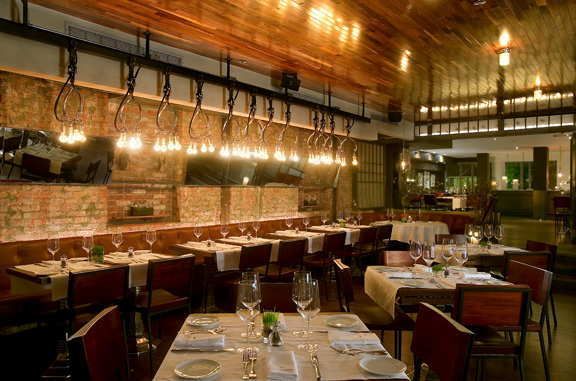 When
Craig Koketsu
and
Michael Stillman
settled on calling their restaurant
Quality Meats,
their friends thought they were crazy. Before the restaurant opened, they set up booths at culinary school career fairs, and no one was interested in applying for a job at what sounded like a small town butcher shop. Nearly five years later and, well, it turns out they were not so crazy. Quality Meats chef-partner Koketsu and owner Stillman are also the team behind
Park Avenue Summer/Autumn/Winter/Spring
and the forthcoming
Hurricane Club
on Park and 26th. And Koketsu was kind enough to have Whitney and I to dinner at QM last night. For a Monday night, the joint was jumping. Monday nights, he said, have become really, really busy recently, confirming our suspicion that Monday may very well be on the road to becoming the new Thursday. Koketsu's pretty focused on putting the finishing touches on the Hurricane Club menu at the moment, which he tells us will be quite massive. The menu-creation process, he says, involves coming up with dishes (the theme of the restaurant is "inauthentic Polynesian") then serving them to Stillman and then finally, inviting friends (not necessarily in the business) to try out the food and offer their two cents.
At dinner, we were joined by his lovely wife
Juliana Cho
, the fashion designer and owner of West Village boutique
Annelore.
Together, we scarfed down their signature dishes like crab and avocado (our favorite dish of the evening) and crabcake starters; seared three filets (prepared in three different styles -- Wellington, au poivre and Oscar); and scrumptious sides like Parmesan waffle fries, gnocchi and cheese and the truly transcendent corn creme brule. We drank two wines, a syrrah and a sauvignon blanc, both made by female winemakers. Personal touches such as the monkey bread (which Koketso's mother used to make him as a child) and homemade ice cream and sodas, coupled with design team
AvroKO
's chic butcher-shop interior, lend an artisinal vibe to the place. Which made even the multitude of bankers dining alongside us look sort of quaint and kind. Like they'd maybe call you the next morning and open car doors. But maybe that was just the wine talking...