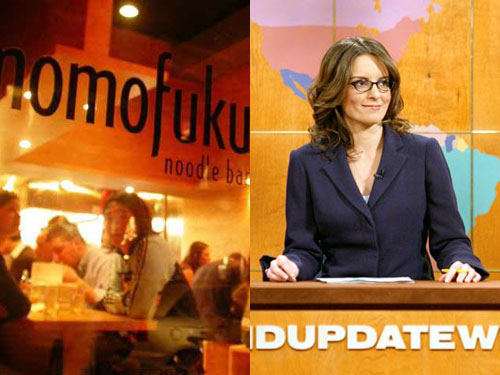 1.
Julian Casablancas
is
still so bored and so hot
. Also, he said "fuck it" during
the Strokes'
performance on
SNL
this weekend after he flubbed a line. [FeelsLikeWhiteLightning]
2. Chinatown's
recently shuttered Next Level Arcade
(which is thought to be the last proper arcade in New York City) already has a new home in Sunset Park, so that's nice. [Brooklyn Vegan]
3. Though
Charlie Sheen
was fired today from
Two and Half Men
, the
Village Voice
isn't taking any pity on him. They've declared Friday "National Unfollow
Charlie Sheen
on Twitter Day."
4. Speaking of the
Voice and twitter
, their eagle-eyed spotting of a drunk tweet from
the Red Cross
' Twitter account is nothing short of commendable. [Runnin' Scared]
5.
David Chang
is opening
not one, but two, new restaurants in a building next to the Shangri-La Hotel in Toronto:
Momofuku Noodle
and
Momofuku Daisho
. They're slated to open in 2012. This is an addition to recent announcements that Chang would be opening outposts in Japan and Australia, as well. Pork buns across the world! [Eater]
6. In another essay in this week's
New Yorker
,
Tina Fey
explains why some episodes of
SNL
are solid gold and some are solid other things: "What I learned about bombing as a writer for
Saturday Night Live
is that you can't be too worried about your permanent record. Yes, you're going to write some sketches that you love and are proud of forever -- your golden nuggets. But you're also going to write some real shit nuggets. You can't worry about it. As long as you know the difference, you can go back to panning for gold on Monday."
7. The owners of a Siamese cat named Dusty in Redwood City, California
discovered he's been stealing items from his neighbors' homes
, including balls, towels, car wash mitts, gloves, shirts, bathing suits and "other miscellaneous clothing."  They had a yard sale to give some of it back. [AOL]