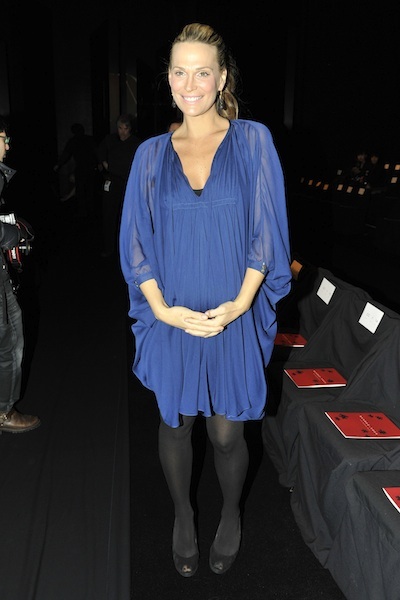 It's been a busy week for
Diane Von Furstenberg
. First, as the President of the
CFDA
, she
helped celebrate
the organization's 50th anniversary with the launch of an exhibit at the
Fashion Institute of Technology
, and yesterday afternoon she, and her design partner,
Yvan Mispelaere
, presented her label's
F/W 2012 collection
.
While guests were finding their seats at the show, we spotted
Diane Sawyer
perched in the front row. "I don't know if I am the best person to talk to here," she admitted as we started chatting. "I am only here as a friend of Diane's. I have known her as long as I've known my husband." Of her old friend's appeal, Sawyer said: "I think that she recognizes the confidence in women even if they don't feel it themselves. She knows it's there, and she'll be there until you have it yourself. I think what defines her is vitality, confidence, and kindness."
A pregnant
Molly Sims
was certainly embodying the Diane definition. In a royal blue caftan by the designer, she happily cradled her belly while smiling for photographers. As for looking impeccable while five months pregnant, she admitted it wasn't always easy: "Heck yeah it's difficult!" she exclaimed. "Dressing is definitely not 15 minutes anymore. I was sick for three months, and now I don't feel fat anymore, but I just feel pregnant." Easy pieces and practicality are what she looks for. "This is easy because it is Diane," she explained of her dress. "It has this tight piece underneath then a loose bit over it. It's flowy, it's sexy and it's comfortable. And I finally broke down and went to Pea in the Pod and got a maternity bra that's... nice... and practical." Although she gave up luxury lingerie, she has yet to forgo her fancy footwear. "I am still wearing heels," Sims admitted. "My feet have only swollen a half size so far. I wobble, but I am wearing them!
Photo by Leandro Justen/PatrickMcMullan.com
RELATED:
Diane Von Furstenberg Is Bold and Beautiful
Diane Von Furstenberg: American Fashion Is About the American Dream
Flower Power at Diane Von Furstenberg S/S '12
Diane Von Furstenberg Knows the Secrets of Seduction
PLUS
:
All of our New York Fashion Week coverage, all in one spot!